Regular price
£279.99
Sale price
£249.99
Unit price
per
Sale
Sold out
DrayTek Vigor 2865 

Vigor Dual-WAN ADSL+/VDSL2 Broadband Router(Wired Only)

The DrayTek Vigor 2865 Simultaneous Triple-WAN ADSL+/VDSL2 Broadband Router is a VDSL2 35b/ADSL2+ Security Firewall Router integrating a DSL modem which is compatible with variants of ADSL and VDSL, including profile 35b supervectoring.

There is also a Gigabit Ethernet WAN port for broadband connections to share the traffic load or serve as a failover connection. A 3G/4G/LTE USB modem (sold separately) can also be attached to the USB ports of the router.
Key Features
Load Balancing
Maximise throughput and reliability by using multiple internet connections.
35b Supervectoring Modem
Integrated VDSL modem, supporting VDSL2 profile 35b supervectoring.
VPN (Virtual Private Network)
Build a secure and private tunnel from the LAN of the Vigor2865 to remote offices and teleworkers over the internet.
SSL VPN
The VPN works through firewalls providing secure remote access to any network environment.
Firewall & Content Filter
Filter web pages by URL keyword or web category to block access to insecure or inappropriate content.
DrayDDNS
Free DDNS service for you to access the router by a fixed hostname of your choice.
Bandwidth Management
Prevent one device using all the bandwidth with bandwidth limit policy, session limit policy, and QoS settings.
Central Switch Management
Set up VLAN easily from the router and get a centralised hierarchy view of your switches.
Share
View full details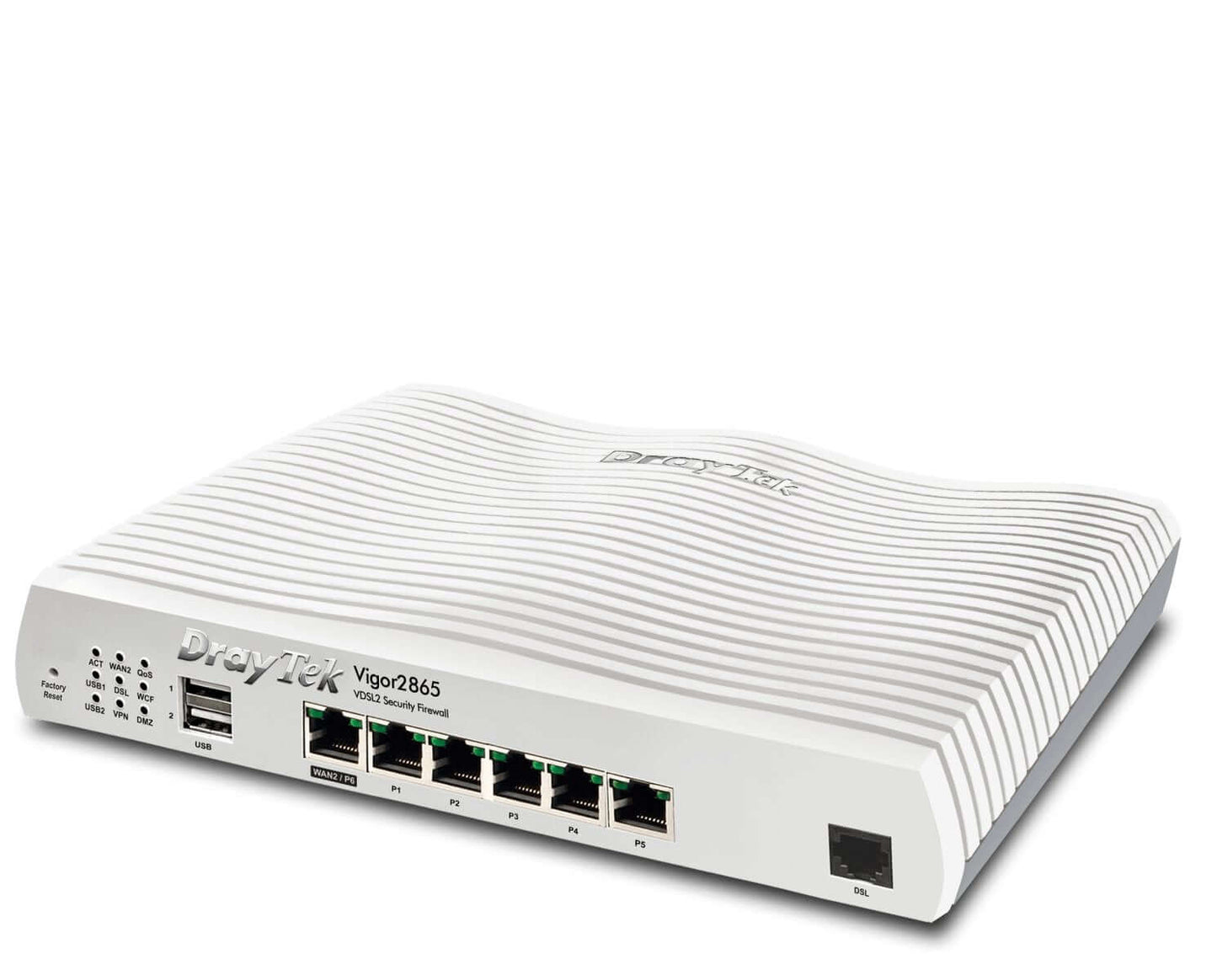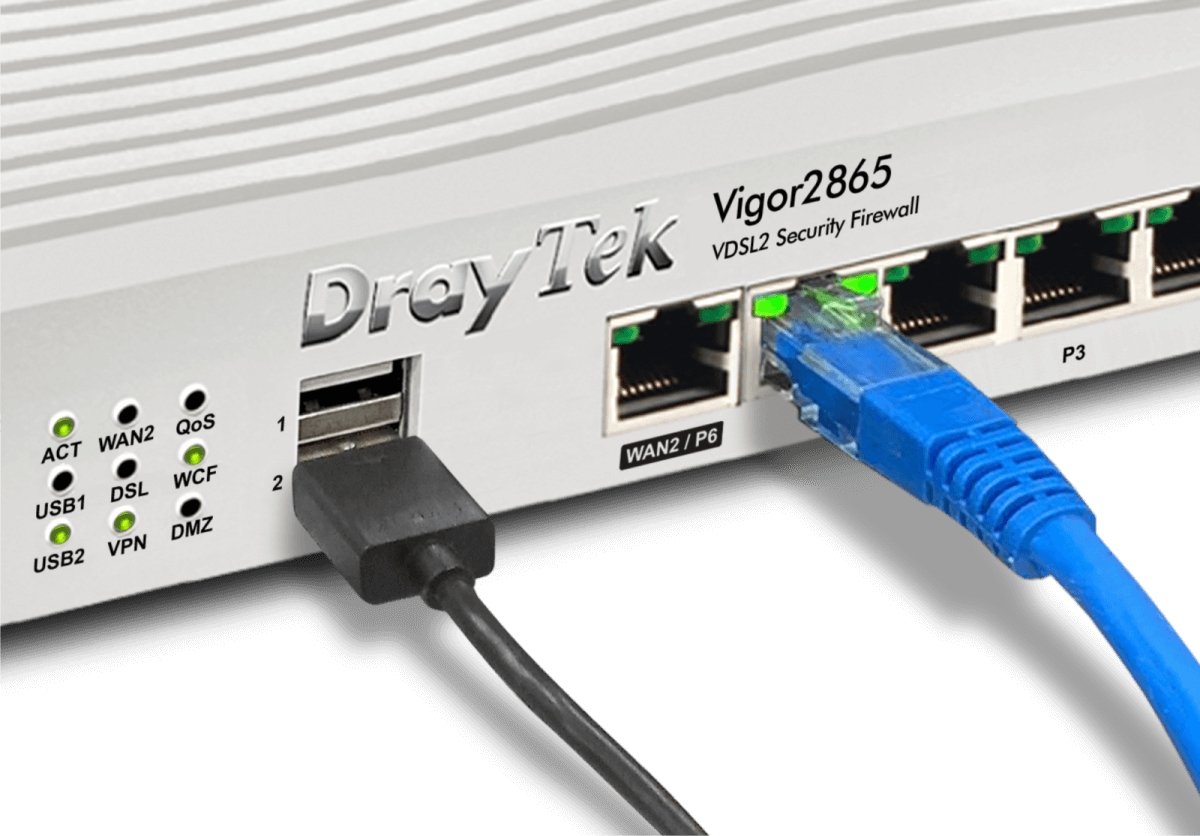 Explore Further
Highlights

Load Balancing
Maximise throughput and reliability by using multiple internet connections.
35b Supervectoring Modem
Integrated VDSL modem, supporting VDSL2 profile 35b supervectoring.
VPN (Virtual Private Network)
Build a secure and private tunnel from the LAN of the Vigor2865 to remote offices and teleworkers over the internet.
SSL VPN
The VPN works through firewalls providing secure remote access to any network environment.
Firewall & Content Filter
Filter web pages by URL keyword or web category to block access to insecure or inappropriate content.
DrayDDNS
Free DDNS service for you to access the router by a fixed hostname of your choice.
Bandwidth Management
Prevent one device using all the bandwidth with bandwidth limit policy, session limit policy, and QoS settings.
Central Switch Management
Set up VLAN easily from the router and get a centralised hierarchy view of your switches.
App QoS
Improve Experience for Business-Critical Apps
Select your business critical apps, and easily put them into QoS classes.
Flexible Bandwidth Allocation
Bandwidth will be reserved for high-priority classes, and can be used by low-priority classes when available.
Management Solution
All-in-One Management
Vigor Router SWM:
Auto-Discovery
Provisioning
Monitoring
Centralised Hierarchy View
Reboot PoE Devices Remotely
Quick VLAN Configuration
Vigor Router APM:
Auto-Discovery
Auto-Provisioning
Monitoring
Centralised View
Alarm
Reboot VigorAP Remotely
Software Management
VigorACS 2
Provisioning
Monitoring
Centralised Hierarchy View
Alarm
Reboot Vigor Devices Remotely
Scheduled Maintenance
Report
Standard Warranty: 2-Years
Dimensions and Weight

Width 241 mm, Depth 165 mm, Height 44 mm,Weight 620 g
Specification

Interface

Fixed WAN Port

1 x RJ11 for VDSL2 35b or ADSL2/2+
LAN/WAN Switchable Port

1 x 10/100/1000Base-TX RJ45
Fixed LAN Port

5 x 10/100/1000Base-TX RJ45
USB Port

2 x USB 2.0
Performance

NAT Throughput

800 Mbps
IPsec VPN Performance

300 Mbps (AES 256 bits)
SSL VPN Performance

130 Mbps
Max. Number of NAT Sessions

60,000
Max. Concurrent VPN Tunnels

32
Max. Concurrent OpenVPN + SSL VPN

16
VDSL/ADSL

VDSL Standards

ITU-T G.993.2 Annex A/B/M/Q (up to Profile 35b but excluding 30a)
T1.424
ITU-T G.993.5 (Vectoring)
VDSL2 Profile

8a, 8b, 8c, 8d, 12a, 12b, 17a, 35b (not G.fast)
ADSL Standards

ITU-T G.992.1 (G.dmt), ITU-T G.992.3 (G.dmt.bis), ITU-T G.992.5 (ADSL2+) (G.adslplus), T1.413 Issue 2
Other Standards

ITU-T G.994.1 (G.hs), ITU-T G.997.1 (G.ploam), ITU-T G.998.4 (Retransmission)
Band Plan

998, 997
Internet Connection

IPv4

PPPoE, DHCP, Static IP, PPTP/L2TP
IPv6

PPP, DHCPv6, Static IPv6, TSPC, AICCU, 6rd, 6in4 Static Tunnel
802.1p/q Multi-VLAN Tagging

Yes
Multi-VLAN/PVC

Yes
3G/4G/LTE WAN with USB modem

Yes
Load Balancing

IP-based, Session-based
WAN Active on Demand

Link Failure, Traffic Threshold
Connection Detection

ARP, Ping
WAN Data Budget

Yes
Dynamic DNS

Yes
DrayDDNS

Yes
LAN Management

VLAN

802.1q Tag-based, Port-based
Max. Number of VLAN

16
Number of LAN Subnet

8
DHCP Server

Multiple IP Subnet, Custom DHCP Options, Bind-IP-to-MAC
LAN IP Alias

Yes
Wired 802.1x Authentication

Yes
Port Mirroring

Yes
Local DNS Server

Yes
Conditional DNS Forwarding

Yes
Hotspot Web Portal

Yes
Hotspot Authentication

Click-Through, Social Login, SMS PIN, Voucher PIN, RADIUS, External Portal Server
Networking

Routing

IPv4 Static Routing, IPv6 Static Routing, Inter-VLAN Routing, RIP, BGP
Policy-based Routing

Protocol, IP Address, Port, Domain, Country
High Availability

Yes
DNS Security (DNSSEC)

Yes
Multicast

IGMP Proxy, IGMP Snooping & Fast Leave, Bonjour
Local RADIUS server

Yes
SMB File Sharing

Yes (requires external storage)
VPN

LAN-to-LAN

Yes
Teleworker-to-LAN

Yes
Protocols

PPTP, L2TP, IPsec, L2TP over IPsec, SSL, GRE, IKEv2, IKEv2-EAP, IPsec-XAuth, OpenVPN (Host to LAN)
User Authentication

Local, RADIUS, LDAP, TACACS+, mOTP
IKE Authentication

Pre-Shared Key, X.509
IPsec Authentication

SHA-1, SHA-256
Encryption

MPPE, DES, 3DES, AES
VPN Trunk (Redundancy)

Load Balancing, Failover
Single-Armed VPN

Yes
NAT-Traversal (NAT-T)

Yes
DrayTek VPN Matcher

Yes
Firewall & Content Filtering

NAT

Port Redirection, Open Ports, Port Triggering, DMZ Host, UPnP
ALG (Application Layer Gateway)

SIP, RTSP, FTP, H.323
VPN Pass-Through

PPTP, L2TP, IPsec
IP-based Firewall Policy

Yes
Content Filtering

Application, URL, DNS Keyword, Web Features, Web Category*
*Subscription required, see accessories tab for compatible licence
DoS Attack Defense

Yes
Spoofing Defense

Yes
Bandwidth Management

IP-based Bandwidth Limit

Yes
IP-based Session Limit

Yes
QoS (Quality of Service)

TOS, DSCP, 802.1p, IP Address, Port, Application
Management

Local Service

HTTP, HTTPS, Telnet, SSH v2, FTP, TR-069
Config File Export & Import

Yes
Config File Compatibility

Vigor2862
Firmware Upgrade

TFTP, HTTP, TR-069
2-Level Administration Privilege

Yes
Access Control

Access List, Brute Force Protection
Notification Alert

SMS, E-mail
SNMP

v1, v2c, v3
Syslog

Yes
Managed by VigorACS

Yes
Central VPN Management

8 VPN
Central AP Management

20 VigorAP
Central Switch Management

10 VigorSwitch
Physical

Power Supply

DC 12V @ 2A
Dimensions

241 x 166 x 46 mm
Operating Temperature

0ºC to 45ºC
Storage Temperature

-25ºC to 70ºC
Operating Humidity (non-condensing)

10% to 90%
Certificate

CE
Package Contents

1 x DrayTek Vigor2865
1 x RJ45 to RJ45 Cable (Ethernet)
1 x RJ45 to RJ45 Cable (Annex B)
1 x RJ11 to RJ45 Cable (Annex B)
1 x RJ11 to RJ11 Cable (Annex A)
1 x UK Power Adapter
1 x Quick Start Guide
Warranty Information

Please check the Specification Section for Warranty Information
Extended Warranty

Care for your DrayTek with VigorCare Extended Warranty !

VigorCare Enhanced Warranty Service

Prepare for the unforeseen, equipment unfortunately does fail from time to time, be it a power surge, overheating or update failure, having an extended warranty can be a lifeline to your business when you need it most. The following packages below are available.

Advanced Replacement

If you suspect that your covered DrayTek product has developed a fault, our experienced support technicians will help you to diagnose the problem and determine whether the unit needs to be service or replaced. If it does, a replacement unit will be sent out the same day for delivery on the next working/business day (to most of the UK). If you wish to take the unit yourself to the service centre (currently North of London), replacement or diagnosis/repair can be carried out in person.

3 or 5 Year Warranty

 

 

Enhanced Warranty Service
3 or 5 year warranty upgrades available
Advanced-Replacement of faulty unit
Next working day* replacement unit
Cover for 3 or 5 years warranty with single payment
Available for all DrayTek Vigor routers
Warranty upgrades available to purchase for up to 6 months after product purchase

 

With VigorCare, you also have the benefit of an extension to a full 3 or even 5 years of warranty so that if a fault does develop, you will have no bills for parts, labour or replacement in the event that a warranty fault develops. We're proud of the reliability that DrayTek products achieve but however unlikely a problem might be, if your business depends on your DrayTek product, VigorCare should give you the peace of mind and convenience that you need.

VigorCare membership is subject to the VigorCare Terms & Conditions (see terms tab, above) and should be taken out within 6 months of purchase of your new product

VigorCare Service Packs

VigorCare subscription is available for several categories of product. Determine the correct pack for your product below. NOTE: The subscription must be activated via the link below within 6 months of your router and service pack being purchased.

VigorCare Activation Link

https://www.draytek.co.uk/support/vigorcare-registration

 

 

Product Code

Description

Applicable To These DrayTek Products

Duration

Buy Now
VCARE-A3

VigorCare A3 3 Year Subscription

Vigor 130, Vigor 166, Vigor 2762, 2763, 2765, 2766 series




VigorAP 810, 903, 912C, 960C, 1000C, 1060C




VigorSwitch P1092, G1080

3 Years

VCARE-A5

VigorCare A5 5 Year Subscription

Vigor 130, Vigor 166, Vigor 2762, 2763, 2765, 2766 series




VigorAP 810, 903, 912C, 960C, 1000C, 1060C




VigorSwitch P1092, G1080

5 Years

VCARE-B3

VigorCare B3 3 Year Subscription

Vigor 2620Ln




Vigor 2832, 2862, 2865, 2866, 2926, 2927 series




VigorAP 920, VigorAP 918 series




VigorSwitch P2121

, G2100, P2100

3 Years

VCARE-B5

VigorCare B5 5 Year Subscription

Vigor 2620Ln




Vigor 2832, 2862, 2865, 2866, 2926, 2927 series




VigorAP 920, VigorAP 918 series




VigorSwitch P2121

, G2100, P2100

5 Years

VCARE-C3

VigorCare C3 3 Year Subscription

Vigor 2952, 2960, 2962, 3220




VigorSwitch P1280, G1280, P1282, G1282

3 Years

VCARE-C5

VigorCare C5 5 Year Subscription

Vigor 2952, 2960, 2962, 3220




VigorSwitch P1280, G1280, P1282, G1282

5 Years

VCARE-D3

VigorCare D3 3 Year Subscription

Vigor 3900, Vigor 3910




VigorSwitch G2280, G2280x, G2500, G2540x




VigorSwitch P2280, P2280x, P2500, P2540x

3 Years

VCARE-D5

VigorCare D5 5 Year Subscription

Vigor 3900, Vigor 3910




VigorSwitch G2280, G2280x, G2500, G2540x




VigorSwitch P2280, P2280x, P2500, P2540x

5 Years

 

 Warranty Terms & Conditions Apply - please see here

https://www.draytek.co.uk/support/vigorcare#terms-and-conditions