AVM
Regular price
Sale price
£103.99
Unit price
per
Sale
Sold out
Fritz Fon Phone C6 from AVM with clear HD Sound Ergonomic illuminated keypad with tactile keys and with Smart Home Apps - web radio, receive emails, baby monitors or even alarms!
Available in White or Black
Ideal for FRITZ!Box
Top voice quality
High-quality color display
Long battery life
Email, RSS feeds, web radio
Media player and Smart Home control
Compelling design
The FRITZ Fon C6 has been updated with a new look and minimalist design. The ergonomic, illuminated keypad with a message indicator and the high-resolution colour display make using the AVM FRITZ Phone a pleasure.
More convenience on the phone
User friendliness is very important to us. Making phone calls convenient for you Thanks to the updated ergonomics and intuitive operation, the AVM FRITZ Fon C6 is even easier to hold when making calls. The feel of the keypad is even better and the tactile keys make the phone safe and easy to use.
Individual start screens and designs
Keep an overview of your calls or select a start screen that displays the technical data of your FRITZ!Box such as its connection status and wireless LAN usage. Alternatively, opt for the retro design with an analog clock in different designs. The choice is yours!
Natural sound thanks to HD telephony
For ultimate speech intelligibility, the FRITZ Phone C6 supports HD telephony, which transmits voices more naturally than traditional voice transmission. Phone calls are fun – with the FRITZ!Fon C6 and its clear, pleasant sound.
Making phone calls fun
The FRITZ!Fon C6 offers all of the familiar AVM FRITZ Fon C6 features, including HD telephony, an answering machine, and multiple telephone books. Convenience features such as Smart Home applications, web radio, receiving emails, baby monitors or alarms are also included.
New features such as the display of town/city or country names for calls or the addition of up to five own ring tones are also available for the FRITZ!Fon C6 thanks to FRITZ!OS 7.
Fully loaded with FRITZ!Box
Configuring the FRITZ!Fon AVM C6 is so easy and takes no time at all. Simply register the phone on the DECT base station and you're all set. You can either add numbers and contacts for all phones in the FRITZ!Box menu or save them directly in the FRITZ!Fon.
Combine a FRITZ!Box that has a DECT base station and the FRITZ!Fon and take complete advantage of a dream team in the world of telephony! Together, all of the C6 FRITZ Fon features are available to you, with new ones added via regular updates.
Carefree calling
The FRITZ TeleFon C6 is equipped with latest voice encryption standards upon delivery. There's no additional configuration needed – You can use the phone right away.
Quick Setup Guide>Click Here
User Guide>Click Here
Share
View full details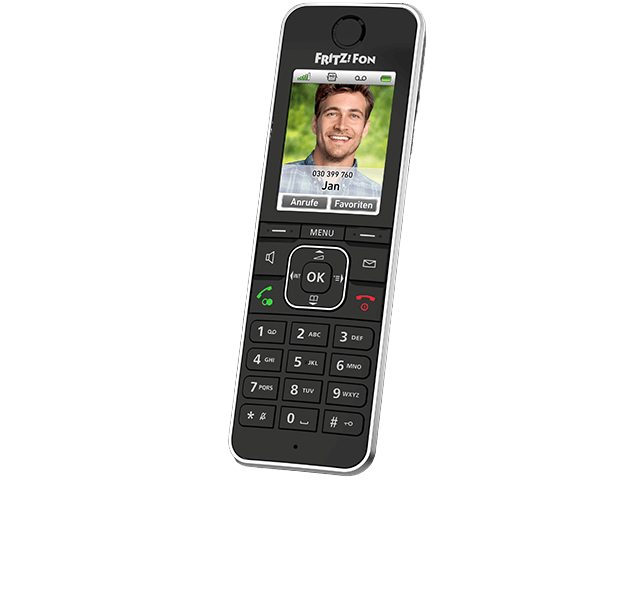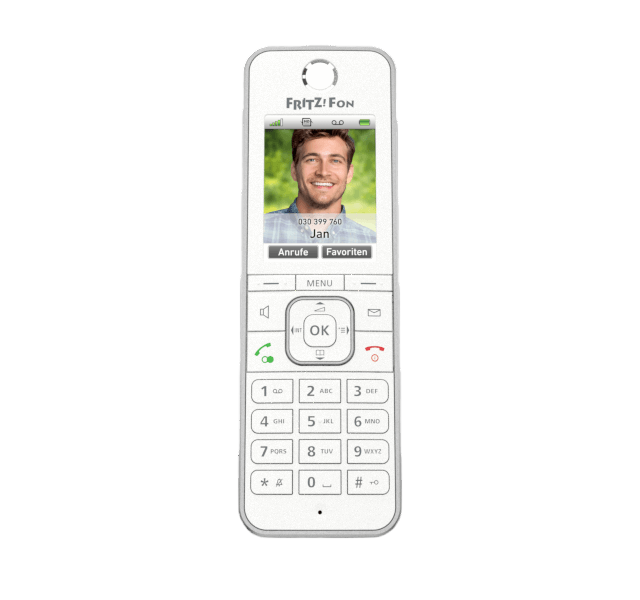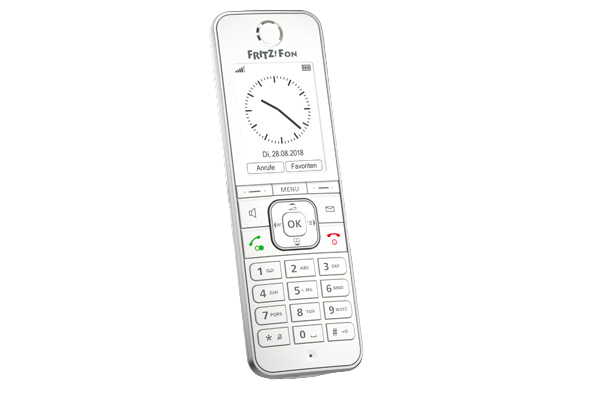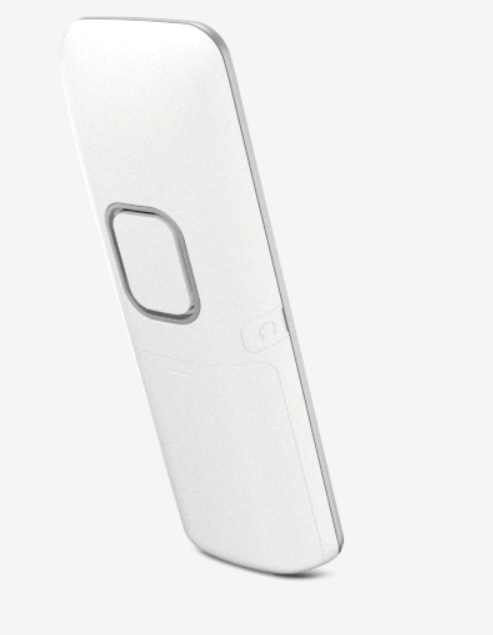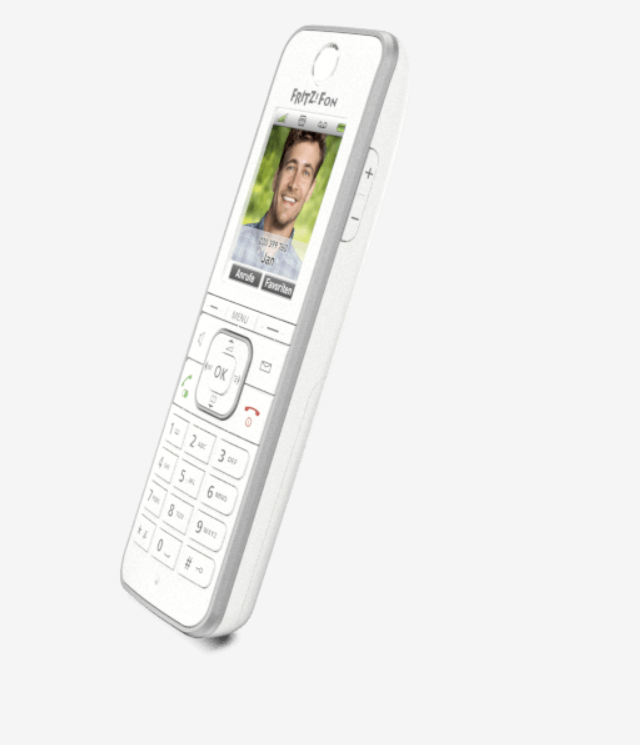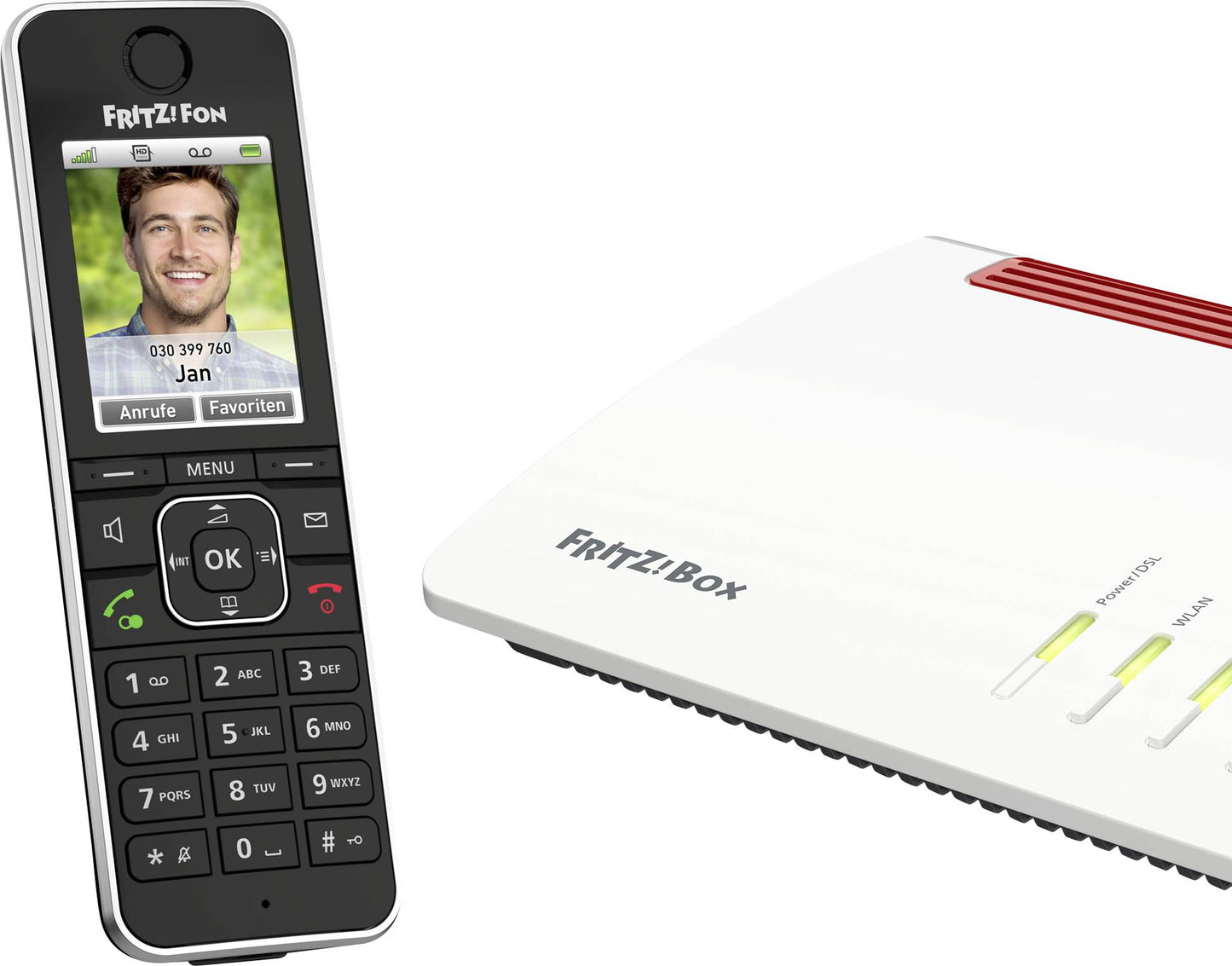 Explore Further
Highlights

HD telephony for unbeatable sound
FRITZ!Fon supports HD telephony for crystal-clear calls. By transmitting the entire frequency spectrum of the human voice, it achieves outstanding sound quality.


Brightening up telephony
Thanks to its brilliant colors and high resolution, the large color display on your FRITZ!Fon is a real eye-catcher. Add photos to the contacts in your address book so you can immediately see who's calling.


Move around while calling
With an outdoor range of up to 300 meters and an indoor range of up to 40 meters, FRITZ!Fon gives you tremendous freedom of movement. Enjoy calls on a perfect line, wherever you happen to be.


DECT Eco
DECT Eco phones stop emitting radio frequency (RF) energy when in standby mode and/or docked in the base. In the event of an incoming call or if it's no longer in standby mode, FRITZ!Fon automatically "wakes up" from its energy-saving state.


Maximum security
Using a fully automated procedure, FRITZ!Fon and FRITZ!Box encrypt conversations in line with the latest standards. In combination with FRITZ!Box, you can also block particular numbers or expensive premium-rate services.


Regular updates
FRITZ!Fon regularly gets new features and enhancements. The free software updates increase convenience and performance and are installed at the touch of a button.

A talent for organization
You can conveniently create multiple telephone books on the user interface of the FRITZ!Box and use these with each FRITZ!Fon, helping you keep track of your contacts.


Never miss a call
You can record individual greetings for the various digital answering machines on your FRITZ!Fon. FRITZ!Fon also informs you of missed calls and even new e-mails.


Convenient telephony with a headset
The FRITZ!Fon features a headset port, so you can keep both hands free and still enjoy optimum sound quality when making calls. FRITZ!Fon is compatible with all standard headsets.


FRITZ!Fon as a remote control
You can use your FRITZ!Fon like a remote control to manage the music on your home network's media server or even deploy the FRITZ!Fon itself as a playback device.


Infotainment à la FRITZ!
With numerous Internet functions, FRITZ!Fon can be used as a personal information and entertainment hub. You can access e-mails and RSS feeds, and listen to podcasts and Internet radio – all on the FRITZ!Fon itself.


Telephony that's even more convenient
FRITZ!Fon offers the full range of telephony features: call waiting, call lists, baby monitor function, call diversion, call toggling, three-way calling, speed dialing, call blocking, call transfer, wake-up calls, and much, much more.
Dimensions and Weight

Width 48 mm, Depth 21 mm, Height 152 mm,Weight 130 g
Specification

Cordless telephone (DECT GAP standard) for internet and landline calls
Supports HD telephony (7-kHz G.722 codec) for natural sound
Internet telephony SIP-compliant in accordance with RFC 3261 (in combination with the FRITZ!Box)

The ideal complement to all FRITZ! box models with a DECT base station
FRITZ!Box functions are easily configured and operated from the handset: answering machine, alarm, call diversion, baby monitor, WiFi scheduling (turn on/off) and more

Town/city and country names displayed on incoming and outgoing calls (with FRITZ!OS 7)

Up to five own ring tones (with FRITZ!OS 7)

Regular updates with new features, all at the touch of a button (PIN-protected on request)
Volume keys on the side
Full duplex hands-free communication
Speakerphone function in HD quality
Voice transmission encrypted upon delivery for greater security
Ergonomic, illuminated keypad with message key (MWI)

DECT Eco: transmitting power turns off automatically when on standby

Range up to 300 meters outdoors and up to 40 meters indoors

Up to 16 hours talk time, up to 12 days on standby
Multiple telephone books with up to 300 entries, online contacts , advanced searching, photos for contacts
Multiple answering machines with graphic menus, remote inquiry and email forwarding

Call waiting, call diversion, call hold, alternate between calls, transfer and three-way conferences
Quick-dial numbers, call lists and call blocking, internal calling, Calling Line Identification Restriction (CLIR) and suppression of outgoing number on a call-by-call basis

Receive emails, RSS feeds, web radio and podcasts
Control FRITZ!Box functions including wireless LAN scheduling, Smart Home applications, media server playback function

Display of live images from webcams or intercom systems, including door opening function

Brightness, proximity and motion sensor for energy-efficient display operation

Charging station: charge time approx. 6 hours
Deep discharge protection
Loudspeaker/microphone
Conforms to CE standards

Device properties
Intuitive menus on high-quality color display (180 ppi)
Color display: 240 x 320 pixels, 262,000 colors, high-resolution

Make calls and listen to music and podcasts via headset (3.5 mm jack)
1 Li-ion battery, 1000 mAh, 3.7 V

Dimensions (W x H x D): approx. 48 x 152 x 21 mm
Weight: approx. 126 g (including battery pack)
Operating voltage of the charging station: 230 V / 50 Hz

Package contents
FRITZ!Fon C6
Battery pack (in telephone)
Charging cradle with power adapter (230 V)
Warranty Information

All products come with a minimum 12 Months Warranty - Please check the Specification Section to see if longer!