AVM
Regular price
Sale price
£159.99
Unit price
per
Sale
Sold out
Fritz Repeater 3000 Supports Mesh WiFi over 3 Separate WiFi Bands Extend Your Wireless Network
German engineering at its finest - this acts as a booster or extender to make your wireless network go further
High speeds and amazing coverage
The Fritzbox Repeater 3000 is the first repeater in the FRITZ! product range to have three separate bands. Thanks to intelligent Mesh repeating, achieving top speeds is easy. Extend your home network easily and efficiently with the FRITZ!Repeater 3000.
Wi-Fi up to 1733 + 866 + 400 Mbit/s

More Wi-Fi in every room

Network with 2 x gigabit LAN

Easy to use and smart apps
Mesh Wi-Fi with FRITZ!
Fritzbox mesh Repeater supports Mesh Wi-Fi, meaning your videos, music and photos seamlessly reach every corner of your home, apartment or office. How does it work? The FRITZ! devices work together as part of a single network, communicating with each other and optimizing your devices and network usage. 
With Mesh networking you can enjoy high speeds while surfing, streaming or gaming. Instead of waiting for breath-taking HD television and your favourite music, your media will wait for you.
Wireless freedom
With its two gigabit LAN ports, the AVM FRITZ  Repeater 3000 integrates network-enabled devices without Wi-Fi functionality into the home network. The Fritzbox Repeater 3000 does this by using radio signals to bridge the distance to the router, something that used to require laying extra cables. And if your home already has cables, the repeater can switch to LAN bridge operating mode so that an existing network cable or powerline adapter can be used connect to the router. This means even longer distances can be bridged effortlessly.
Easy to install thanks to WPS
The FRITZ!Repeater 3000 supports uncomplicated, automatic registration using the Wi-Fi Protected Setup (WPS) standard. Configuration is completed with the touch of a button: Repeaters and WPS-enabled routers, such as the FRITZ!Box, then connect automatically. The FRITZ!Repeater adopts the appropriate Wi-Fi settings and is ready for use immediately. 
Secure encryption for your Wi-Fi network
The FRITZ!Repeater 3000 supports secure WPA2 encryption. This allows the repeater to establish secure connections to radio networks of modern routers and your Wi-Fi is well protected.
Quick Start Guide>Click Here
Setup Guide>Click Here
Share
View full details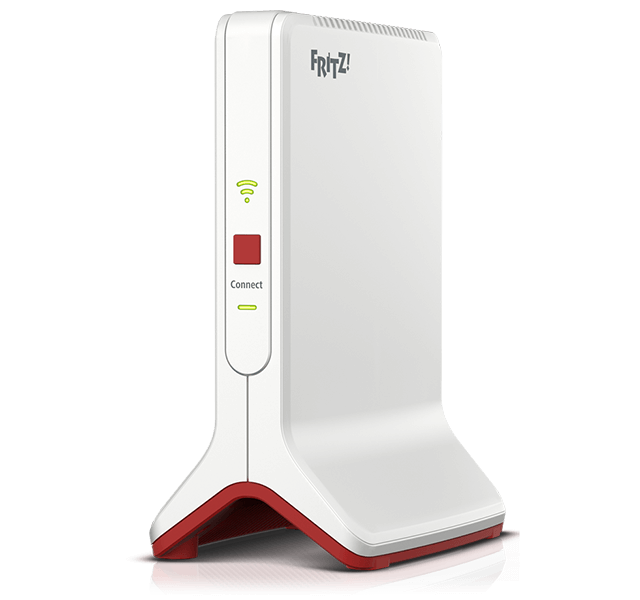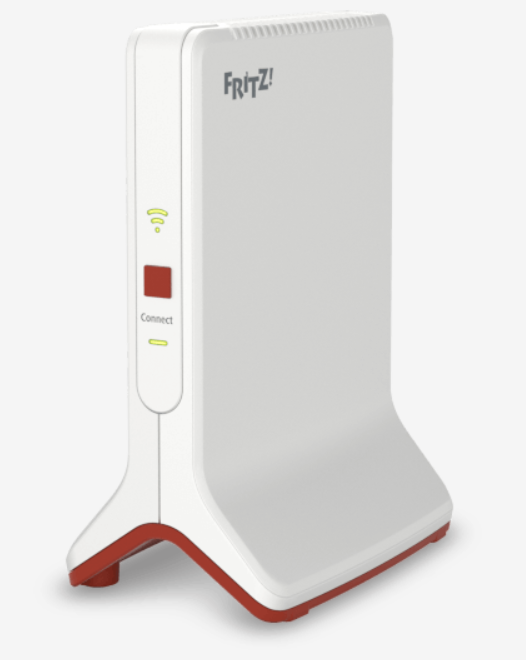 Explore Further
Highlights

Mesh Wi-Fi with FRITZ!
With FRITZ! your Wi-Fi grows to whatever size you need at the touch of a button. Combine FRITZ!Box with the intelligent FRITZ!Repeaters and FRITZ!Powerline to adjust your home network to your individual needs and enjoy full Mesh convenience with FRITZ!.


Greater range in a matter of seconds
The FRITZ!Repeater increases the range of existing Wi-Fi networks in an extremely simple and efficient manner, making it the ideal solution for extending Wi-Fi signal throughout your entire home.


Three independent bands
The intelligent use of three radio units (2 x 5 GHz and 1 x 2.4 GHz) ensures maximum Wi-Fi performance: Wi-Fi up to 1733 Mbit/s, up to 866 Mbit/s and 400 Mbit/s. Your wireless router is optimally connected via the dedicated 5 GHz band.


Compatible with all standard routers
FRITZ!Repeaters are perfectly configured for the FRITZ!Box, but can also be used with many standard wireless routers. Whichever router you use, the registration process couldn't be easier.


Find the ideal location for your repeater
The FRITZ!Repeater 3000's multicolor LED for signal strength helps you determine the ideal location. FRITZ!App WLAN provides even more precise information about your Wi-Fi network and where best to position your repeater.


Ready for the future with IPv6
In addition to IPv4, the FRITZ!Repeaters support the IPv6 Internet protocol. IPv6 makes existing services more convenient and considerably simplifies a host of new applications.


Network bridge
FRITZ!Repeaters can also be used as a network bridge. Connect to a modems or router using a network cable, enabling Wi-Fi on these devices in a quick, secure, and cost-effective manner.


Ready for use in a matter of seconds
Thanks to WPS (Wi-Fi Protected Setup), you can effortlessly connect the FRITZ!Repeater. Simply press the "WPS" button on the router and the repeater, and it will be securely and completely automatically registered on the network.


Dimmable LED
Want to set up your FRITZ!Repeater in your bedroom? Or in a room that gets a lot of light? The dimmable LED makes it easy to adjust the brightness to your surroundings in three different light levels.


Updateable with FRITZ!OS
The FRITZ!Box operating system, FRITZ!OS, is also used in the FRITZ!Repeater. You benefit from new updates for greater convenience and additional features. All FRITZ!OS updates are free of charge.


Maximum wireless security
The FRITZ!Repeater supports the WPA2 wireless encryption standard for uncompromising security.


Suitable for network-enabled devices without Wi-Fi
Thanks to its gigabit LAN port, the FRITZ!Repeater is also suitable for devices without an integrated wireless module. Connect your smart TV, media player, or games console to the FRITZ!Repeater and make long network cables a thing of the past.


Convenient operation
The repeater's user interface can be accessed by entering fritz.repeater in your smartphone, tablet or computer browser, and offers user-friendly menus for all features. Wizards make it easy to set up the repeater manually.

Dimensions and Weight

Width 8.8 cm, Depth 13.6 cm, Height 18.4 cm,Weight
Specification

Mesh WiFi Repeater for the highest performance requirements
With Mesh WiFi you can combine several wireless access points into one intelligent system (FRITZ!OS 6.90 and later) Find out more at en.avm.de/mesh
Three wireless radio units: 1,733 Mbit/s + 866 Mbit/s (5 GHz) + 400 Mbit/s (2.4 GHz) for the optimal supply of multiple wireless devices
Two gigabit LAN ports: Connected devices (computers, printers, audio/video players, etc.) are granted WiFi functionality
Can also be connected to a router via network cable (LAN bridge)
Encryption with WPA2 (802.11i), additional WPA3 transition mode
Compatible with all common wireless routers
Simple, secure configuration at the touch of a button (WPS method)
Display shows connection quality and status
Supports the IPv6 internet protocol

Optimized for use with all FRITZ!Box models
Simple installation at the touch of a button using Wi-Fi Protected Setup (WPS)
Easy operation via browser-based user interface (http://fritz.repeater)

Wireless access point: compatible with all wireless routers with the 802.11 ac/n/g/a wireless standards
Wi-Fi: 1733 Mbit/s (5 GHz, 4 x 4, 80 MHz) + 866 Mbit/s (5 GHz, 2 x 2, 80 MHz) + 400 Mbit/s (2.4 GHz, 2 x 2, 40 MHz)
2 x gigabit ports (10/100/1000 Mbit/s)
Connection to mains with power adapter provided (230 V, 50 Hz)

FRITZ!Repeater 3000
Power adapter
Network cable
Quick guide

Measurements (W x H x D): approx. 8.8 x 18.4 x 13.6 cm
Total power consumption: maximum 11.4 watts, average 6 watts

5-year manufacturer's warranty for end customers, as per the warranty conditions
Warranty Information

All products come with a minimum 12 Months Warranty - Please check the Specification Section to see if longer!