Regular price
Sale price
£899.99
Unit price
per
Sale
Sold out
DrayTek P2540xs Vigor Switch
54-port PoE+ Gigabit L2+ Managed switch with 48 PoE+ RJ-45 LAN ports & 6 10GbE SFP+ ports
VigorSwitch P2540xs
10GbE Gigabit Switch with 48 Gigabit PoE+ Ports & 6 10GbE SFP+ Uplink Ports
VigorSwitch P2540xs is a 54 port PoE+ Gigabit L2+ Managed switch with a plethora of management options and enterprise-level features to improve network stability and security for businesses.
It has 48 PoE+ (Power over Ethernet) RJ-45 LAN ports and 6 10-Gigabit Ethernet SFP+ ports for high bandwidth uplinks to Servers, Network Attached Storage and Switches.
Designed for centralised management, the VigorSwitch P2540xs can be provisioned and monitored through both the VigorACS management platform and/or, a DrayTek Vigor router's Central Switch Management. Easily provision the VLAN configuration through the router and clone switch configurations. Drastically reduce the setup time required for a complex network, with VLANs spanning multiple switches.
Share
View full details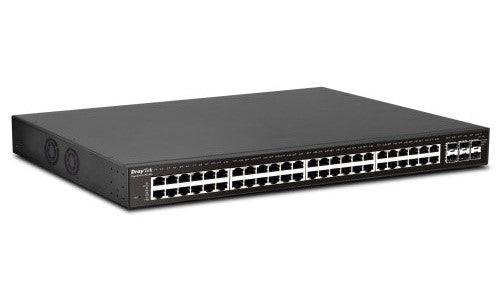 Explore Further
Highlights

High Speed 10 Gigabit SFP+ Uplinks
6 SFP+ ports allow your network to utilise 10Gbps ports to link Switches, Servers and Networked Storage with more bandwidth. This helps you reduce the risk of bottlenecks occurring in your network.

Benefits: Easily increase network throughput and meet demanding bandwidth requirements.

Manage Centrally or Stand-Alone
Configure and monitor the switch through the VigorACS cloud management platform, DrayTek's Central Switch Management for Vigor routers, or directly via the device's Web Interface.

Benefits: Saves time and money. Easily provision, monitor and manage remote sites without on-site IT or dedicated staff.

Great Security Features
Protect your network against unauthorised access and network problems with 802.1X port authentication, DHCP Snooping, IP Source Guard and Access Control Lists. Check the features sections for more information.

Benefits: Secure & control access to your network.

Advanced Layer 2+ Routing Features
Expand your network with support for Layer 3 features such as Static Routes and VLAN Routing, to connect separate networks through the VigorSwitch.

Benefits: Provides a fast and secure bridge between networks.

400W PoE Power Budget
Provides power through Ethernet to each of the 48 PoE / PoE+ enabled Gigabit LAN ports. PoE scheduling, priority & monitoring features ensure your PoE devices are powered and working.

Benefits: Power a large number of IP cameras, IP phones, wireless APs and other PoE devices.

IP Camera Management
Manage IP Cameras easily with detection and management of ONVIF cameras. Use PoE Device Check, auto-generated IP Camera topology and Camera Snapshots to detect & troubleshoot problems.

Benefits: Easily configure, deploy & manage connected IP Cameras.
Dimensions and Weight

Width 441 mm, Depth 330 mm, Height 45 mm,Weight 5.66 kg
Specification

Physical Interfaces
48 RJ45 Ethernet Ports – 10/100/1000Mbps
6 SFP+ Ports – 1000Mbps/10Gbps
Console Port (RJ45 physical, RS-232 electrical)
PoE Specification

Scheduling
PoE PD Priority
Restart PoE PD if not responding to ping
Restart PoE IP Camera if not providing camera output
48-ports 802.3af & 802.3at (High Power) PoE PSE
400 Watts Total Power Budget for PoE
Up to 30 watts per port
Auto Detection of Powered Device (PD) and Consumption Levels
Per Port PoE Status LED Indicators
Alert LED for high PoE Usage
Port Power Consumption Monitoring via Web Interface & CLI
Circuit Protection to Prevent Power Interference between Ports
PoE PD Monitoring & Maintenance Features (per port)
Scheduling
PoE PD Priority
Restart PoE PD if not responding to ping
Restart PoE IP Camera if not providing camera output
VLAN

802.1q Tag-based VLAN
Port-based and MAC-based VLANs
QinQ (Basic)
GVRP – General VLAN Registration Protocol
Up to 256 VLANs (out of 4096 VLAN IDs)
802.1v Protocol-Based VLAN
Voice VLAN (OUI Mode)
Surveillance VLAN (OUI Mode)
Protocol VLAN
MAC-based VLAN
Management VLAN
Port Isolation
QoS

Support 8 priority queues
Port-Based rate control (Ingress & Egress)
Priority queue schedule (WRR or Strict Priority)
Rate Limit
Class of Service
802.1p CoS
DSCP
CoS-DSCP
IP Precedence ToS
Network Security

IP Source Guard with ARP inspection
Storm Control (Broadcast, Unknown Multicast, Unknown Unicast)
DoS Attack protection
AAA Authentication
MAC Authentication
Protected Port / Port Isolation
Static Port Security
Dynamic ARP Inspection
DHCP Snooping with Option 82
Loop Detection & Prevention
Access Control Lists (ACL)
Up to 512 ACL Entries
Source and destination MAC
VLAN ID
IPv4/v6 address
Protocol
TCP/UDP port
Spanning Tree

Spanning Tree Protocol (STP)
Rapid Spanning Tree Protocol (RSTP)
Multiple Spanning Tree Protocol (MSTP)
Link Aggregation

Combine multiple ports to increase bandwidth
8 Aggregation Groups
Up to 8 ports in each group
LACP or Static setup
Supports traffic load balancing
Networking Performance

Layer 3 Routing Table: Up to 2000 Entries
Switching Capacity: 216Gbps
Forwarding Rate: 160.7Mpps at 64 bytes
MAC Addresses Supported: 32,000
Jumbo Frames up to 12KB
Packet Buffer size: 16Mbit
Layer 3 Routing Table: Up to 2000 Entries
Multicast

Up to 256 multicast groups
Multicast Group Filtering / Throttling
IGMP Snooping V2/V3 (BISS)
IGMP V2/V3 Querier
Multicast VLAN registration
MLD Snooping V1/V2
Immediate Leave
Report Suppression
IGMP/MLD Querier
AAA

RADIUS / TACACS+ Authentication for Management
Multiple AAA Server
MAC / Inaccessible Authentication bypass
RADIUS Authentication 802.1X
Accounting
Guest VLAN
Port based Authorisation
802.1X Single/Multi
MAC-based
Web-based
Attribute Assignment
User Privilege
VLAN
TACACS+ Authentication
Port Authorisation
Accounting
ONVIF Surveillance Management

Discovery of ONVIF-compliant IP Cameras
Surveillance Topology
Real-Time Video Streaming
ONVIF Device Maintenance
Device Information
Network Settings Configuration
Time Settings
Reboot
Reset to Factory Default Settings
Ping Check with Mail Alert on disconnection
Management

Central Management
VigorACS
VigorConnect
Vigor Router Switch Management (requires router firmware support)
Running/Startup/Backup Configuration
sFlow
IPv4 & IPv6 Dual-Stack
LLDP(802.1ab) + MED
Web User Interface (HTTP or HTTPS)
Firmware Upgrade/Backup by HTTP/HTTPS
HTTP (Non-TLS) can be disabled for increased security
Configuration Backup/Restore
Factory Default
System Reboot
Dual Firmware Image (Active & Backup Firmware)
Command Line Interface (CLI) via SSH/Telnet
Console Port (RJ45) for CLI management
OpenVPN Client with Certificate-based auth
SNMP v1, v2c, v3 (with Generic Traps)
RMON Groups 1, 2, 3, 9 (History, Statistics, Alarms, Events)
SNTP (Simple Network Time Protocol)
Diagnostics

Port Status & Usage display
CPU/RAM Usage display
MAC Address Table
Device Check
Syslog
Mail Alert
Port Status
Port Speed Change
System Restart
Device Check
IP Conflict
ONVIF IP Camera Snapshot
Port Mirroring
Ping Diagnostics
Port-based Cable Test
Hardware Monitor

Remote Monitoring through Web Interface & VigorACS
Hardware Monitor Data Recording & Graphing
Email & LED alert on Fan failure, voltage high/low and overheat
Temperature Monitoring
Voltage Monitoring
Smart Fan Control for low noise operation
Power Saving Mode
Layer 3 Networking Features

Static Route
VLAN Routing
Virtual Router Redundancy (VRRP) Protocol
IPv4 Features

DHCP Client
DNS Client
DHCP Server
Up to 8 subnets
Option 82, 66, 67
DHCP Relay
DHCP Snooping
DHCP IP Source Guard
IPv6 Features

Auto Configuration
Static IPv6 Address & Prefix Length
Static IPv6 Default Gateway
IPv6 Neighbour Discovery (ND)
IPv6 Duplicate Address Detection
ICMPv6
DHCPv6 Client
General IEEE Standards Compliance

802.3 10Base-T
802.3u 100Base-T
802.3ab 1000Base-T
802.3ae 10GBase-T
802.3x Flow Control Capability
802.3 Auto-negotiation
802.3ad Port trunk with LACP
802.3az Energy Efficient Ethernet
802.3af PoE
802.3at PoE+
802.1q VLAN
802.1p Class of Service
802.1d Spanning Tree
802.1w Rapid Spanning Tree
802.1s Multiple Spanning Tree
802.1x Port Based Network Access Control
802.1ab Link Layer Discovery Protocol (LLDP)
802.1ad QinQ
Operating Requirements

Power Input Requirements: 100-240VAC
Power supply: Internal
Maximum Input Power Consumption: 478 Watts
Cooling: Dual Smart Fan
Operating Temperature: 0 °C to 50 °C
Storage Temperature: -20 °C to 70 °C
Operating Humidity: 10% to 90% RH (non-condensing)
Physical Specifications

Dimensions: 441 x 330 x 45 mm (W x D x H)
Rack mountable: 1U
Weight: 5.66Kg (excluding SFP modules/cables)
Brackets included for rack or wall mounting
Package Contents

1 x VigorSwitch P2540xs Network Switch
1 x UK IEC13 Power Cable
1 x 1U Rack Mount Fittings
1 x RJ45 to RS-232 Console Cable Adapter
1 x Console Cable (RJ45)
1 x Quick Start Guide
Warranty Information

Please check the Specification Section for Warranty Information
Extended Warranty

Care for your DrayTek with VigorCare Extended Warranty !

VigorCare Enhanced Warranty Service

Prepare for the unforeseen, equipment unfortunately does fail from time to time, be it a power surge, overheating or update failure, having an extended warranty can be a lifeline to your business when you need it most. The following packages below are available.

Advanced Replacement

If you suspect that your covered DrayTek product has developed a fault, our experienced support technicians will help you to diagnose the problem and determine whether the unit needs to be service or replaced. If it does, a replacement unit will be sent out the same day for delivery on the next working/business day (to most of the UK). If you wish to take the unit yourself to the service centre (currently North of London), replacement or diagnosis/repair can be carried out in person.

3 or 5 Year Warranty

 

 

Enhanced Warranty Service
3 or 5 year warranty upgrades available
Advanced-Replacement of faulty unit
Next working day* replacement unit
Cover for 3 or 5 years warranty with single payment
Available for all DrayTek Vigor routers
Warranty upgrades available to purchase for up to 6 months after product purchase

 

With VigorCare, you also have the benefit of an extension to a full 3 or even 5 years of warranty so that if a fault does develop, you will have no bills for parts, labour or replacement in the event that a warranty fault develops. We're proud of the reliability that DrayTek products achieve but however unlikely a problem might be, if your business depends on your DrayTek product, VigorCare should give you the peace of mind and convenience that you need.

VigorCare membership is subject to the VigorCare Terms & Conditions (see terms tab, above) and should be taken out within 6 months of purchase of your new product

VigorCare Service Packs

VigorCare subscription is available for several categories of product. Determine the correct pack for your product below. NOTE: The subscription must be activated via the link below within 6 months of your router and service pack being purchased.

VigorCare Activation Link

https://www.draytek.co.uk/support/vigorcare-registration

 

 

Product Code

Description

Applicable To These DrayTek Products

Duration

Buy Now
VCARE-A3

VigorCare A3 3 Year Subscription

Vigor 130, Vigor 166, Vigor 2762, 2763, 2765, 2766 series




VigorAP 810, 903, 912C, 960C, 1000C, 1060C




VigorSwitch P1092, G1080

3 Years

VCARE-A5

VigorCare A5 5 Year Subscription

Vigor 130, Vigor 166, Vigor 2762, 2763, 2765, 2766 series




VigorAP 810, 903, 912C, 960C, 1000C, 1060C




VigorSwitch P1092, G1080

5 Years

VCARE-B3

VigorCare B3 3 Year Subscription

Vigor 2620Ln




Vigor 2832, 2862, 2865, 2866, 2926, 2927 series




VigorAP 920, VigorAP 918 series




VigorSwitch P2121

, G2100, P2100

3 Years

VCARE-B5

VigorCare B5 5 Year Subscription

Vigor 2620Ln




Vigor 2832, 2862, 2865, 2866, 2926, 2927 series




VigorAP 920, VigorAP 918 series




VigorSwitch P2121

, G2100, P2100

5 Years

VCARE-C3

VigorCare C3 3 Year Subscription

Vigor 2952, 2960, 2962, 3220




VigorSwitch P1280, G1280, P1282, G1282

3 Years

VCARE-C5

VigorCare C5 5 Year Subscription

Vigor 2952, 2960, 2962, 3220




VigorSwitch P1280, G1280, P1282, G1282

5 Years

VCARE-D3

VigorCare D3 3 Year Subscription

Vigor 3900, Vigor 3910




VigorSwitch G2280, G2280x, G2500, G2540x




VigorSwitch P2280, P2280x, P2500, P2540x

3 Years

VCARE-D5

VigorCare D5 5 Year Subscription

Vigor 3900, Vigor 3910




VigorSwitch G2280, G2280x, G2500, G2540x




VigorSwitch P2280, P2280x, P2500, P2540x

5 Years

 

 Warranty Terms & Conditions Apply - please see here

https://www.draytek.co.uk/support/vigorcare#terms-and-conditions