Regular price
Sale price
£249.99
Unit price
per
Sale
Sold out
DrayTek VigorAP 918RPD
Note: This is a variant of the Vigor AP918R, the points highlighted in yellow below should be observed for this model the 918RPD.
Business-class wireless access point
802.11ac & 802.11n
Simultaneous dual-band (2.4/5Ghz)  
Support for

 

5Ghz Extended Channels (100-140) 
Gigabit Ethernet Switch (4+1 Ports)
Centrally managed or standalone operation 
Central Management supports mobility, load-balancing, monitoring, status, upgrade and configuration 
Local temperature monitoring/logging 
(Optional thermometer accessory required)
802.3af PoE (Power-over-Ethernet) as standard
WPA2 Wireless Encryption 
Repeater/Bridge/Access Point & WDS
Time-Scheduled Operation
Bandwidth management per SSID
802.1q VLAN Tagging
Client Isolation & Multiple SSIDs
MAC Address Filtering
Radius / WPA & 802.1x User Authentication
Built-in Site Surveyor
Wall Mountable
Outdoor Access Point
The VigorAP 918R is an access point designed for continuous outdoor operation, providing strong wireless signal outdoors. This long range AP outputs a strong signal to clients, then amplifies distant or weaker signals. This allows it to communicate with mobile devices at distances of 100 to 200 meters outdoors, or laptops with more powerful antennas at even greater distances.
Fully IP67 compliant, the product can work in extremes of heat, cold, dirty and wet environments. It is dust and water resistant and housed in a robust metal case to withstand harsh environments.
When we say 'ruggedised', this product has been designed from scratch, using high-tolerance components and designed to perform in all supported environments, in operating temperatures of well below freezing up to 70 ° Centigrade. This isn't our indoor product 'put in a fancy box' and hoping for the best.
Power-over-Ethernet Gigabit Ethernet Ports
The VigorAP 918R series is powered through standard IEEE 802.3af/at Power over Ethernet (PoE). This allows the VigorAP to be placed in locations where it's not easily possible to source power. It can also make use of PoE switch features such as scheduling and Device Check to ensure the access point is always operating reliably.
The Gigabit LAN port on the VigorAP 918R ensures that the AP is fed at the maximum speed, in order to fully satisfy the full speed of both 2.4GHz and 5Ghz bands simultaneously.
The VigorAP 918RPD model adds a secondary LAN port, which provides PoE Output (PoE-PSE) to power an additional PoE device through a single cable run. This makes it possible to connect a camera or daisy-chain an additional AP through the one cable.
To power additional devices through the VigorAP 918RPD's secondary LAN port, use the VigorPoE-600 High-Power PoE Injector. This powers both the VigorAP 918RPD and provides up to 16 watts to an additional device, over a 100 meter CAT5e/CAT6 cable run.
Dual Band 11ac Wave 2 Access Point
The VigorAP 918R is an 802.11ac Wave 2 access point, improving performance by increasing the amount of data that can be sent at one time. 11ac Wave 2 uses MU-MIMO (Multi-User Multiple In, Multiple Out) technology to boost performance & capacity, building upon the Single-User (SU-MIMO) technologies introduced with 802.11n.
The VigorAP's MU-MIMO technology when used with MU-MIMO capable wireless clients, allows each antenna (or Spatial Stream) to send to separate wireless clients at the same time, potentially doubling the data transmission rate to clients.
A typical wireless access point can send data to only one client at a time with its radio. With enough users connected, congestion slows down transfer speeds more & more, as the AP is shared between more clients.
This can be particularly useful in locations with many phones, tablet and laptops connecting, where the VigorAP's more efficient transmissions could allow each access point to serve more clients than an 802.11ac Wave 1 or 802.11n access point.
Directional Antenna for Point-to-Point Wireless Links
The VigorAP 918RPD variant of the VigorAP 918 series has an integrated High-Gain directional antenna for linking two locations, using 5GHz 802.11ac MIMO wireless. This High-Gain antenna makes it possible to link two points with line-of-sight wirelessly over 1km at up to 90 Mbps throughput, or 3km at 10 Mbps throughput.
Configure the AP's 5GHz wireless to use the Patch antenna and configure the APs in Mesh Root & Node, then aim the access points using the Signal Strength LEDs located on the bottom of each VigorAP 918RPD access point.
The VigorAP 918RPD is designed to be mounted on a wall or pole - fixing brackets are included with the product, allowing the VigorAP to be fitted at up to 45 ° up & down and/or left & right. With its dual Omni-Directional antennas and internal High-Gain Directional antenna (switchable), it can be used as a wireless access point or Point-to-Point wireless link between buildings.
Share
View full details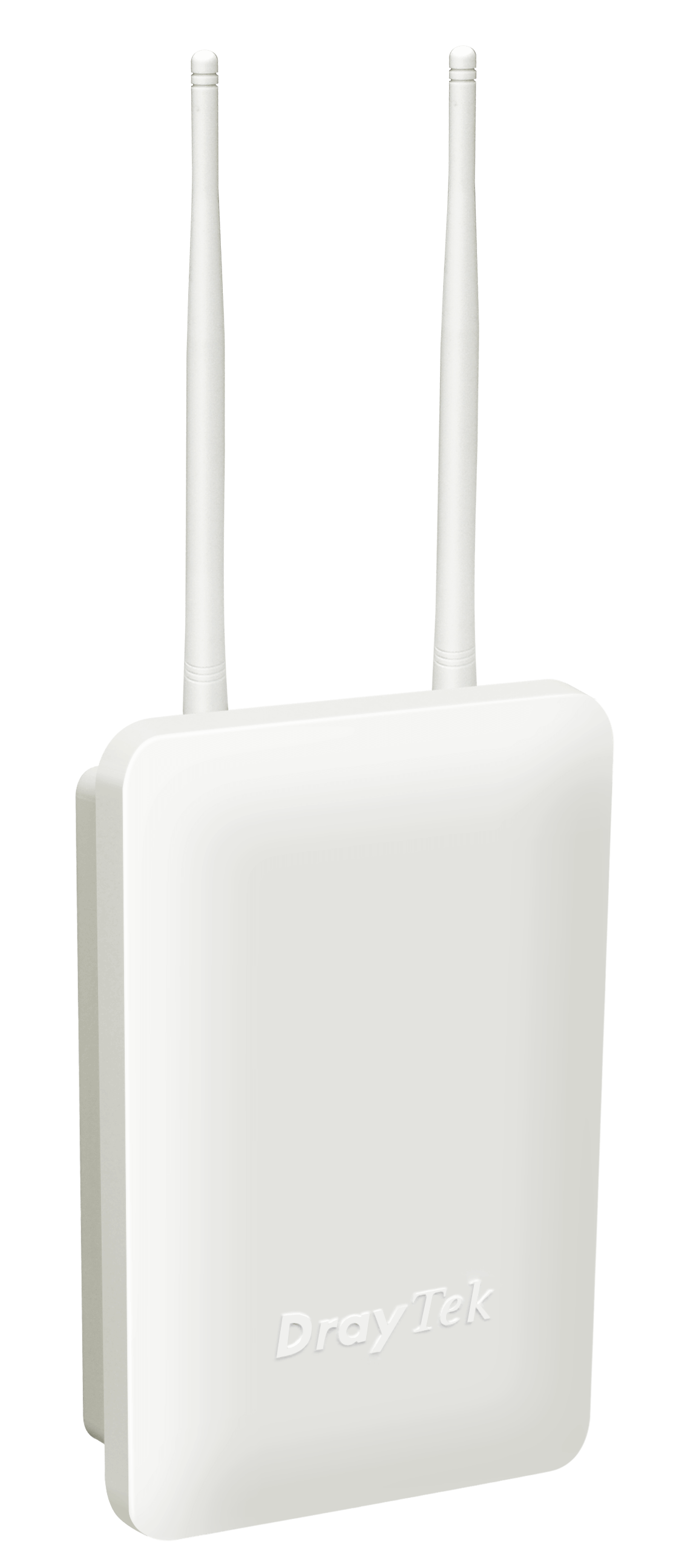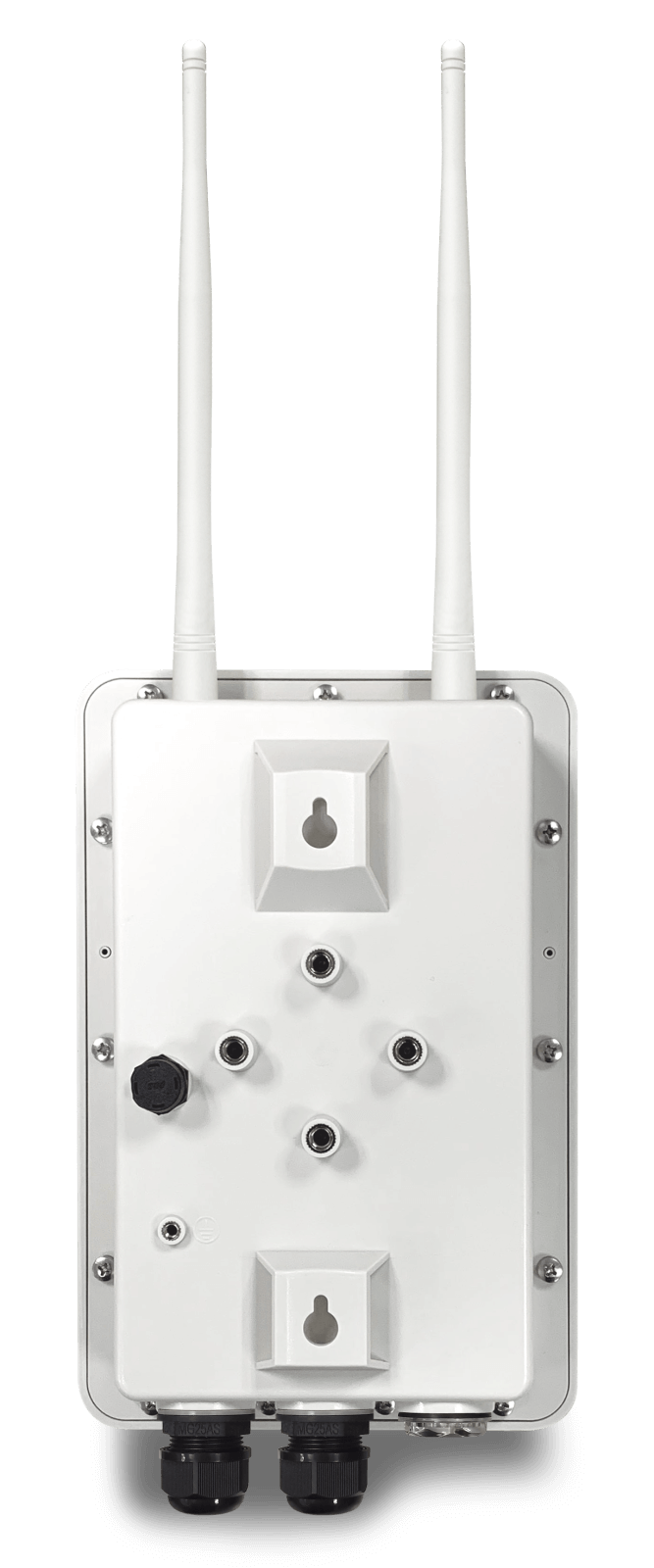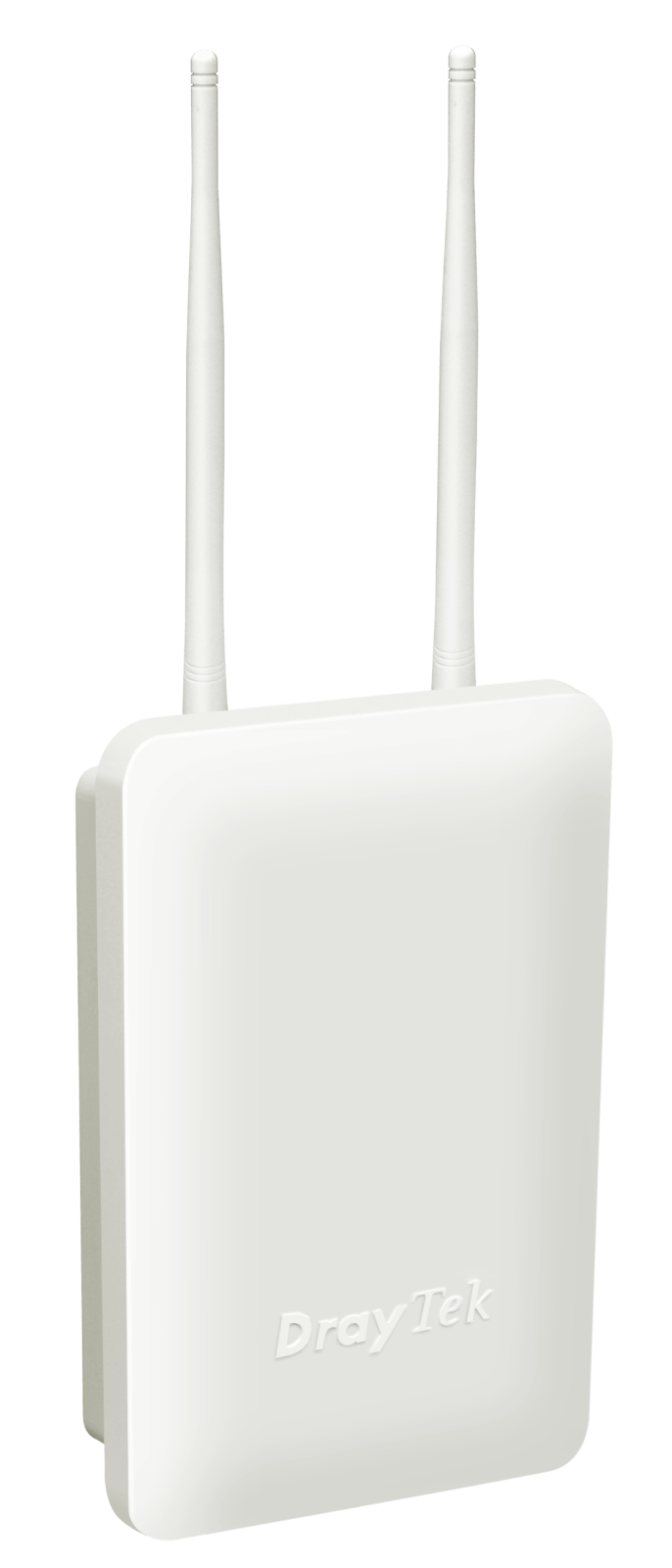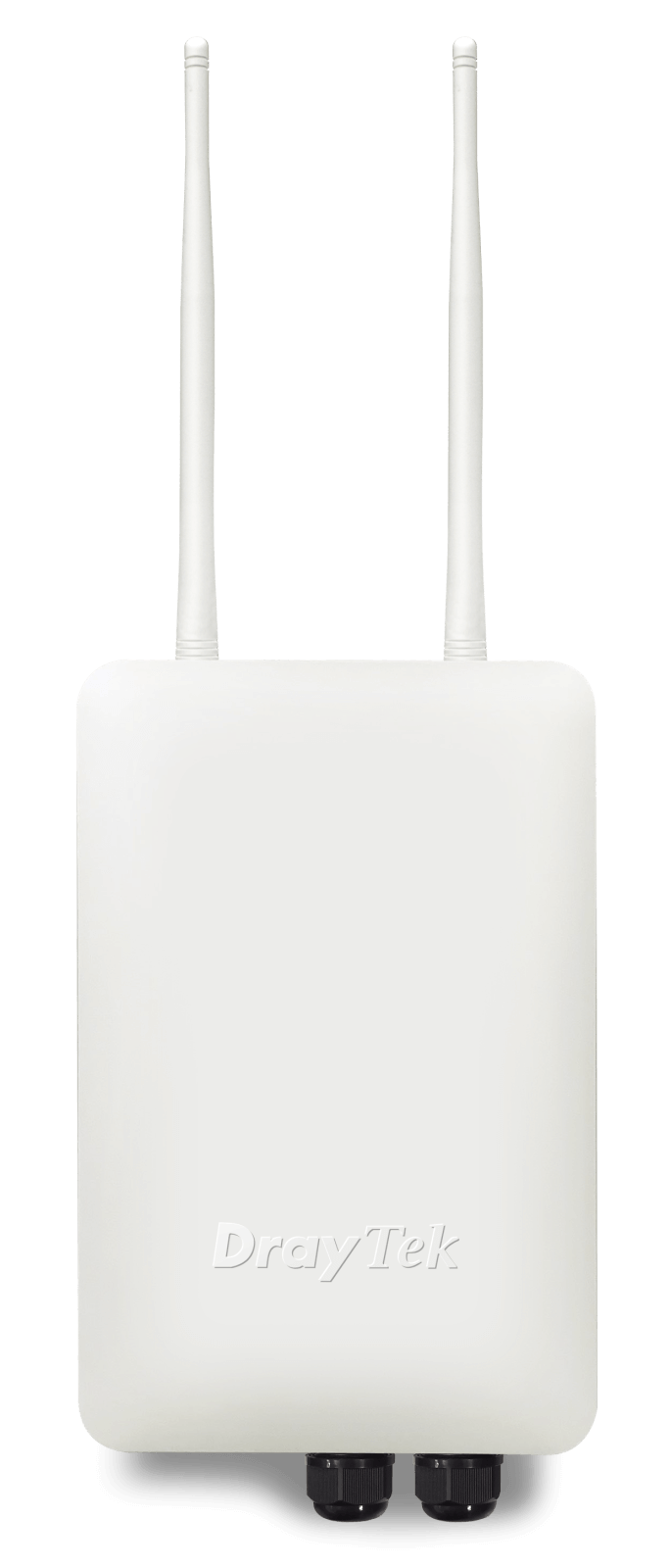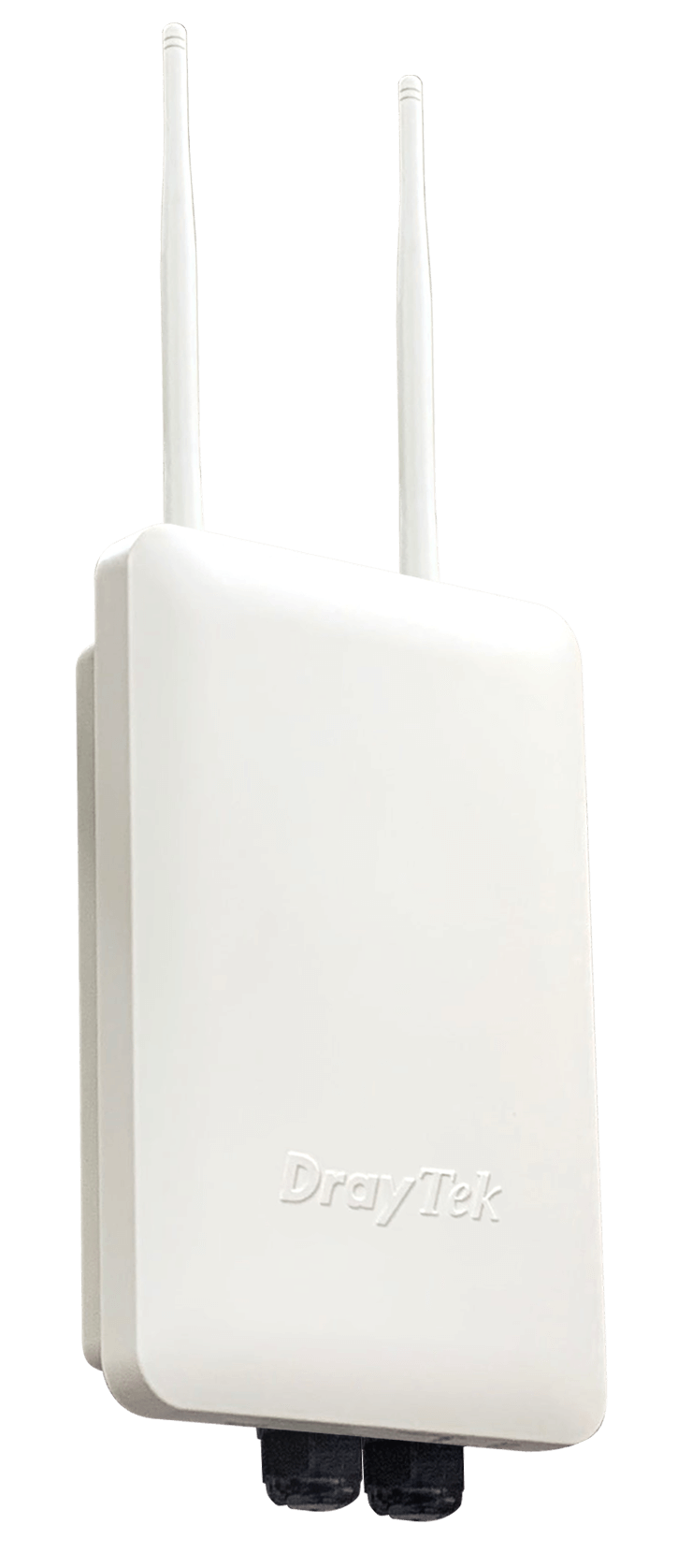 Explore Further
Dimensions and Weight

Width , Depth , Height ,Weight
Warranty Information

Please check the Specification Section for Warranty Information
Extended Warranty

Care for your DrayTek with VigorCare Extended Warranty !

VigorCare Enhanced Warranty Service

Prepare for the unforeseen, equipment unfortunately does fail from time to time, be it a power surge, overheating or update failure, having an extended warranty can be a lifeline to your business when you need it most. The following packages below are available.

Advanced Replacement

If you suspect that your covered DrayTek product has developed a fault, our experienced support technicians will help you to diagnose the problem and determine whether the unit needs to be service or replaced. If it does, a replacement unit will be sent out the same day for delivery on the next working/business day (to most of the UK). If you wish to take the unit yourself to the service centre (currently North of London), replacement or diagnosis/repair can be carried out in person.

3 or 5 Year Warranty

 

 

Enhanced Warranty Service
3 or 5 year warranty upgrades available
Advanced-Replacement of faulty unit
Next working day* replacement unit
Cover for 3 or 5 years warranty with single payment
Available for all DrayTek Vigor routers
Warranty upgrades available to purchase for up to 6 months after product purchase

 

With VigorCare, you also have the benefit of an extension to a full 3 or even 5 years of warranty so that if a fault does develop, you will have no bills for parts, labour or replacement in the event that a warranty fault develops. We're proud of the reliability that DrayTek products achieve but however unlikely a problem might be, if your business depends on your DrayTek product, VigorCare should give you the peace of mind and convenience that you need.

VigorCare membership is subject to the VigorCare Terms & Conditions (see terms tab, above) and should be taken out within 6 months of purchase of your new product

VigorCare Service Packs

VigorCare subscription is available for several categories of product. Determine the correct pack for your product below. NOTE: The subscription must be activated via the link below within 6 months of your router and service pack being purchased.

VigorCare Activation Link

https://www.draytek.co.uk/support/vigorcare-registration

 

 

Product Code

Description

Applicable To These DrayTek Products

Duration

Buy Now
VCARE-A3

VigorCare A3 3 Year Subscription

Vigor 130, Vigor 166, Vigor 2762, 2763, 2765, 2766 series




VigorAP 810, 903, 912C, 960C, 1000C, 1060C




VigorSwitch P1092, G1080

3 Years

VCARE-A5

VigorCare A5 5 Year Subscription

Vigor 130, Vigor 166, Vigor 2762, 2763, 2765, 2766 series




VigorAP 810, 903, 912C, 960C, 1000C, 1060C




VigorSwitch P1092, G1080

5 Years

VCARE-B3

VigorCare B3 3 Year Subscription

Vigor 2620Ln




Vigor 2832, 2862, 2865, 2866, 2926, 2927 series




VigorAP 920, VigorAP 918 series




VigorSwitch P2121

, G2100, P2100

3 Years

VCARE-B5

VigorCare B5 5 Year Subscription

Vigor 2620Ln




Vigor 2832, 2862, 2865, 2866, 2926, 2927 series




VigorAP 920, VigorAP 918 series




VigorSwitch P2121

, G2100, P2100

5 Years

VCARE-C3

VigorCare C3 3 Year Subscription

Vigor 2952, 2960, 2962, 3220




VigorSwitch P1280, G1280, P1282, G1282

3 Years

VCARE-C5

VigorCare C5 5 Year Subscription

Vigor 2952, 2960, 2962, 3220




VigorSwitch P1280, G1280, P1282, G1282

5 Years

VCARE-D3

VigorCare D3 3 Year Subscription

Vigor 3900, Vigor 3910




VigorSwitch G2280, G2280x, G2500, G2540x




VigorSwitch P2280, P2280x, P2500, P2540x

3 Years

VCARE-D5

VigorCare D5 5 Year Subscription

Vigor 3900, Vigor 3910




VigorSwitch G2280, G2280x, G2500, G2540x




VigorSwitch P2280, P2280x, P2500, P2540x

5 Years

 

 Warranty Terms & Conditions Apply - please see here

https://www.draytek.co.uk/support/vigorcare#terms-and-conditions