Regular price
£96.99
Sale price
£89.99
Unit price
per
Sale
Sold out
VigorAP 802
Mesh Wireless 802.11ac Range Extender & Access Point
VigorAP 802 is a high-performance Mesh Wireless Access Point and Range Extender. With a Mesh network, you can easily expand wireless coverage, eliminate Wi-Fi dead zones and significantly reduce the cost of network deployments. DrayTek's Mesh wireless solution supports VLAN tags, allowing you to provide two distint and separate wireless networks, such as an internal and a guest network, without any cable installation required.
The VigorAP 802 is a Mesh Node to be used in conjunction with a Mesh Root, such as the VigorAP 903 Mesh Wireless Access Point. It can also be used as a traditional Access Point to provide wireless connectivity for your network. Extend wireless coverage for regular wireless networks without Mesh with the Range Extender mode. This joins the VigorAP 802 to an existing wireless network, expanding its coverage.
The plug design makes the VigorAP 802 easy to install and tidy once in place. With a Gigabit LAN port on the underside to connect Wired Ethernet devices into your Mesh network.
Initial setup of the VigorAP 802 is easy with the DrayTek Wireless app, whether it's joining an existing Mesh network or being set up in AP and Range Extender modes, the Quick Start Wizard assists throughout.
Manage the VigorAP 802 centrally through the VigorACS central management platform, VigorConnect, Router AP Management, or simply on its own as a stand-alone access point. The VigorAP 802 has the flexibility to be used how you need it.
Mesh Wireless
Mesh Wireless links VigorAP access points across both Wi-Fi and Wired links to cover a large area with a single Wireless network, spanning multiple Wireless Access Points and easily managed from the Mesh Root VigorAP or with the DrayTek Wireless app.
The Mesh Root VigorAP links up to your existing Internet router, such as the DrayTek Vigor 2862 and additional VigorAPs join up as Mesh Nodes, which connect wirelessly to the Mesh Root.
Your devices see a single Wi-Fi network (SSID) and connect to the nearest VigorAP in the Mesh, instead of a distant Wi-Fi network with low signal. Internet connectivity relays through the Mesh, using the up to 866Mbps 5GHz wireless as the backhaul link, to relay between Mesh Nodes and avoid long waits for downloads.
The VigorAP 802 can operate in standalone autonomous mode, but can also form part of a centrally managed wireless installation by adding a compatible DrayTek wireless controller such as the Vigor 2862 router. This enables you to centrally control, manage and administer multiple AP devices installed around your building/campus. Management also enables efficient usage of your wireless access point through load-balancing, whereby wireless clients are distributed across several access points to reduce congestion.
The DrayTek router operating as the wireless controller can provision DrayTek VigorAP access points using the Central AP Management profiles configured on the router, with an option to Auto Provision - auto configuring newly installed VigorAP access points with the Auto Provisioning profile, upon initial connection to the DrayTek Vigor router's network.
Share
View full details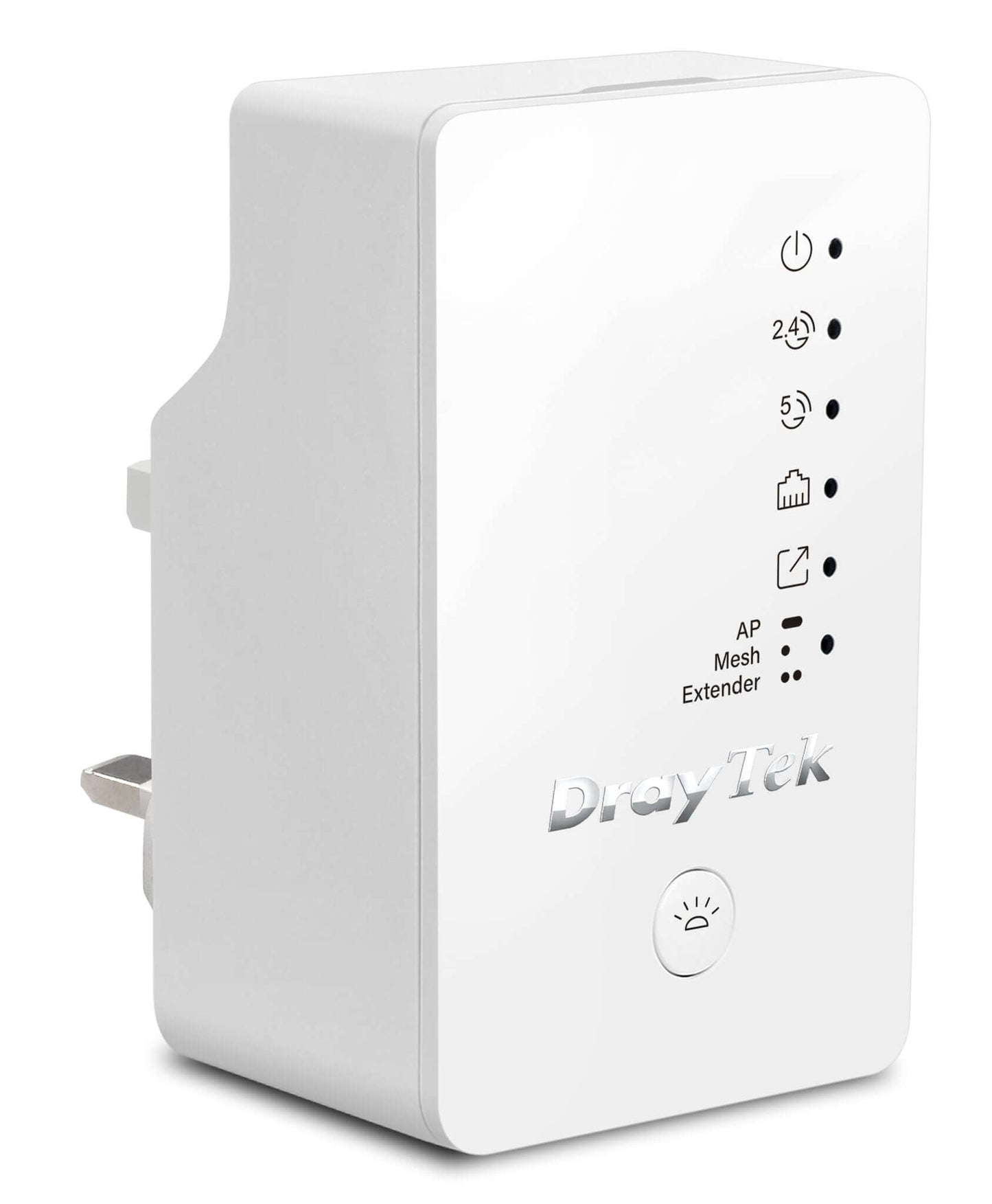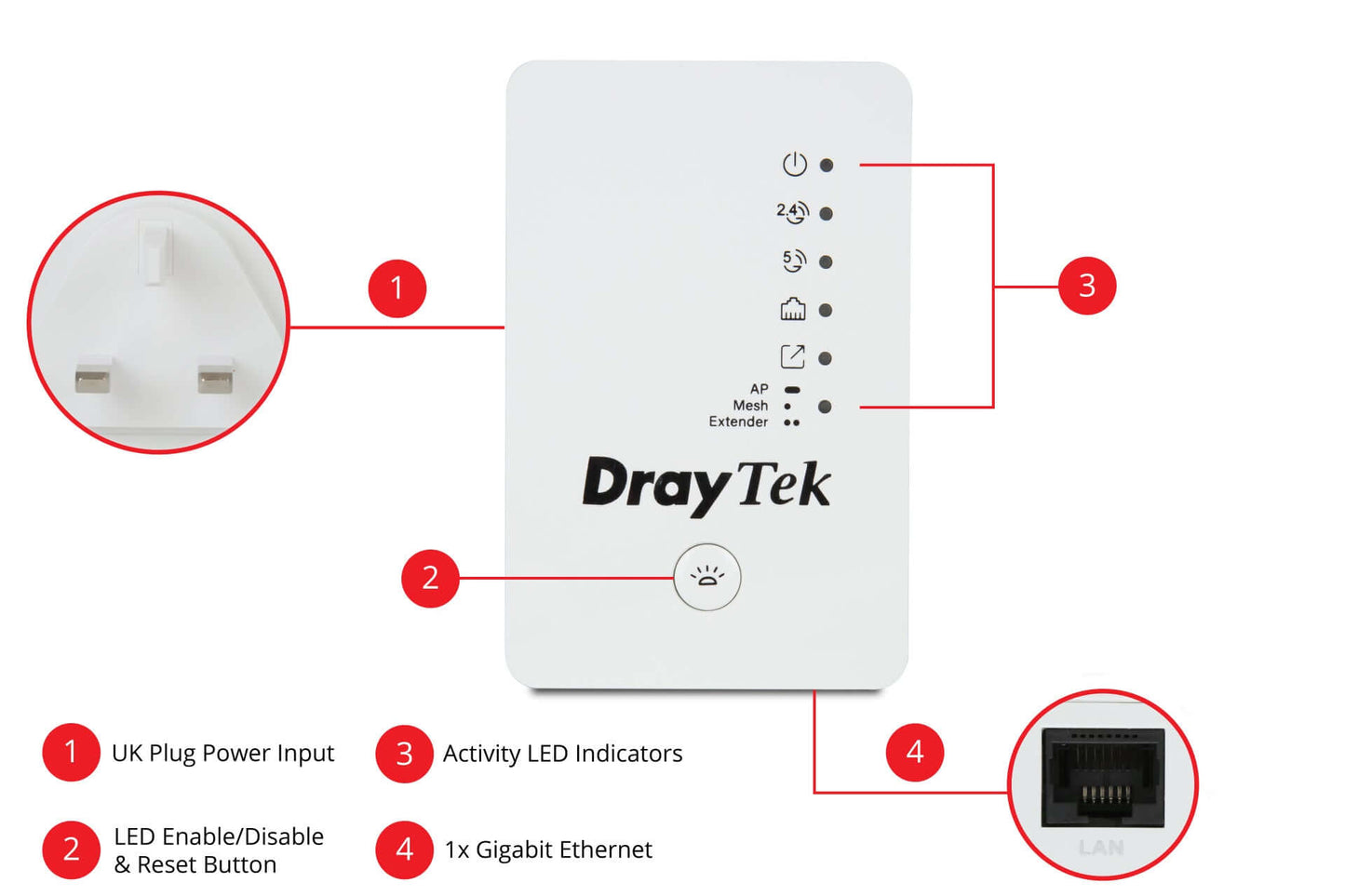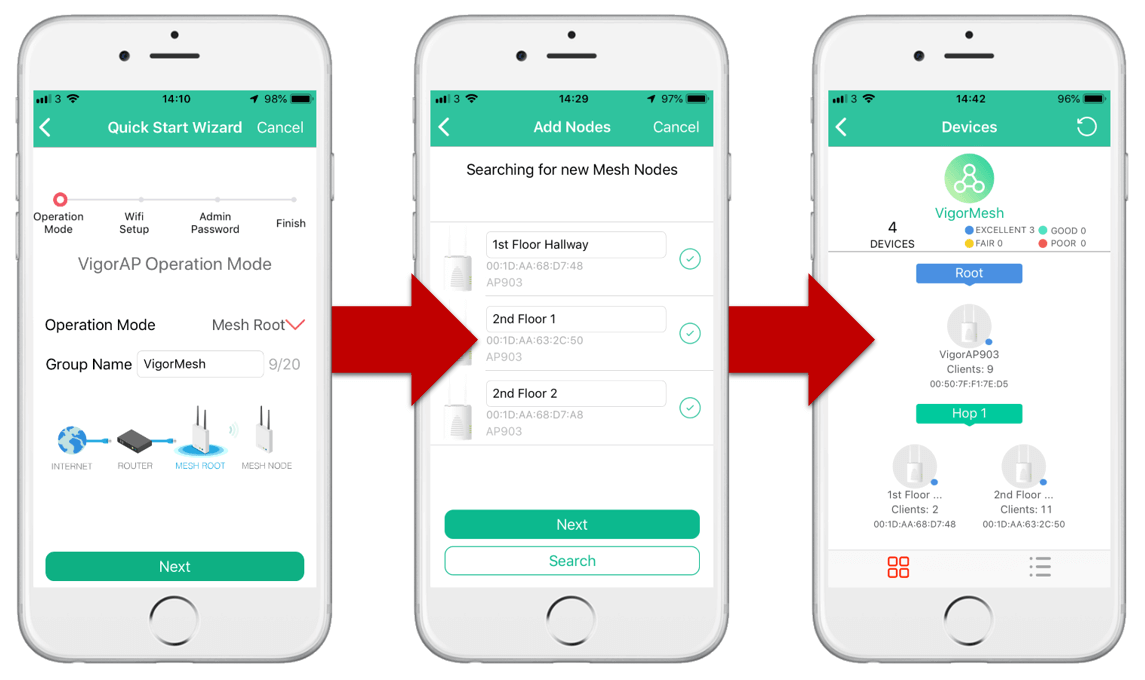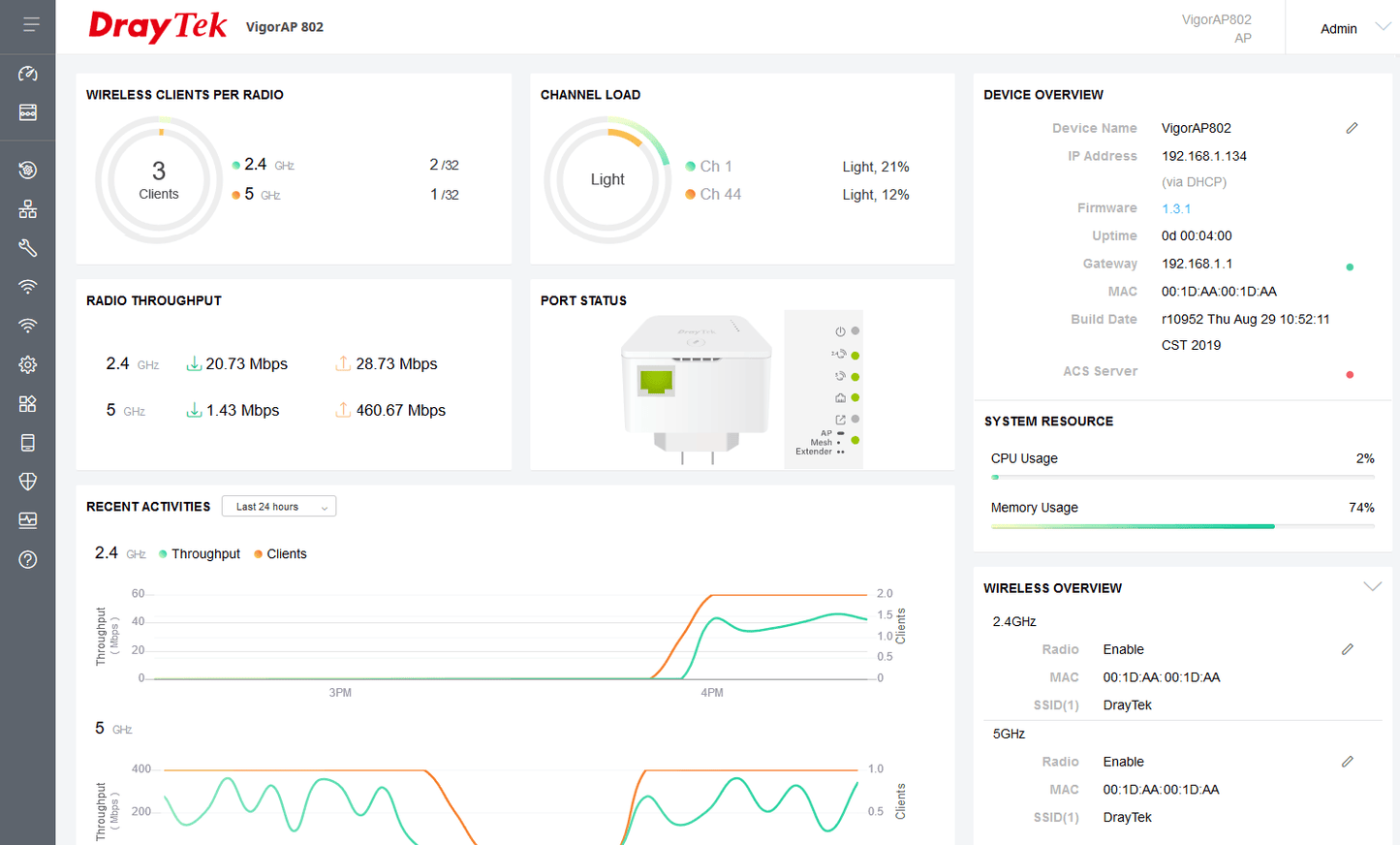 Explore Further
Dimensions and Weight

Width , Depth , Height ,Weight
Warranty Information

Please check the Specification Section for Warranty Information
Extended Warranty

Care for your DrayTek with VigorCare Extended Warranty !

VigorCare Enhanced Warranty Service

Prepare for the unforeseen, equipment unfortunately does fail from time to time, be it a power surge, overheating or update failure, having an extended warranty can be a lifeline to your business when you need it most. The following packages below are available.

Advanced Replacement

If you suspect that your covered DrayTek product has developed a fault, our experienced support technicians will help you to diagnose the problem and determine whether the unit needs to be service or replaced. If it does, a replacement unit will be sent out the same day for delivery on the next working/business day (to most of the UK). If you wish to take the unit yourself to the service centre (currently North of London), replacement or diagnosis/repair can be carried out in person.

3 or 5 Year Warranty

 

 

Enhanced Warranty Service
3 or 5 year warranty upgrades available
Advanced-Replacement of faulty unit
Next working day* replacement unit
Cover for 3 or 5 years warranty with single payment
Available for all DrayTek Vigor routers
Warranty upgrades available to purchase for up to 6 months after product purchase

 

With VigorCare, you also have the benefit of an extension to a full 3 or even 5 years of warranty so that if a fault does develop, you will have no bills for parts, labour or replacement in the event that a warranty fault develops. We're proud of the reliability that DrayTek products achieve but however unlikely a problem might be, if your business depends on your DrayTek product, VigorCare should give you the peace of mind and convenience that you need.

VigorCare membership is subject to the VigorCare Terms & Conditions (see terms tab, above) and should be taken out within 6 months of purchase of your new product

VigorCare Service Packs

VigorCare subscription is available for several categories of product. Determine the correct pack for your product below. NOTE: The subscription must be activated via the link below within 6 months of your router and service pack being purchased.

VigorCare Activation Link

https://www.draytek.co.uk/support/vigorcare-registration

 

 

Product Code

Description

Applicable To These DrayTek Products

Duration

Buy Now
VCARE-A3

VigorCare A3 3 Year Subscription

Vigor 130, Vigor 166, Vigor 2762, 2763, 2765, 2766 series




VigorAP 810, 903, 912C, 960C, 1000C, 1060C




VigorSwitch P1092, G1080

3 Years

VCARE-A5

VigorCare A5 5 Year Subscription

Vigor 130, Vigor 166, Vigor 2762, 2763, 2765, 2766 series




VigorAP 810, 903, 912C, 960C, 1000C, 1060C




VigorSwitch P1092, G1080

5 Years

VCARE-B3

VigorCare B3 3 Year Subscription

Vigor 2620Ln




Vigor 2832, 2862, 2865, 2866, 2926, 2927 series




VigorAP 920, VigorAP 918 series




VigorSwitch P2121

, G2100, P2100

3 Years

VCARE-B5

VigorCare B5 5 Year Subscription

Vigor 2620Ln




Vigor 2832, 2862, 2865, 2866, 2926, 2927 series




VigorAP 920, VigorAP 918 series




VigorSwitch P2121

, G2100, P2100

5 Years

VCARE-C3

VigorCare C3 3 Year Subscription

Vigor 2952, 2960, 2962, 3220




VigorSwitch P1280, G1280, P1282, G1282

3 Years

VCARE-C5

VigorCare C5 5 Year Subscription

Vigor 2952, 2960, 2962, 3220




VigorSwitch P1280, G1280, P1282, G1282

5 Years

VCARE-D3

VigorCare D3 3 Year Subscription

Vigor 3900, Vigor 3910




VigorSwitch G2280, G2280x, G2500, G2540x




VigorSwitch P2280, P2280x, P2500, P2540x

3 Years

VCARE-D5

VigorCare D5 5 Year Subscription

Vigor 3900, Vigor 3910




VigorSwitch G2280, G2280x, G2500, G2540x




VigorSwitch P2280, P2280x, P2500, P2540x

5 Years

 

 Warranty Terms & Conditions Apply - please see here

https://www.draytek.co.uk/support/vigorcare#terms-and-conditions