Regular price
Sale price
£299.99
Unit price
per
Sale
Sold out
DrayTek VigorSwitch VSG2280x 10-Gigabit Fully Managed Switch with 
4 10GbE SFP and 24Gb Ports
The Switch that Improves Network Speed

DrayTek VigorSwitch VSG2280x is a Layer 2+ Managed Gigabit switch ideal for a network with growing network traffic. The switch has 24x Gigabit Ethernet LAN ports and 4x 1/10Gbps SFP slots. Link Aggregation is supported to trunk up to 8x ports and increase bandwidth as needed. The switch provides various types of VLAN for you to segment the local network and keep the traffic only at where it needs to go. Moreover, it supports VLAN routing to route the inter-VLAN traffic directly, shares loads of the router, and improve overall network performance.
Key Features
surveillance
Auto Surveillance & Voice VLAN
Recognize traffic from IP cameras and IP phones automatically and add CoS tag for QoS prioritization.

ONVIF CCTV
ONVIF-Friendly
Recognize the ONVIF devices, display surveillance topology, provide UI for video streaming and device maintenance. Learn more

routing
Wire-Speed VLAN Routing
Improve overall network performance by using VigorSwitch G2280x to route the inter-VLAN traffic directly and offload the router.

ip conflict prevention
IP Conflict Prevention
Improve network stability by avoiding IP conflicts caused by a misconfigured or malicious host. Learn more

access control
Access Control
VigorSwitch G2280x supports ACL by IP/MAC and 802.1x port access control with RADIUS to filter unauthorized hosts.

Quality of Service
QoS (Quality of Service)
Improve the performance of critical traffic by prioritizing the traffic with CoS, DSCP, and IP Precedence tag.

routing
10G SFP+
Provides 10G-capable fiber SFP ports for aggregation or uplinking to the core switches.

ipv6
IPv6 Ready
VigorSwitch G2280x supports IPv6 by offering MLD Snooping, IPv6 ACL, and IPv6 DNS Resolver.

Share
View full details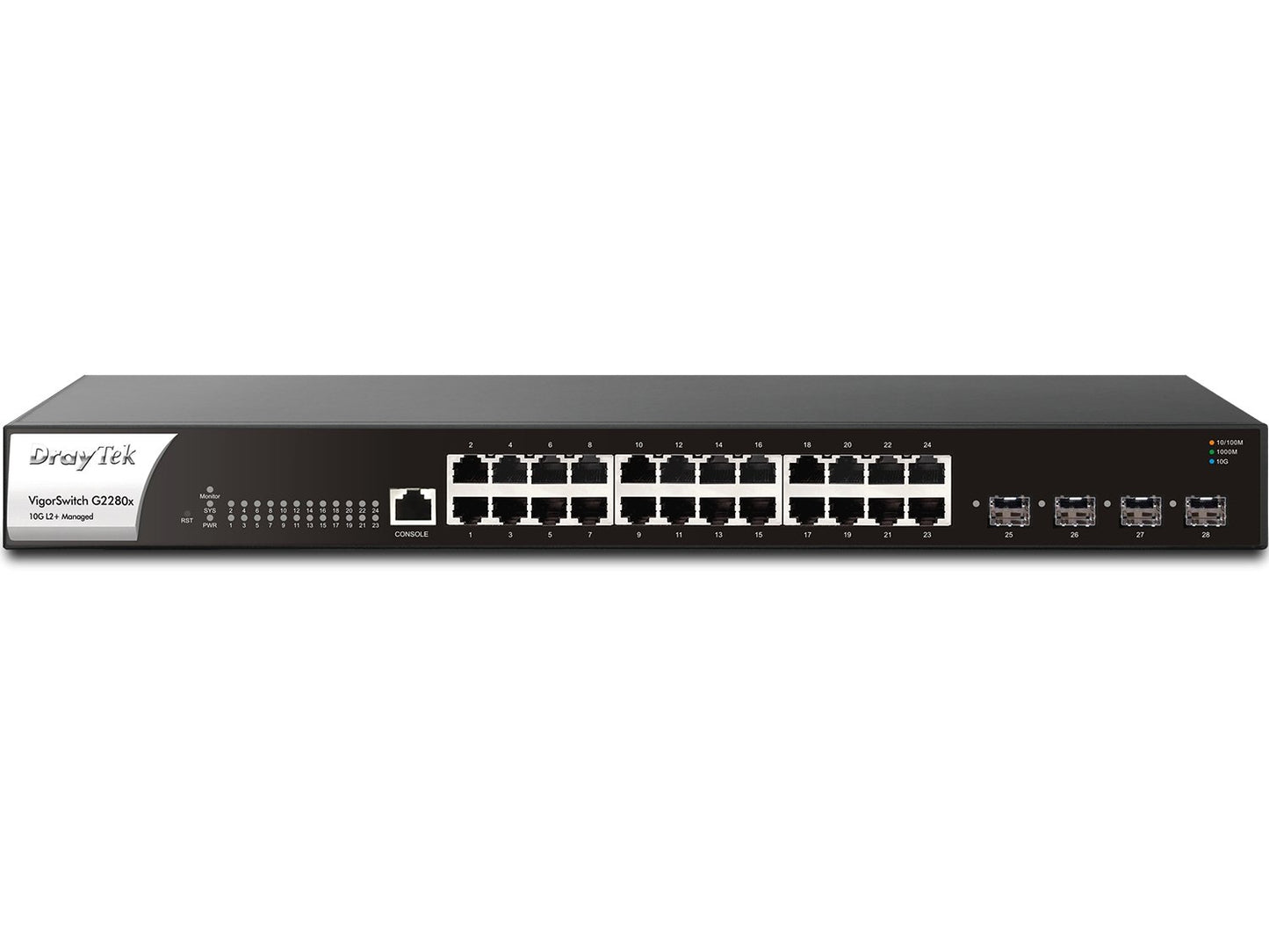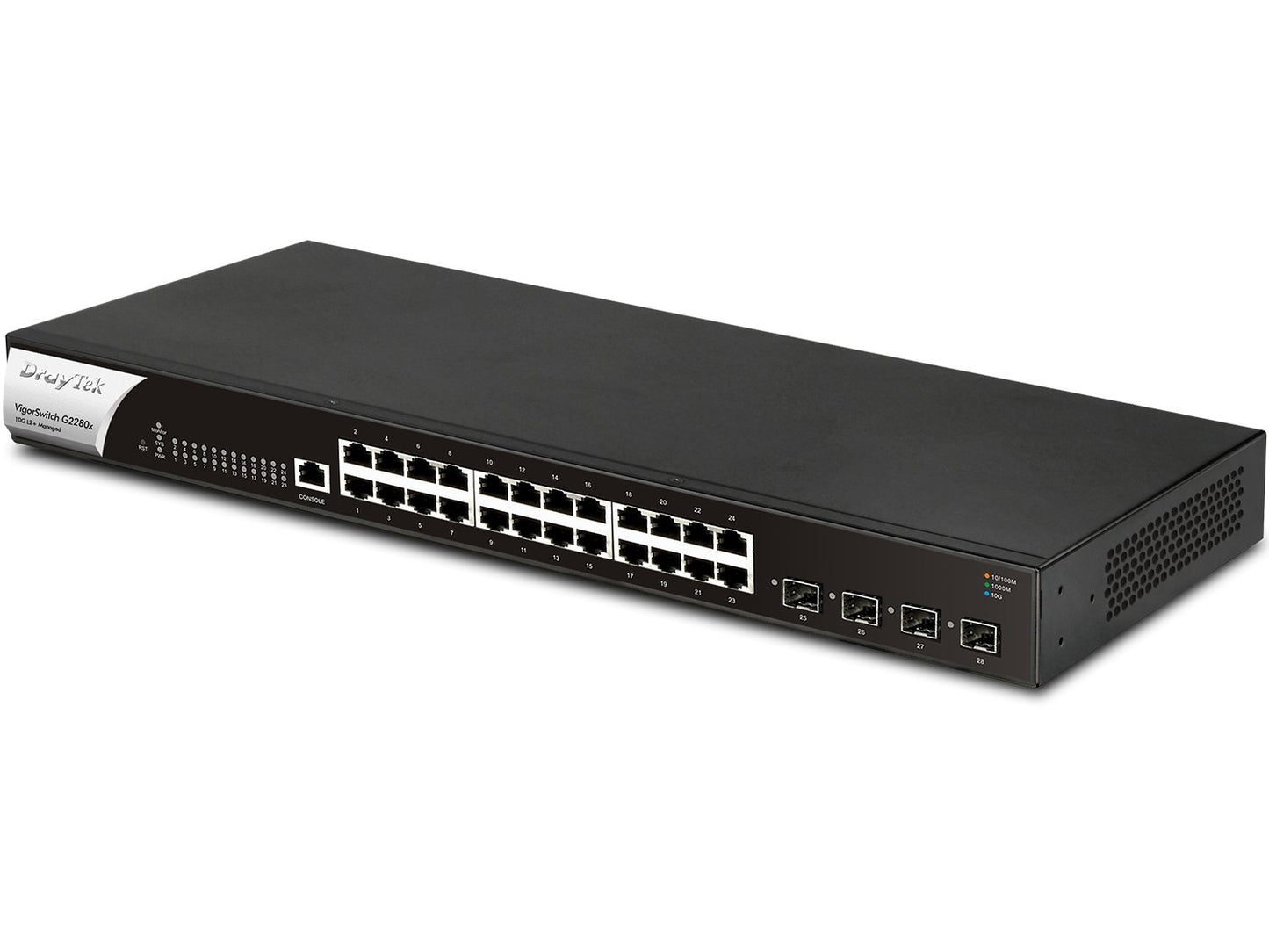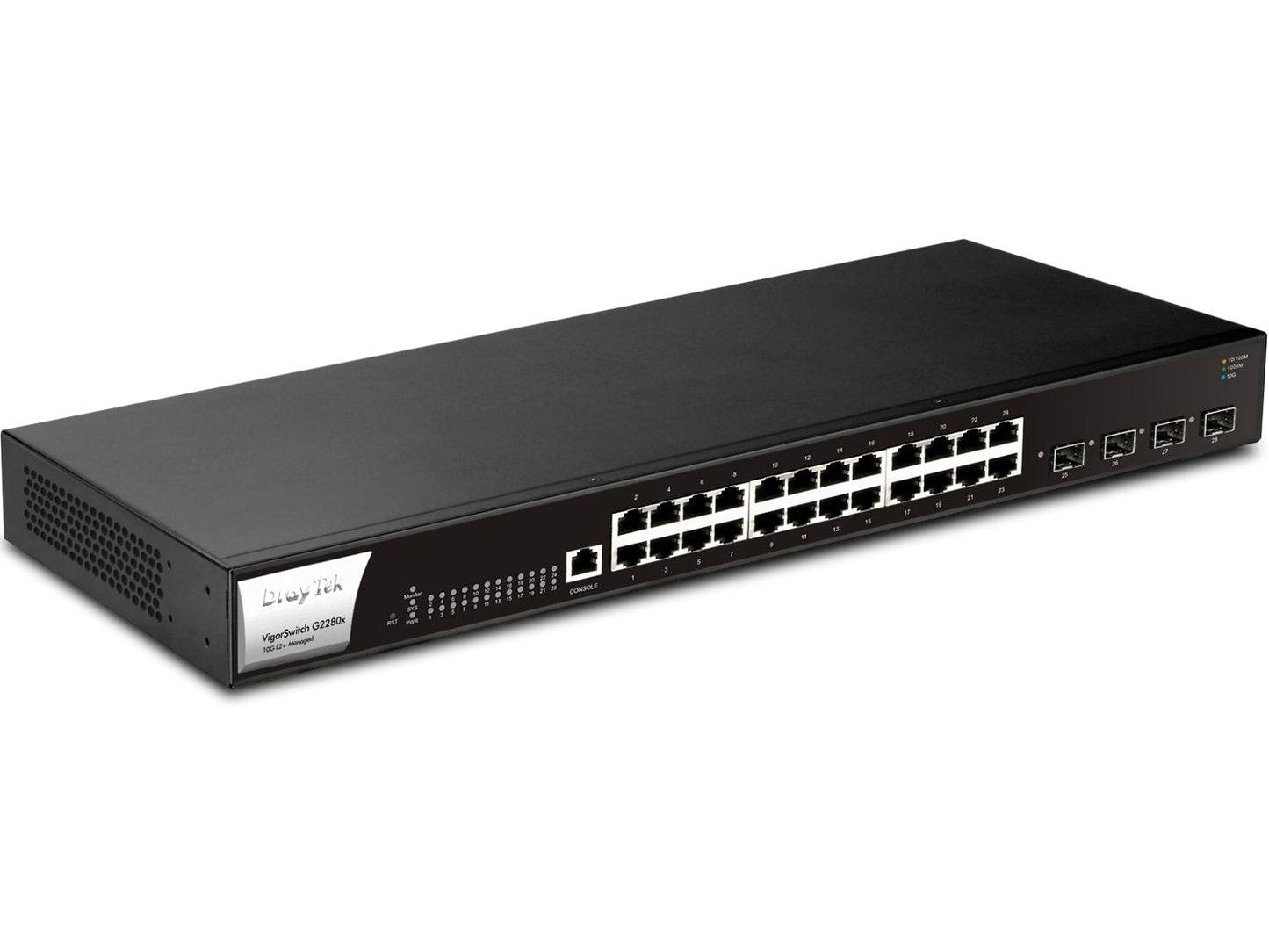 Explore Further
Highlights

Key Features
Twenty-four (24) RJ-45 Gigabit Ethernet ports.
Four (4) SFP+ 10GbE ports for uplink / fibre.
802.1q VLANs (Tag, Port & MAC-based).
VLAN Routing & Static Route with DHCP server / relay.
Virtual Router Redundancy Protocol.
QoS for Application traffic prioritisation.
802.1x RADIUS / TACACS+ Port Authentication with Accounting.
Voice VLAN for QoS (OUI Mode).
Access Control List (ACL).
Port Mirroring & Link Aggregation.
IGMP Snooping/Querier (Up to 256 Multicast Groups).
IPv4 and IPv6 Support.
Port Mirroring & Link Aggregation.
IGMP Snooping/Querier (Up to 256 Multicast Groups).
IPv4 and IPv6 Support.
Hardware Monitoring.
Centrally managed or standalone operation.
Console Port.
Dimensions and Weight

Width 441 mm, Depth 270 mm, Height 45 mm,Weight 4.32 g
Specification

Physical Interfaces

24 x RJ-45 Ethernet Ports (10/100/1000Mbps)
4 x SFP+ Ports (1000Mbps/10Gbps)
Console Port (RJ-45 physical, RS-232 electrical)
VLAN

802.1q Tag-based VLAN
Port-based and MAC-based VLANs
QinQ (Basic)
GVRP – General VLAN Registration Protocol
Up to 255 VLANs (out of 4096 VLAN IDs)
802.1v Protocol-Based VLAN
Voice VLAN (OUI Mode)
Surveillance VLAN (OUI Mode)
Protocol VLAN
MAC-based VLAN
Management VLAN
Port Isolation
QoS

Support 8 priority queues
Port-Based rate control (Ingress & Egress)
Priority queue schedule (WRR or Strict Priority)
802.1p CoS
DSCP
CoS-DSCP
IP Precedence ToS
Rate Limit
Class of Service
Network Security

IP Source Guard with ARP inspection
Storm Control (Broadcast, Unknown Multicast, Unknown Unicast)
DoS Attack protection
AAA Authentication
MAC Authentication
Protected Port / Port Isolation
Static Port Security
Dynamic ARP Inspection
DHCP Snooping with Option 82
Loop Detection & Prevention
Access Control Lists (ACL)
Up to 512 ACL Entries
Source and destination MAC
VLAN ID
IPv4/v6 address
Protocol
TCP/UDP port
Spanning Tree

Spanning Tree Protocol
Rapid Spanning Tree Protocol
Multiple Spanning Tree Protocol
Link Aggregation

Combine multiple ports to increase bandwidth
8 Aggregation Groups
Up to 8 ports in each group
LACP or Static setup
Supports traffic load balancing
Networking Performance

Switching Capacity: 128Gbps
Forwarding Rate: 95.24Mpps
MAC Addresses Supported: 16,000
Jumbo Frames up to 12KB
Packet Buffer size: 12Mbit
Layer 3 Routing Table: Up to 1000 Entries
Multicast

Up to 256 multicast groups
Multicast Group Filtering / Throttling
IGMP Snooping V2/V3 (BISS)
IGMP V2/V3 Querier
MLD Snooping V1/V2
Immediate Leave
Report Suppression
IGMP/MLD Querier
Multicast VLAN registration
AAA

RADIUS / TACACS+ Authentication for Management
Multiple AAA Server
MAC / Inaccessible Authentication bypass
RADIUS Authentication 802.1X
Multiple AAA Server
Accounting
Guest VLAN
Port based Authorisation
802.1X Single/Multi
MAC-based
Web-based
Attribute Assignment
User Privilege
VLAN
TACACS+ Authentication
Port Authorisation
Accounting
Management

Virtual Stacking – Single IP Management
OpenVPN Client
ONVIF – IP Camera Management
Running/Startup/Backup Configuration
sFlow
IPv4 & IPv6 Dual-Stack
LLDP(802.1ab) + MED
Web User Interface (HTTP or HTTPS)
Firmware Upgrade/Backup by HTTP/HTTPS
HTTP (Non-TLS) can be disabled for increased security
Configuration Backup/Restore
Factory Default
System Reboot
Dual Firmware Image (Active & Backup Firmware)
Command Line Interface (CLI) via SSH/Telnet
Console Port (RJ45) for CLI management
DrayTek Switch Management support via router (requires router firmware support)
VigorACS Compatible (TR-069)
SNMP v1, v2c, v3 (with Generic Traps)
RMON Groups 1, 2, 3, 9 (History, Statistics, Alarms, Events)
SNTP (Simple Network Time Protocol)
Diagnostics

Port Status & Usage display
CPU/RAM Usage display
Event Log via Syslog or email
Port Mirroring
Ping Diagnostics
Port-based Cable Test
Hardware Monitor

Remote Monitoring through Web Interface & VigorACS
Hardware Monitor Data Recording & Graphing
Email & LED alert on voltage high/low and overheat
Temperature Monitoring
Voltage Monitoring
Power Saving Mode
Layer 3 Networking Features

Static Route
VLAN Routing
Virtual Router Redundancy (VRRP) Protocol
IPv4 Features

DHCP Client
DNS Client
DHCP Server
Option 82, 66, 67
DHCP Relay
DHCP Snooping
DHCP IP Source Guard
IPv6 Features

Auto Configuration
Static IPv6 Address & Prefix Length
Static IPv6 Default Gateway
IPv6 Neighbour Discovery (ND)
IPv6 Duplicate Address Detection
ICMPv6
DHCPv6 Client
General IEEE Standards Compliance

802.3 10Base-T
802.3u 100Base-T
802.3ab 1000Base-T
802.3ae 10GBase-T
802.3x Flow Control Capability
802.3 Auto-negotiation
802.3ad Port trunk with LACP
802.3az Energy Efficient Ethernet
802.1q VLAN
802.1p Class of Service
802.1d Spanning Tree
802.1w Rapid Spanning Tree
802.1s Multiple Spanning Tree
802.1x Port Based Network Access Control
802.1ab Link Layer Discovery Protocol (LLDP)
802.1ad QinQ
Operating Requirements

Power Input Requirements: 100-240VAC
Power supply: Internal
Maximum Input Power Consumption: 25 Watts
Cooling: Passively cooled
Operating Temperature: 0ºC to 45ºC
Storage Temperature: -20ºC to 70ºC
Operating Humidity: 10% to 90% RH (non-condensing)
Physical Specifications

Dimensions (W x D x H): 441 x 270 x 45 mm
Rack mountable: 1U
Weight: 4.32 kg (excluding SFP modules/cables)
Brackets included for rack or wall mounting
ROHS & CE Compliant

Yes
Warranty Information

Please check the Specification Section for Warranty Information
Extended Warranty

Care for your DrayTek with VigorCare Extended Warranty !

VigorCare Enhanced Warranty Service

Prepare for the unforeseen, equipment unfortunately does fail from time to time, be it a power surge, overheating or update failure, having an extended warranty can be a lifeline to your business when you need it most. The following packages below are available.

Advanced Replacement

If you suspect that your covered DrayTek product has developed a fault, our experienced support technicians will help you to diagnose the problem and determine whether the unit needs to be service or replaced. If it does, a replacement unit will be sent out the same day for delivery on the next working/business day (to most of the UK). If you wish to take the unit yourself to the service centre (currently North of London), replacement or diagnosis/repair can be carried out in person.

3 or 5 Year Warranty

 

 

Enhanced Warranty Service
3 or 5 year warranty upgrades available
Advanced-Replacement of faulty unit
Next working day* replacement unit
Cover for 3 or 5 years warranty with single payment
Available for all DrayTek Vigor routers
Warranty upgrades available to purchase for up to 6 months after product purchase

 

With VigorCare, you also have the benefit of an extension to a full 3 or even 5 years of warranty so that if a fault does develop, you will have no bills for parts, labour or replacement in the event that a warranty fault develops. We're proud of the reliability that DrayTek products achieve but however unlikely a problem might be, if your business depends on your DrayTek product, VigorCare should give you the peace of mind and convenience that you need.

VigorCare membership is subject to the VigorCare Terms & Conditions (see terms tab, above) and should be taken out within 6 months of purchase of your new product

VigorCare Service Packs

VigorCare subscription is available for several categories of product. Determine the correct pack for your product below. NOTE: The subscription must be activated via the link below within 6 months of your router and service pack being purchased.

VigorCare Activation Link

https://www.draytek.co.uk/support/vigorcare-registration

 

 

Product Code

Description

Applicable To These DrayTek Products

Duration

Buy Now
VCARE-A3

VigorCare A3 3 Year Subscription

Vigor 130, Vigor 166, Vigor 2762, 2763, 2765, 2766 series




VigorAP 810, 903, 912C, 960C, 1000C, 1060C




VigorSwitch P1092, G1080

3 Years

VCARE-A5

VigorCare A5 5 Year Subscription

Vigor 130, Vigor 166, Vigor 2762, 2763, 2765, 2766 series




VigorAP 810, 903, 912C, 960C, 1000C, 1060C




VigorSwitch P1092, G1080

5 Years

VCARE-B3

VigorCare B3 3 Year Subscription

Vigor 2620Ln




Vigor 2832, 2862, 2865, 2866, 2926, 2927 series




VigorAP 920, VigorAP 918 series




VigorSwitch P2121

, G2100, P2100

3 Years

VCARE-B5

VigorCare B5 5 Year Subscription

Vigor 2620Ln




Vigor 2832, 2862, 2865, 2866, 2926, 2927 series




VigorAP 920, VigorAP 918 series




VigorSwitch P2121

, G2100, P2100

5 Years

VCARE-C3

VigorCare C3 3 Year Subscription

Vigor 2952, 2960, 2962, 3220




VigorSwitch P1280, G1280, P1282, G1282

3 Years

VCARE-C5

VigorCare C5 5 Year Subscription

Vigor 2952, 2960, 2962, 3220




VigorSwitch P1280, G1280, P1282, G1282

5 Years

VCARE-D3

VigorCare D3 3 Year Subscription

Vigor 3900, Vigor 3910




VigorSwitch G2280, G2280x, G2500, G2540x




VigorSwitch P2280, P2280x, P2500, P2540x

3 Years

VCARE-D5

VigorCare D5 5 Year Subscription

Vigor 3900, Vigor 3910




VigorSwitch G2280, G2280x, G2500, G2540x




VigorSwitch P2280, P2280x, P2500, P2540x

5 Years

 

 Warranty Terms & Conditions Apply - please see here

https://www.draytek.co.uk/support/vigorcare#terms-and-conditions