Regular price
£379.99
Sale price
£339.99
Unit price
per
Sale
Sold out

DrayTek VigorAP 1060C, Wi-Fi 6,Mesh Wireless Access Point AX3600 Dual-Band Performance with 2.5Gb PoE Ethernet
Key Features
Mesh:

 

Easily link to other VigorAP to expand the wireless network.
PoE Power Supply:

 

Simplify the infrastructure by getting data and power through a single cable.
Multiple SSID:

 

Map WiFi clients to different VLANs and have a different set of security standards.
Airtime Fairness:

 

Equalise the transmission time of each client so the legacy devices won't slow everyone down.
Band Steering:

 

Redirect 5GHz-capable devices to the 5GHz radio to get a faster speed.
Assisted WiFi Roaming:

 

Solve the sticky client problem and improve WiFi roaming experience.
WiFi Scheduling:

 

Schedule WiFi On and Off to control wireless access and save energy.
Local RADIUS Server:

 

User profile database for local and external 802.1x authentication.
Hotspot Web Portal:

 

Market your business and communicate with the guests while offering hospitality WLAN.
Central AP Management:

 

Manage, maintain, and monitor VigorAP 1060C from your DrayTek router (sold separately).
Share
View full details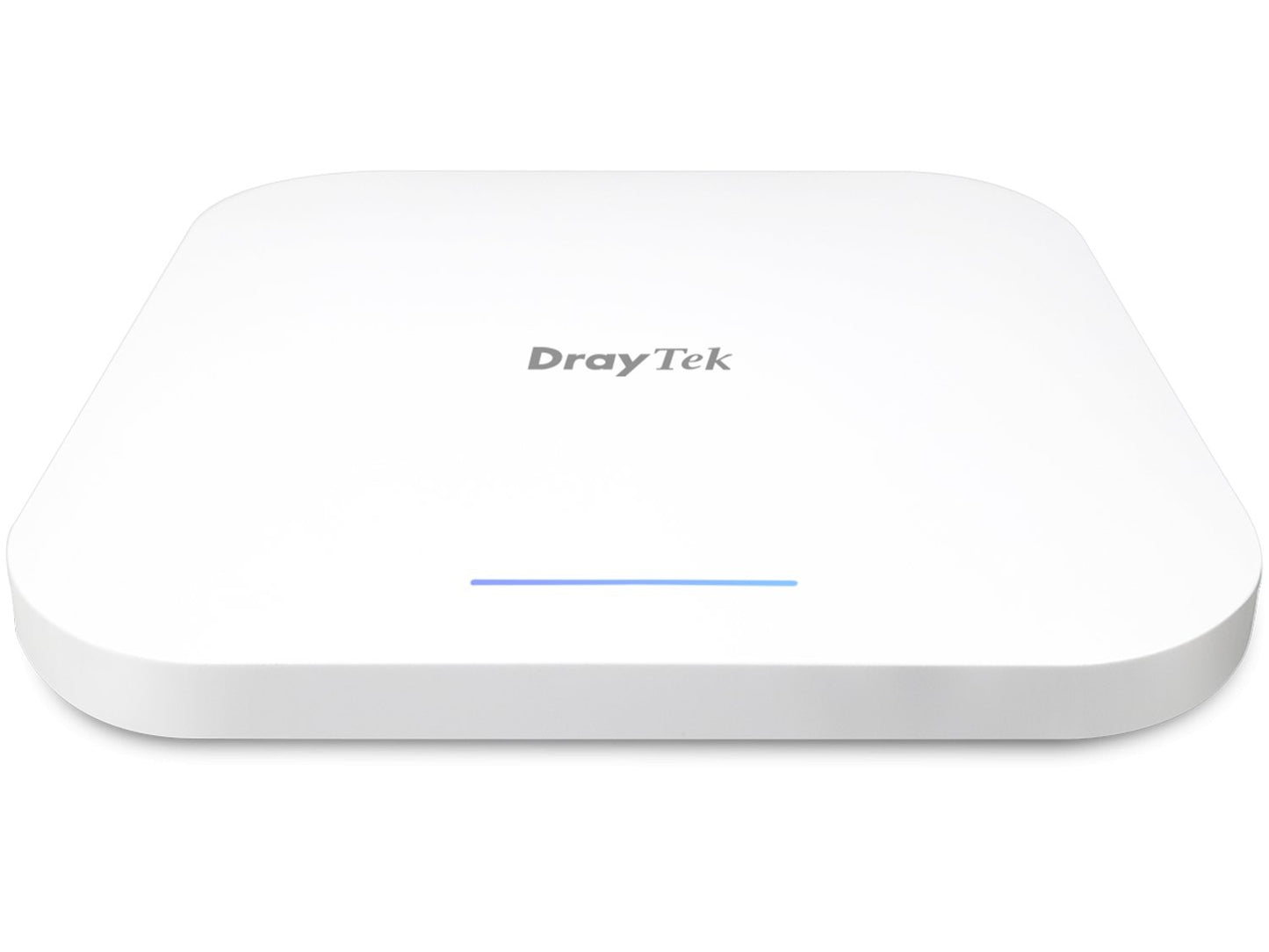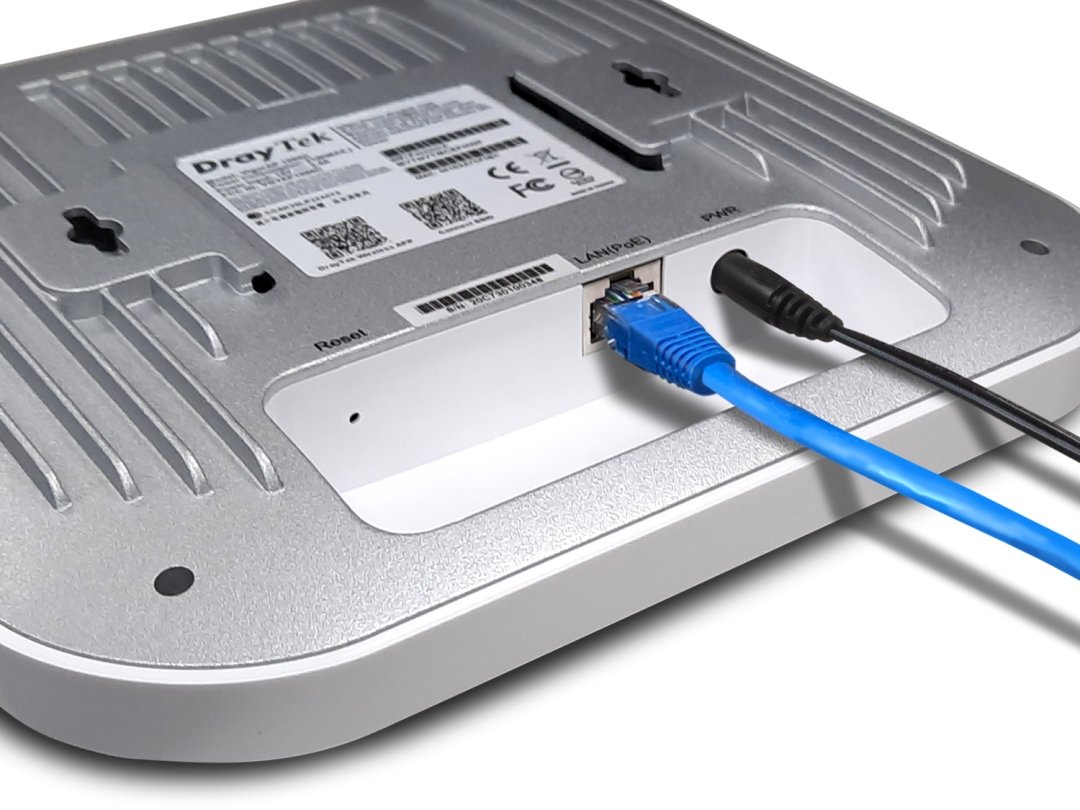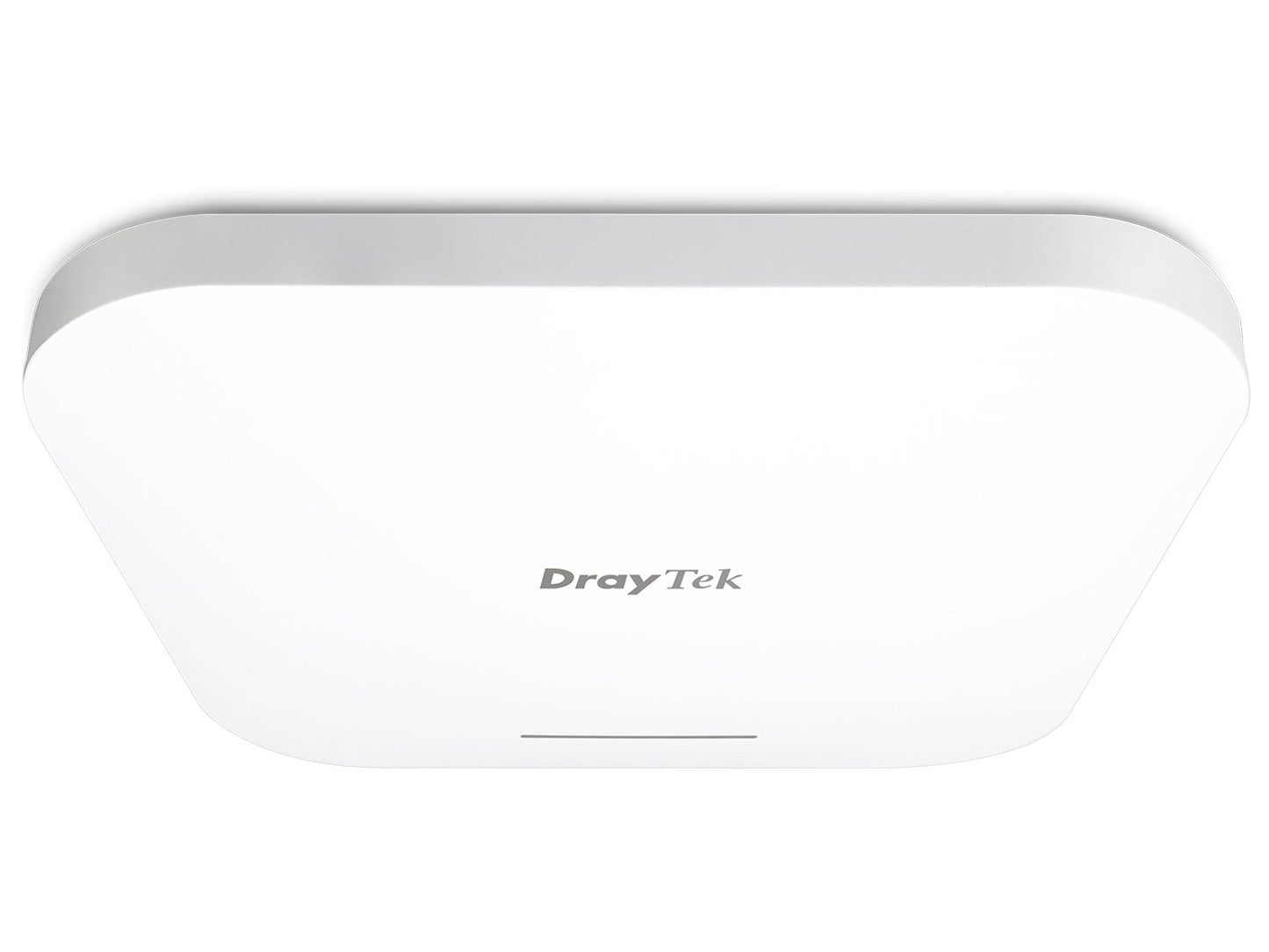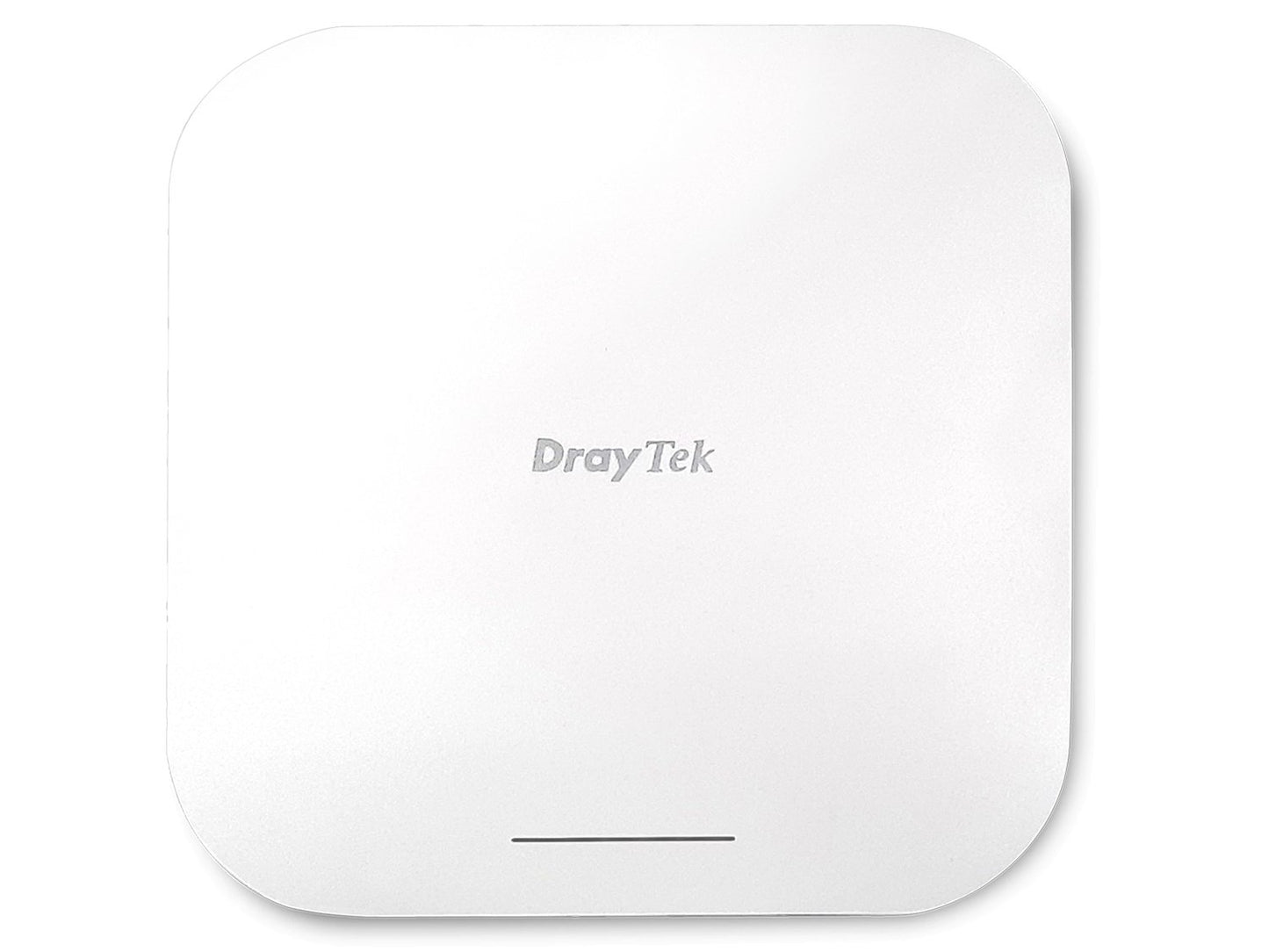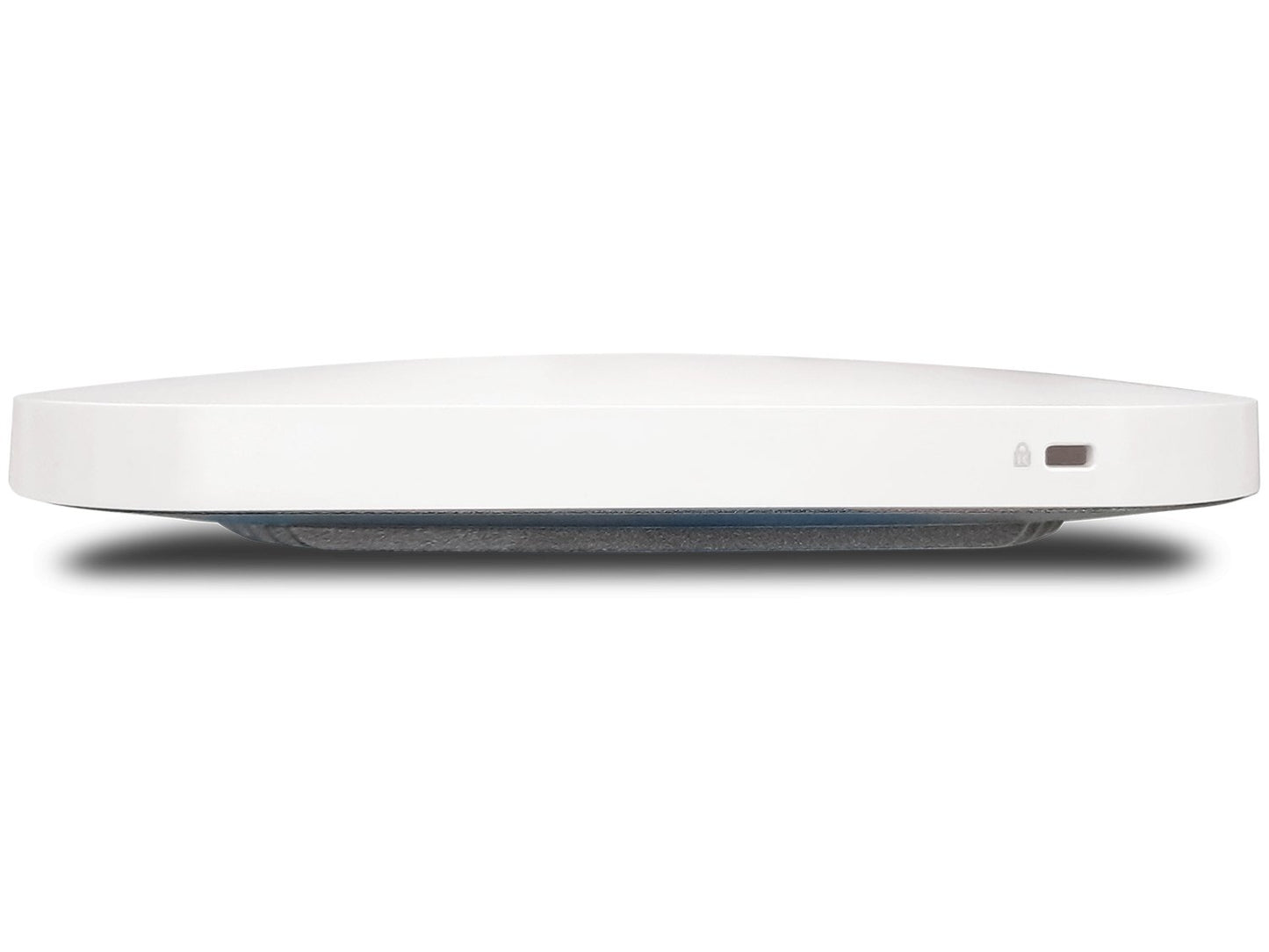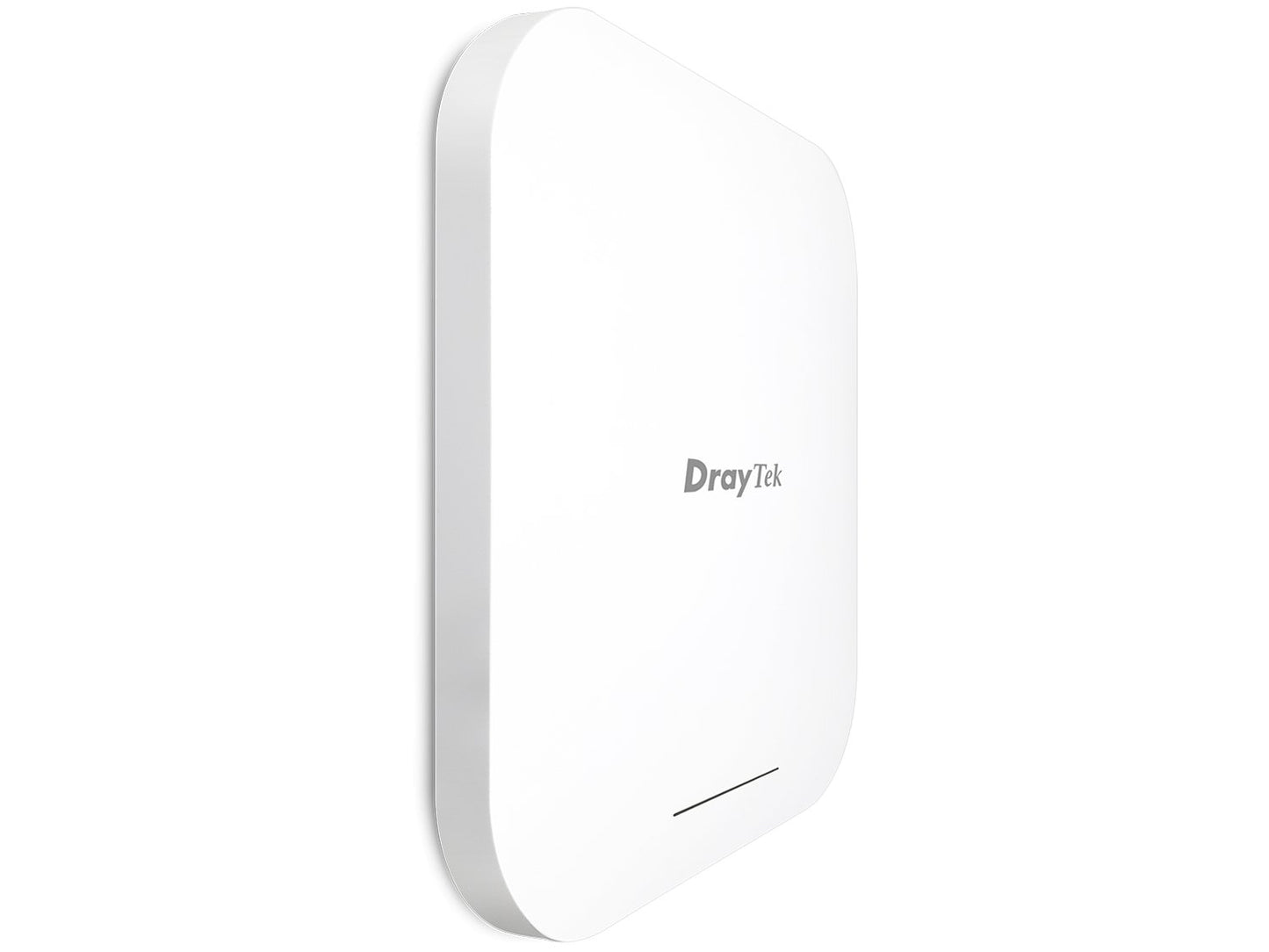 Explore Further
Highlights


Utilize Transmission Opportunity with OFDMA
OFDMA has been used in LTE for many years, and is now available in 802.11ax for multi-user mode.

Traditionally with OFDM, each frame is transmitted across the entire channel width. With low-rate transmission still using the whole channel, it brings latency and jitter to others and lower the overall efficiency.

OFDMA splits a single transmission into groups of subcarriers, and each subcarrier can be used by different client. With multiple clients transmitting simultaneously in the same channel, it improves efficiency of every single transmission opportunity and thus increases the wireless experiences in high density environment.

Third Radio for RF Analytics & Security
RF Analytics & Auto Channel
VigorAP 1060C with a dedicated third radio is able to constantly monitor on all channels for airtime availability and channel utilization. It will always show the 3 best quality channels for Admin's selection.

RF Analytics
Wireless Security with WIDS
The radio can also keep monitoring on rouge AP. When detecting unknown AP broadcasting the same SSID, VigorAP 1060C can notify network admin for further action.

WIDS Security
Client Management with Captive Portal
Hotspot with External Captive Portal Server
Working as NAS (network access server), VigorAP 1060C supports the 802.1x standard. It can redirect new clients to the designated portal server to go through the hotspot login process and receive corresponding RADIUS attributes and perform bandwidth limit and time limit accordingly. This function is ideal for retail, restaurants, coffee shops, and hospitality to do WiFi marketing and learn more about their clients.

Vigor AP Hostpot
Mobile Device Management


AP-assisted Roaming

Making Transmission Effective
Disassociate the Wireless clients who are out of the effective transmission range defined by custom Basic Rate or/and RSSI threshold, and force them to pick up another access point with a stronger signal.

Resource Saving
Proactively kick out the clients with a low basic rate or low RSSI can prevent the access points trying to do ineffective transmission but saving the airtime, which will results in better WLAN experience for all.

No Controller Required
Assisted Roaming is a feature built in all Vigor Access Points and selected Wireless routers. They operate without a wireless controller, providing an ideal solution for simple network deployment.

Stronger Signal Guaranteed
By using the "Minimum RSSI with Adjacent AP" option, the AP/Router on the same local subnet will exchange client information with each other, providing the choice to disassociate the client only when other AP detecting a stronger signal. Thus to keep the client stayed when there is no other AP nearby.

Root AP for AP Management
VigorAP 1060C is capable of working as the Root AP and manage up to 50 Node APs within the same LAN subnet.

Root AP Management
Top-Level Root AP
AP Management can work alongside with Mesh in a more top-level manner. Root AP can manage wired APs which operate in either AP mode or Mesh Root mode. After receiving provision from Root AP, Mesh Root can then synchronize configuration with its mesh members accordingly.

In small installation within 8 APs, Mesh with wired and wireless nodes is handy; while in larger installation, hybrid solution with AP management and Mesh is more competent.

Retain High Performance
Unlike the performance decay brought by mesh wireless uplink, Node AP with wired uplink constantly provides high performance experience, and thus we always suggest to use wired uplink when possible.

Zero Touch Deployment
After auto-detecting and adding Node AP into management list, Root AP will provision relevant AP configurations to node APs.

Node AP Monitoring
Node APs are presented with IP address, operating channel, SSID of each radio, number of clients, and firmware version all in one page, and the AP offline can be easily spotted.

Wi-Fi 6 - Fast & Efficient
Combined speeds up to 3600Mbps.

Benefits: Great WiFi 6 speeds and channels management.

Mesh Wireless & Root AP Management
Intelligently manages and links wireless VigorAPs, with guest network and VLAN support. Root AP allows to add further Vigor APs with a total number of 50.

Benefits: Easy deployment and management of wireless access points.

Easy to Configure and Manage
The DrayTek Wireless app simplifies setting up your network. Optionally configure and monitor through one of DrayTek's management platforms - VigorACS cloud, VigorConnect, Router AP Management, or directly via the AP's Web Interface.

Benefits: Plethora of management and configuration update options.

2.5 Gigabit Power Over Ethernet(POE)
The VigorAP-1060C can be powered through its 2.5Gb Ethernet boosting performance interface with standard IEEE 802.3af PoE, for a tidier and more convenient installation.

Benefits: Stronger wireless security. Better protection against brute force attacks.

Third Radio for RF Analytics and Security
The AP-1060C third radio is dedicated to assist with rogue AP detection, auto channel and power management. It assists with Zero-Wait DFS feature reducing the time needed scan DFS channels.

Benefits: Quicker detection and channel updates.

Ceiling Mounting
The VigorAP 1060C with its matte finish blends well with most home and office interiors. Ceiling and wall mounting capable (mounting base included).

Benefits: Out of the box flexible installation.
Dimensions and Weight

Width 205 mm, Depth 205 mm, Height 33 mm,Weight 810 g
Specification

VigorAP 1060C
Product Code EAN Product Name Description
VAP1060C-K 4710484741523 VigorAP 1060C (UK/IE) VigorAP 1060C Wi-Fi 6 AX3600 Ceiling AP with 2.5Gb PoE Ethernet
Key Specifications
WiFi 6 Mesh Ceiling-mount Mesh Wireless Access Point and Range Extender
AX3600 – 11ax Dual Band Wireless
Third Radio for RF Analytics and Security
WPA3 – Stronger Security with WPA3 Personal & Enterprise
Self-Healing Wireless Mesh with VLAN support
Power through 802.3af PoE or DC power adapter
2.5Gb Ethernet Uplink
Centrally Managed or Standalone operation
Advanced Access Control with Mobile Device Management and Station Control
Root AP for AP Management
Technical Specification (UK Hardware Spec.)
Physical Interfaces/Controls
1 x 2.5 Gigabit Ethernet LAN Port (2.5G/1G/100M/10M), RJ45 (accepts PoE Power)
Factory Reset Button (recessed)
DC Power Socket
1 x Security Lock
Wireless Performance
AX3600 Class Wireless Access Point
Max Concurrent Clients: 256 total. 128 per band
Max Wireless Networks (SSIDs): 16 total, 8 per band
5GHz: Up to 2400Mb/s PHY Rate with 4 Spatial Streams
2.4GHz: Up to 1200Mb/s PHY Rate with 4 Spatial Streams
Wireless Antennas
4x Internal PiFA 5G Antennas (5.1 dBi)
4x Internal PiFA 2.4G Antennas (5 dBi)
1x Dual-Band Internal Scanning Antenna (5.8 dBi for 5G, and 4.3 dBi for 2.4G)
Wireless LAN Compatibility
2.4GHz Standards: IEEE 802.11ax / b / g / n, 4x4 MIMO
5GHz Standards: IEEE 802.11ax / ac Wave 2 / a / n, 4x4 MU-MIMO
Wireless LAN Features
WiFi 6
Dual Band 802.11ax - 2.4 GHz & 5Ghz
Backwards compatible with 802.11ac, 802.11b, 802.11g, 802.11n
2.4GHz Channel Bandwidth: 20 / 40 MHz
5GHz Channel Bandwidth: 20 / 40 / 80 MHz
2.4GHz Channels: 1 to 13
5GHz Channels: Extended 5Ghz Band - Channels 36-48, 52-64, 100-140
DFS/TPC Support for 5GHz channels 52 to 140
OFDMA – New! – Higher Efficiency
BSS Colouring - New! - Improves Interference Handling
TX Beamforming
1024-QAM
Multi-User MIMO
Security Features
Wireless Encryption:
WPA2: Personal, Enterprise (802.1x)
WPA3: Personal, Enterprise, OWE
WPA/WEP for legacy applications
Built in 802.1x server (PEAP / EAP-TLS)
802.1x RADIUS Proxy (PEAP / EAP-TLS)
PMK Caching & Pre-authentication
Wireless Client Isolation
Controllable Isolation of 2.4GHz and 5GHz bands
Hidden SSIDs (Selectable)
WPS - WiFi Protected Setup
MAC Address Filtering (ACL) - Up to 256 entries
Mobile Device Management
EAPOL Key Retry - Protect unpatched WLAN clients from KRACK
Access Point Modes
Access Point
Mesh Root
Mesh Node
Range Extender
Wireless Control Features
Wireless Client Status List in WUI
New! – Up to eight distinct SSIDs (for VLANs) for each frequency band (2.4/5Ghz)
Client Limit: Per Radio & Per SSID
MAC Cloning
802.1q VLAN
Built-in DHCP Server & DHCP Relay
Station Control - Time limit wireless connectivity per Station (e.g. 1 hour) & set allowed Reconnection time (e.g. 1 day)
Device Object/Group Control
Wireless Performance Optimisation
Airtime Fairness
Band Steering
AP-Assisted Client Mobility
WMM (Wireless MultiMedia)
Bandwidth Management (Per Station / Per SSID)
Fast Roaming 802.11r*
Mesh Features
Up to 8 APs per Mesh Group
Up to 3 Mesh Hops per chain with optional Wired Uplinks
Config Sync
Self-Healing
Can be configured & managed with the DrayTek Wireless App
Mesh Syslog
Diagnostic Features
Dashboard: Traffic Graph & Client Usage
System Log
Data Flow Monitor
Speed Test
Traffic Graph
Wireless LAN Statistics
Interference Monitor - Built-in Site Surveyor
Management
Web Interface (HTTP/HTTPS)
DHCP Client
TR-069 Control (For VigorACS or other TR-069 platform)
CLI (Command Line Interface) - Telnet
Firmware upgrade by TR-069/HTTP
Central AP Management – New! – Manage Up To 50 VigorAPs
SNMP v2, v2c, v3
Management VLAN
Configuration File Export (with password) & Import
Wireless Auto On/Off
Schedule: Wi-Fi Up/Down, Auto-Reboot, LED On/Off
Power Requirements
Maximum Power Consumption: 21 Watt
DC 12V via external 100-240v AC/DC PSU
802.3at PoE+ via LAN port. Requires PoE+ injector or a PoE+ switch such as the VigorSwitch P2100
Environmental & Physical
Operating Temperature: 0 ° C to 40 ° C
Operating Humidity: 5% to 90% (Non-condensing)
Physical Dimensions: 205mm (width) x 205mm (depth) x 33.2mm (height)
Weight: 0.809kg
Ceiling or Wall Mountable (requires rear cable entry)
Pack Contents

VigorAP 1060C wireless access point
Ceiling Mount Bracket & Fittings Kit
Quick Start Guide
Ethernet Cable
Power supply is not included, but can be purchased separately as DRAYPSU16 if powering the VigorAP from mains power.
Alternatively the VigorAP can be powered via standard PoE+
ROHS & CE Compliant
Warranty: Two (2) Year Manufacturer's RTB
*Available in a future firmware release
Warranty Information

Please check the Specification Section for Warranty Information
Extended Warranty

Care for your DrayTek with VigorCare Extended Warranty !

VigorCare Enhanced Warranty Service

Prepare for the unforeseen, equipment unfortunately does fail from time to time, be it a power surge, overheating or update failure, having an extended warranty can be a lifeline to your business when you need it most. The following packages below are available.

Advanced Replacement

If you suspect that your covered DrayTek product has developed a fault, our experienced support technicians will help you to diagnose the problem and determine whether the unit needs to be service or replaced. If it does, a replacement unit will be sent out the same day for delivery on the next working/business day (to most of the UK). If you wish to take the unit yourself to the service centre (currently North of London), replacement or diagnosis/repair can be carried out in person.

3 or 5 Year Warranty

 

 

Enhanced Warranty Service
3 or 5 year warranty upgrades available
Advanced-Replacement of faulty unit
Next working day* replacement unit
Cover for 3 or 5 years warranty with single payment
Available for all DrayTek Vigor routers
Warranty upgrades available to purchase for up to 6 months after product purchase

 

With VigorCare, you also have the benefit of an extension to a full 3 or even 5 years of warranty so that if a fault does develop, you will have no bills for parts, labour or replacement in the event that a warranty fault develops. We're proud of the reliability that DrayTek products achieve but however unlikely a problem might be, if your business depends on your DrayTek product, VigorCare should give you the peace of mind and convenience that you need.

VigorCare membership is subject to the VigorCare Terms & Conditions (see terms tab, above) and should be taken out within 6 months of purchase of your new product

VigorCare Service Packs

VigorCare subscription is available for several categories of product. Determine the correct pack for your product below. NOTE: The subscription must be activated via the link below within 6 months of your router and service pack being purchased.

VigorCare Activation Link

https://www.draytek.co.uk/support/vigorcare-registration

 

 

Product Code

Description

Applicable To These DrayTek Products

Duration

Buy Now
VCARE-A3

VigorCare A3 3 Year Subscription

Vigor 130, Vigor 166, Vigor 2762, 2763, 2765, 2766 series




VigorAP 810, 903, 912C, 960C, 1000C, 1060C




VigorSwitch P1092, G1080

3 Years

VCARE-A5

VigorCare A5 5 Year Subscription

Vigor 130, Vigor 166, Vigor 2762, 2763, 2765, 2766 series




VigorAP 810, 903, 912C, 960C, 1000C, 1060C




VigorSwitch P1092, G1080

5 Years

VCARE-B3

VigorCare B3 3 Year Subscription

Vigor 2620Ln




Vigor 2832, 2862, 2865, 2866, 2926, 2927 series




VigorAP 920, VigorAP 918 series




VigorSwitch P2121

, G2100, P2100

3 Years

VCARE-B5

VigorCare B5 5 Year Subscription

Vigor 2620Ln




Vigor 2832, 2862, 2865, 2866, 2926, 2927 series




VigorAP 920, VigorAP 918 series




VigorSwitch P2121

, G2100, P2100

5 Years

VCARE-C3

VigorCare C3 3 Year Subscription

Vigor 2952, 2960, 2962, 3220




VigorSwitch P1280, G1280, P1282, G1282

3 Years

VCARE-C5

VigorCare C5 5 Year Subscription

Vigor 2952, 2960, 2962, 3220




VigorSwitch P1280, G1280, P1282, G1282

5 Years

VCARE-D3

VigorCare D3 3 Year Subscription

Vigor 3900, Vigor 3910




VigorSwitch G2280, G2280x, G2500, G2540x




VigorSwitch P2280, P2280x, P2500, P2540x

3 Years

VCARE-D5

VigorCare D5 5 Year Subscription

Vigor 3900, Vigor 3910




VigorSwitch G2280, G2280x, G2500, G2540x




VigorSwitch P2280, P2280x, P2500, P2540x

5 Years

 

 Warranty Terms & Conditions Apply - please see here

https://www.draytek.co.uk/support/vigorcare#terms-and-conditions