Regular price
£169.99
Sale price
£159.99
Unit price
per
Sale
Sold out
VigorAP 912C is a dual-band wireless access point designed for ceiling or wall mount. It supports stand-alone operation and can also integrate with DrayTek routers or VigorACS platform for central management.  It has a capacity of up to 256 concurrent active users, ideal for a high-density environment such as a BYOD workplace. The low-profile appearance and PoE power supply provide the flexibility in deployment.
Ceiling/Wall mountable Auto Optimising Mesh Wireless Access Point or Range Extender

AC1200 - 802.11ac 'Wave 2' Dual-Band MIMO Wireless with Gigabit Lan Port

Power either through 802.3af PoE or DC power adapter (provided)

Multi-SSID over Mesh with Separate internal and Guest networks over Mesh

Centrally Managed or Standalone operation with Advanced Access Control with Mobile Device Management and Station Control
Share
View full details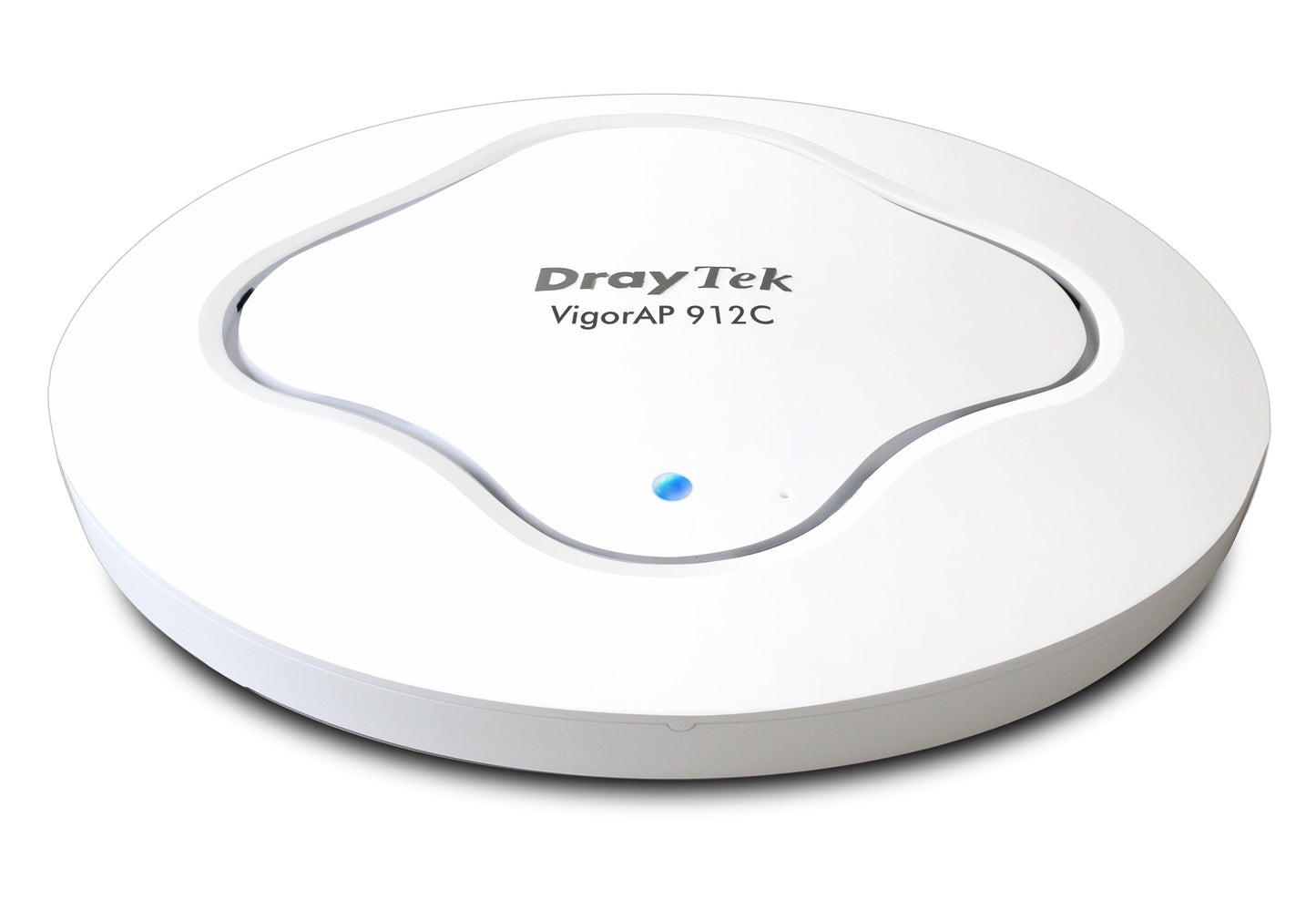 Explore Further
Highlights

Mesh Wireless
Link up to 8 DrayTek VigorAP access points over wireless with Mesh. Mesh auto configures wireless links.

Easy to Configure and Manage
Setup of the VigorAP 912C is easy with the DrayTek Wireless app.

Dual-Band 11ac Wave 2 Access Point
Up to 866Mbps + 300Mbps total wireless bandwidth. Connect 128 clients per wireless band, 256 in total.

Wireless Security & VLANs
Secure your wireless networks with 802.1x and Access Control.

AP & Repeater Modes
Use the VigorAP 912C as an Access Point or extend an existing wireless network.

Central Management with VigorACS
Manage VigorAPs from the cloud with DrayTek VigorACS.

Power Over Ethernet
Power the VigorAP 912C through its Gigabit Ethernet cable with standard IEEE 802.3af PoE.

Ceiling Mounting
With the flexibility in mind, AP-912C is designed to be installed on ceilings and walls.

Wireless Optimisation
Band Steering, Airtime Fairness and AP-Assisted Mobility features help to improve wireless network efficiency.

Multi-SSID over Mesh
Provide separate wireless networks for 4 separate LANs over Mesh.

Mesh - Auto-Optimisation
DrayTek Mesh is Self-organising & Self-Healing to ensure reliable wireless connectivity.

Central Management with a DrayTek Router
Manage, monitor and provision VigorAPs connected to a DrayTek Vigor router.
Dimensions and Weight

Width 162 mm, Depth 162 mm, Height 42 mm,Weight 0.3 g
Specification

VigorAP 912C
Product Code EAN Description
VAP912C-K 4712909129022 VigorAP 912C Ceiling-mount Mesh Wireless 802.11ac Access Point
Key Specifications
Ceiling-mount Mesh Wireless Access Point and Range Extender
AC1200 - 11ac 'Wave 2' Dual Band Wireless
Power through 802.3af PoE or DC power adapter
Multi-SSID over Mesh – New! Separate internal and Guest networks over Mesh
Centrally Managed or Standalone operation
Advanced Access Control with Mobile Device Management and Station Control
Technical Specification (UK Hardware Spec.)
Physical Interfaces/Controls
1 x Gigabit Ethernet LAN Port, RJ45 (accepts PoE Power)
Factory Reset Button (recessed)
DC Power Socket
1 x Security Lock
Wireless Performance
AC1200 Class Wireless Access Point
5GHz: PHY Rate 866Mb/s
2.4GHz: PHY Rate 300Mb/s
Wireless LAN Compatibility
IEEE 802.11ac (Wave 1 & 2) / a / b / g / n
Frequency Band 2.4 GHz & 5.8Ghz - Simultaneous Operation
Up to 128 clients per radio
2.4GHz Wireless LAN Features
802.11b, 802.11g, 802.11n
20 / 40 MHz
Up to 300Mb/s total Wi-Fi throughput (PHY Rate):
802.11b/g/n: 300Mb/s PHY rate (150Mb/s per Spatial Stream)
5Ghz Wireless LAN Features
802.11ac (Wave 1 & 2) / 802.11n / 802.11a
20 / 40 / 80 MHz
Extended 5Ghz Band - Channels 36-48, 52-64, 100-140
DFS/TPC Support
Multi-User MIMO - New!
Up to 866Mb/s total Wi-Fi throughput (PHY Rate):
802.11a/n: 300Mb/s PHY rate (150Mb/s per Spatial Stream)
802.11ac: 866Mb/s PHY rate (433Mb/s per Spatial Stream)
Security Features
Wireless Encryption:
WPA2-Personal (WPA2/PSK)
WPA2-802.1x
WPA3-Personal - New!
Mixed (WPA2+WPA3)/PSK*
also supports WPA/WEP (Not recommended)
Built in 802.1x server (PEAP / EAP-TLS)
802.1x RADIUS Proxy (PEAP / EAP-TLS)
PMK Caching & Pre-authentication
Wireless Client Isolation
Control Isolation of 2.4GHz and 5GHz bands
Hidden SSIDs (Selectable)
WPS - WiFi Protected Setup
MAC Address Filtering (ACL) - Up to 256 entries
Mobile Device Management
EAPOL Key Retry - New! - Disable EAPOL Key Retry to protect unpatched WLAN clients from KRACK
Wireless Control Features
Wireless Client Status List in WUI
Client Limit per radio
Client Limit per SSID - New!
Up to four distinct SSIDs (for VLANs) for each frequency band (2.4/5Ghz)
MAC Cloning
Built-in DHCP Server & DHCP Relay
Trusted DHCP Server IP for WLAN - New! - Only specifed DHCP server IP can assign IP addresses to WLAN clients
802.1q VLAN
Station Control - Time limit wireless connectivity per Station (e.g. 1 hour) & set allowed Reconnection time (e.g. 1 day)
Device Object/Group Control - New! - Schedule Internet access for individual devices or groups
Wireless Performance Optimisation
Airtime Fairness
Band Steering
AP-Assisted Client Mobility
WMM (Wireless MultiMedia)
Bandwidth Management (Per Station / Per SSID)
Diagnostic Features
System Log
Speed Test
Traffic Graph
Wireless LAN Statistics
Interference Monitor - Built-in Site Surveyor
Management
Web Interface (HTTP/HTTPS)
DHCP Client
TR-069 Control (For VigorACS or other TR-069 platform)
CLI (Command Line Interface) - Telnet
Firmware upgrade by TR-069/HTTP
Central AP Management (from compatible DrayTek router/controller)
SNMP v2, v2c, v3
Management VLAN
Configuration File Export (with password) & Import
Wireless Auto On/Off - New! - Disable Wireless if VigorAP is unable to ping specified host
Power Requirements
Maximum Power Consumption: 10 Watt
DC 12V via external 100-240v AC/DC PSU
802.3af PoE via LAN port. Requires PoE injector or a PoE switch such as the VigorSwitch P2121
Environmental & Physical
Operating Temperature : 0 ° C to 45 ° C
Operating Humidity: 10% to 90% (Non-condensing)
Physical Dimensions: 162mm (wide/diameter) x 42mm (high)
Weight : 0.3kg
Ceiling or Wall Mountable (requires rear cable entry)
Pack Contents
VigorAP 912C wireless access point
Ceiling Mount Bracket
T-Rail Brackets & Screws
Quick Start Guide
Ethernet Cable
DC 12V PSU
ROHS & CE Compliant
Warranty
Two (2) Years RTB
Optional VigorCare Enhanced Warranty Available
VigorCare A3 3 Year Subscription: VCARE-A3
VigorCare A5 5 Year Subscription: VCARE-A5
Warranty Information

Please check the Specification Section for Warranty Information
Extended Warranty

Care for your DrayTek with VigorCare Extended Warranty !

VigorCare Enhanced Warranty Service

Prepare for the unforeseen, equipment unfortunately does fail from time to time, be it a power surge, overheating or update failure, having an extended warranty can be a lifeline to your business when you need it most. The following packages below are available.

Advanced Replacement

If you suspect that your covered DrayTek product has developed a fault, our experienced support technicians will help you to diagnose the problem and determine whether the unit needs to be service or replaced. If it does, a replacement unit will be sent out the same day for delivery on the next working/business day (to most of the UK). If you wish to take the unit yourself to the service centre (currently North of London), replacement or diagnosis/repair can be carried out in person.

3 or 5 Year Warranty

 

 

Enhanced Warranty Service
3 or 5 year warranty upgrades available
Advanced-Replacement of faulty unit
Next working day* replacement unit
Cover for 3 or 5 years warranty with single payment
Available for all DrayTek Vigor routers
Warranty upgrades available to purchase for up to 6 months after product purchase

 

With VigorCare, you also have the benefit of an extension to a full 3 or even 5 years of warranty so that if a fault does develop, you will have no bills for parts, labour or replacement in the event that a warranty fault develops. We're proud of the reliability that DrayTek products achieve but however unlikely a problem might be, if your business depends on your DrayTek product, VigorCare should give you the peace of mind and convenience that you need.

VigorCare membership is subject to the VigorCare Terms & Conditions (see terms tab, above) and should be taken out within 6 months of purchase of your new product

VigorCare Service Packs

VigorCare subscription is available for several categories of product. Determine the correct pack for your product below. NOTE: The subscription must be activated via the link below within 6 months of your router and service pack being purchased.

VigorCare Activation Link

https://www.draytek.co.uk/support/vigorcare-registration

 

 

Product Code

Description

Applicable To These DrayTek Products

Duration

Buy Now
VCARE-A3

VigorCare A3 3 Year Subscription

Vigor 130, Vigor 166, Vigor 2762, 2763, 2765, 2766 series




VigorAP 810, 903, 912C, 960C, 1000C, 1060C




VigorSwitch P1092, G1080

3 Years

VCARE-A5

VigorCare A5 5 Year Subscription

Vigor 130, Vigor 166, Vigor 2762, 2763, 2765, 2766 series




VigorAP 810, 903, 912C, 960C, 1000C, 1060C




VigorSwitch P1092, G1080

5 Years

VCARE-B3

VigorCare B3 3 Year Subscription

Vigor 2620Ln




Vigor 2832, 2862, 2865, 2866, 2926, 2927 series




VigorAP 920, VigorAP 918 series




VigorSwitch P2121

, G2100, P2100

3 Years

VCARE-B5

VigorCare B5 5 Year Subscription

Vigor 2620Ln




Vigor 2832, 2862, 2865, 2866, 2926, 2927 series




VigorAP 920, VigorAP 918 series




VigorSwitch P2121

, G2100, P2100

5 Years

VCARE-C3

VigorCare C3 3 Year Subscription

Vigor 2952, 2960, 2962, 3220




VigorSwitch P1280, G1280, P1282, G1282

3 Years

VCARE-C5

VigorCare C5 5 Year Subscription

Vigor 2952, 2960, 2962, 3220




VigorSwitch P1280, G1280, P1282, G1282

5 Years

VCARE-D3

VigorCare D3 3 Year Subscription

Vigor 3900, Vigor 3910




VigorSwitch G2280, G2280x, G2500, G2540x




VigorSwitch P2280, P2280x, P2500, P2540x

3 Years

VCARE-D5

VigorCare D5 5 Year Subscription

Vigor 3900, Vigor 3910




VigorSwitch G2280, G2280x, G2500, G2540x




VigorSwitch P2280, P2280x, P2500, P2540x

5 Years

 

 Warranty Terms & Conditions Apply - please see here

https://www.draytek.co.uk/support/vigorcare#terms-and-conditions