DrayTek
Regular price
£69.99
Sale price
£61.99
Unit price
per
Sale
Sold out
DrayTek VigorSwitch G1080 - 8 Port Gigabit Web Smart Switch
The VigorSwitch G1080 is a small, high-performance Gigabit smart switch designed for small and medium business networks that require simple network management, with support for VLANs, QoS and Link Aggregation (increases uplink speed for high data volume applications). 
The G1080 is an ulta-low power device, consuming under 1A, even when fully loaded. It is powered by an AC/DC adaptor (included).  It's a low cost device, ideal for adding additional Ethernet ports to your router with a small footprint.
The VigorSwitch G1080 can be managed directly through its web interface, or can be installed in conjunction with a compatible Vigor router to expand the router's network, with the VigorSwitch G1080 managed and monitored through the DrayTek Vigor router's web interface.
Power from USB
If you have limited space or power sockets, the VigorSwitch G1080 can also be powered by USB - perhaps the USB port on PC or one on your DrayTek Vigor router**.  Requires optional USB-DC cable (part no. 'HVUSB1').  Otherwise you can just power the device with the supplied AC/DC power supply.
**Suitable routers are: Vigor 2862, 2926, 2960, 3900, 2952, 3220.
Central Management
The DrayTek VigorSwitch G1080 can operate in standalone mode and be managed through its web interface or, if you need to manage and monitor the switch remotely, or have several DrayTek VigorSwitches to administer, you can centrally manage VigorSwitches on a site from the DrayTek router which they are physically connected to.
With DrayTek Central Switch Management, connected VigorSwitches can be monitored, managed and provisioned simply by accessing the router's web interface, either locally or from across the Internet.
See the 'Central Management' tab for more information on the capabilities of Central Switch Management.
Network Segmentation with Port-based & Tag-based VLAN
The DrayTek VigorSwitch G1080 can separate network segments using IEEE 802.1q VLANs, with both Tag-based and Port-based VLANs:
Tag-based VLAN
This type of VLAN can be used to segment networks using a single network link between the DrayTek Vigor router with multiple subnets (VLANs) and the VigorSwitch G1080, with different ports being assigned to each of the router's VLANs.
In this example, there are three VLANs being passed through the VigorSwitch G1080's first port, providing network ports to each of these networks. The clients on connected to each of these VLANs are isolated from each other, with access being controlled by the Vigor router's firewall.
DrayTek Central Switch Management can assist with configuring the VLAN settings on the VigorSwitch - see the 'VLAN Configuration' section of the 'Central Management' tab for more details.
Port-based VLAN
This type of VLAN configures the VigorSwitch G1080 as two separate network switches, with some ports being assigned to each of these networks, but kept fully isolated from each other.
Prioritise traffic & ports with Quality of Service
The VigorSwitch G1080 supports Quality of Service to prioritise latency sensitive traffic using both 802.1p CoS (Class of Service) and Port based mode.
802.1p CoS allows both software applications - such as Skype, and network devices - such as VoIP handsets that send priority tags with their time sensitive data, to be prioritised over general data transfers using the 4 flexible Queues and scheduling system of the switch.
With Port-based Quality of Service, VoIP phone handsets can be assigned a higher priority than a Network Attached Storage server, so that file transfers over the network cannot affect call quality.
Technical Specification (UK Hardware Spec.)
Physical Interfaces:

8x 10/100/1000BaseT Ethernet Ports (RJ-45 IEEE 802.3/3u/ab)

VLAN:

Tag-based VLAN - 802.1q
Port-based VLAN
Up to 8 VLANs

Quality of Service:

Support 4 priority queues
Port-Based rate control
Priority queue schedule (WFQ or Strict Priority)
Class of Service

Link Aggregation:

Combine ports 7 & 8 to increase bandwidth to LACP capable switches or servers
Supports traffic load balancing

Network Security:

Storm Control (Broadcast, Unknown Multicast, Unknown Unicast)

Network Features:

IPv4
Network Loop Detection & Prevention
MAC Addresses Supported: 4K
Jumbo Frames up to 9 KB

IGMP Snooping:

Up to 128 multicast groups
IGMP Snooping V2
IGMP V2
Immediate Leave

Management:

Web User Interface (HTTP)
Firmware Upgrade/Backup by HTTP
Configuration Backup/Restore
Factory Default
System Reboot
Central Management
DrayTek Switch Management support (from routers)
DrayTek VigorConnect

Diagnostics:

Port Status & Usage display
Port Mirroring

General IEEE Standards Compliance:

802.3 10Base-T
802.3u 100Base-T
802.3ab 1000Base-T
802.3x Flow Control Capability
802.3 Auto-negotiation
802.1Q VLAN
802.1p Class of Service
802.3ad Port trunk with LACP
802.1az Energy Efficient Ethernet

Physical Specifications:

Dimensions: 154 x 85 x 26 mm (W x D x H)
Rack mountable: No
Wall mountable : Yes
Weight: 325g (excluding cables)
Box Contents
VigorSwitch G1080 Network Switch
UK Power Adapter
Quick Start Guide
Share
View full details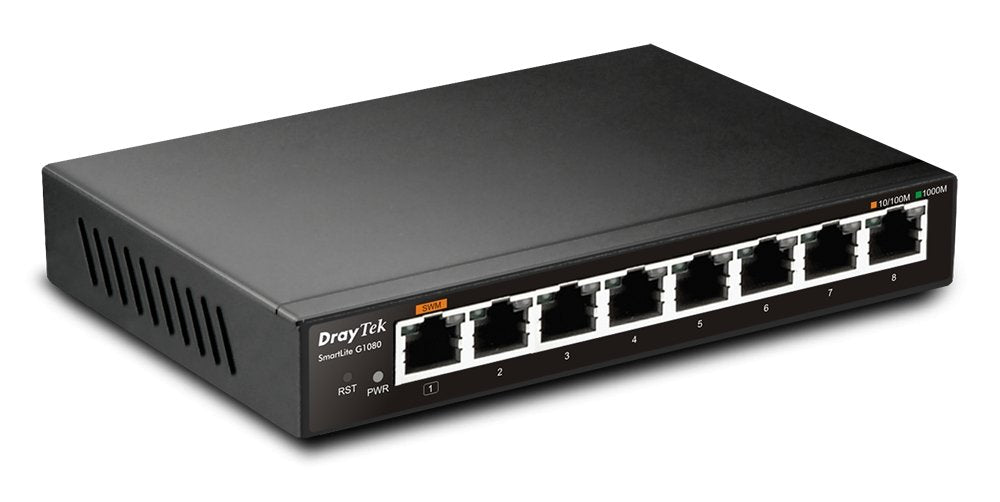 Explore Further
Dimensions and Weight

Width , Depth , Height ,Weight
Warranty Information

All products come with a minimum 12 Months Warranty - Please check the Specification Section to see if longer!