Regular price
Sale price
£649.99
Unit price
per
Sale
Sold out
DrayTek VSG2540XS 54-Port Layer 2+ Managed 10G Switch
Providing excellent Network efficiency
DrayTek VigorSwitch G2540xs is a Layer 2+ Managed 10 Gbps switch. It has 48x Gigabit Ethernet ports and 6 x SFP+ 10Gbps Fiber links. Supporting advanced Layer 3 features, DHCP Server and VLAN Routing, VigorSwitch G2540xs improves network efficiency and helps your LAN network to work continuously even when the gateway is offline, which is ideal to be placed as the core switch in SME/SMB.
Advanced Layer 2+ Features
DHCP Server & VLAN Routing
Improving LAN Network Sustainability and Efficiency,
with or without a Router
In a large LAN network, much traffic doesn't go to Internet, but to the servers in LAN. For example, IP cameras store videos to NVR, IP phones register to PBX, clients access to file server, etc.
L2+ switch with DHCP server and VLAN routing functionalities, as the device receiving traffic before the router, is ideal to share the loading of your router and to help your LAN network to work continuously even when the router is offline.
As a DHCP server, VigorSwitch assigns dynamic IP addresses for up to 8 VLANs. With VLAN routing, VigorSwitch supports up to 512 routes.
Bind IP to MAC
Reserve an IP Address for an Important Device
As a DHCP Server, layer 2+ VigorSwitch helps reserving IP addresses for your important devices that most users will access frequently.
ONVIF-Friendly
Recognize the ONVIF devices in different VLANs, display surveillance topology, provide UI for video streaming and device maintenance.
Centralized Hierarchical View
VigorSwitch automatically detects ONVIF devices, and displays the topology of connecting IP cameras and NVRs.
Images Viewing
Images filmed by IP cameras can be viewed directly on VigorSwitch.
Device Management
Support ONVIF devices basic configuration/maintenance remotely via VigorSwitch. Such as remote reboot, factory reset, network settings, etc.
ONVIF Snapshot Alert
Locating Not-Responding Cameras Made Easy
It's already difficult to manage several IP cameras across different locations and customers, not to mention to keep monitoring on which camera stops functioning.
To help on this task, VigorSwitch keeps pinging on the ONVIF IP cameras and taking snapshots from them periodically, and sends out an email alert with the latest snapshot when a camera not responding.
With PoE models, VigorSwitch can also provide first aid to automatically power cycle the particular port to reboot the camera.
Management Solution
All-in-One Management
Auto-Discovery
Provisioning
Monitoring
Centralized Hierarchy View
Reboot PoE Devices Remotely
Quick VLAN Configuration


Software Management
Auto-Discovery
Auto-Provisioning
Monitoring
Centralized Hierarchy View
Alarm
Reboot PoE Devices Remotely
Scheduled Maintenance
Provisioning
Monitoring
Centralized Hierarchy View
Alarm
Reboot Vigor Devices Remotely
Scheduled Maintenance
Report
Zero Touch Deployment & Provisioning
Auto VPN
Interface Quality & SLA
VoIP Optimization & Monitoring
Application Visibility
ACS Server Load Balancing / Failover
In-the-Box
VigorSwitch G2540xs
Rack Mount Kit
Console Cable
Power Cord
Quick Start Guide
 USER GUIDE - Click Here
Share
View full details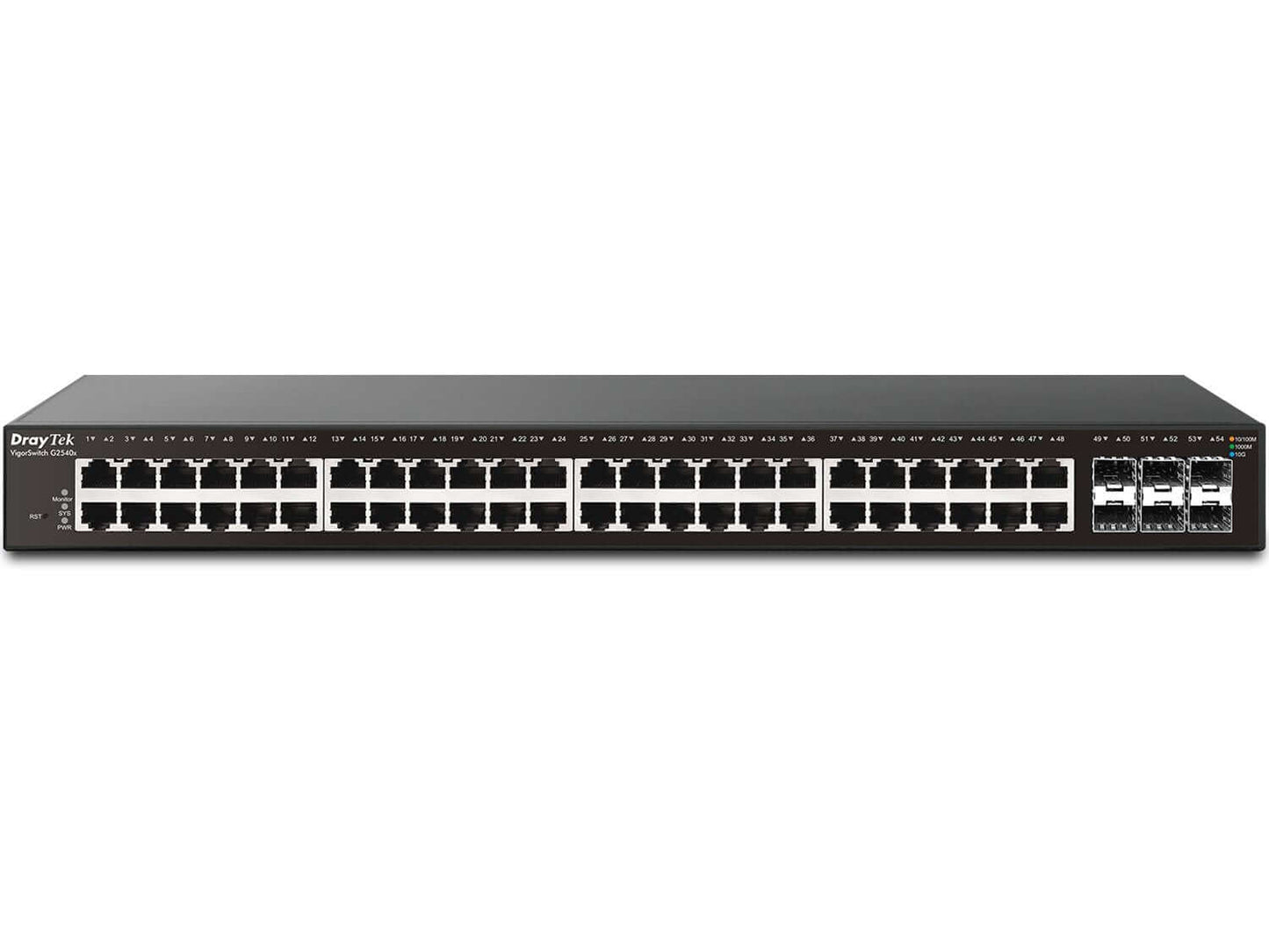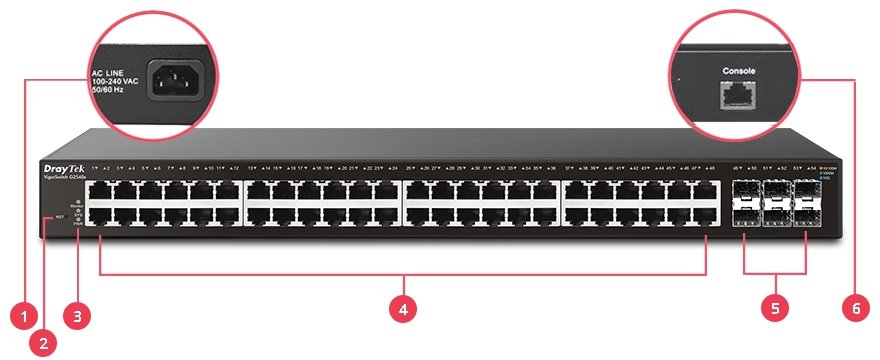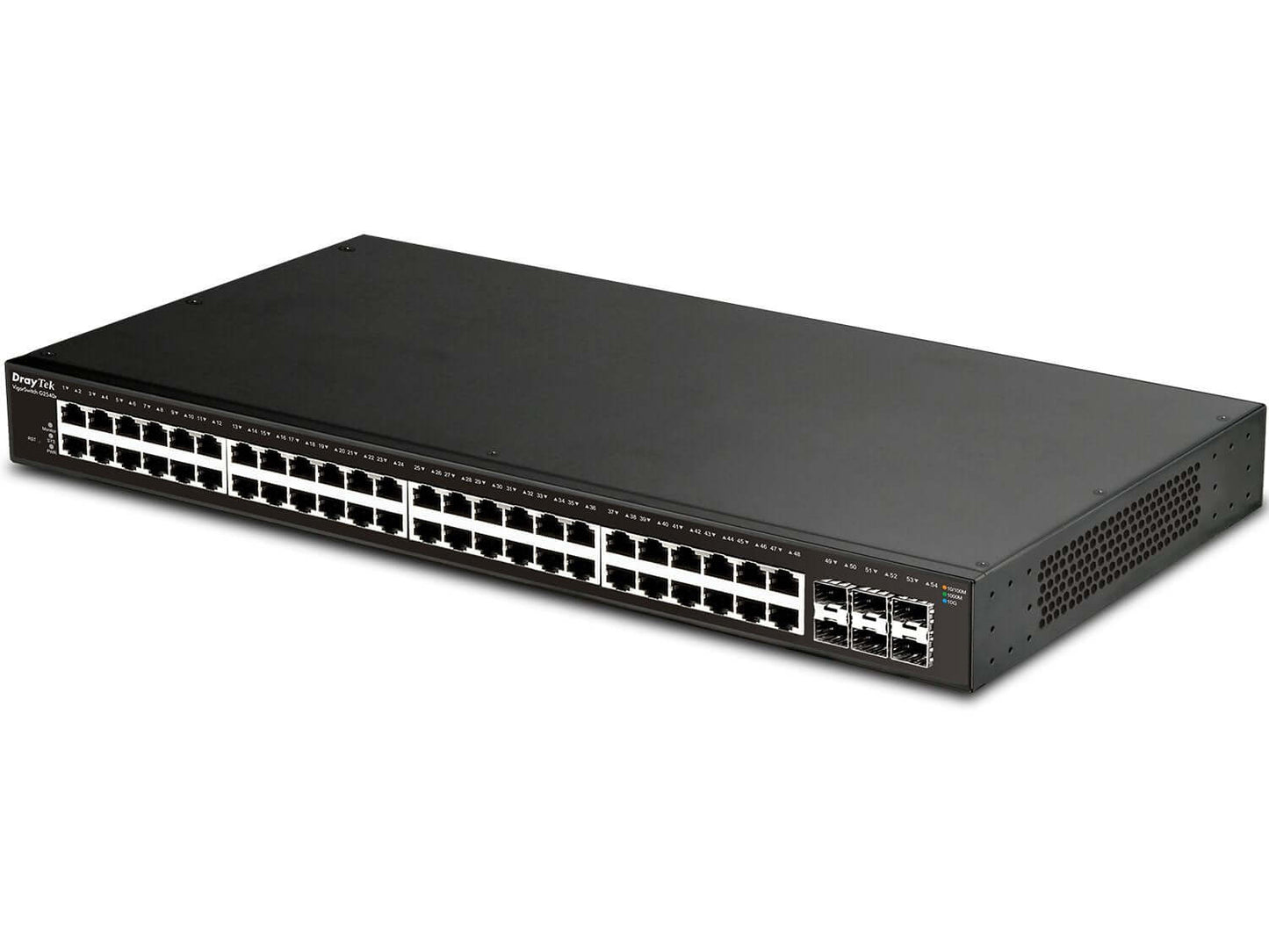 Explore Further
Highlights

Key Features
surveillance
Auto Surveillance & Voice VLAN
Recognize traffic from IP cameras and IP phones automatically and add CoS tag for QoS prioritization.

ONVIF CCTV
ONVIF-Friendly
Recognize the ONVIF devices, display surveillance topology, provide UI for video streaming and device maintenance. Learn more

routing
Wire-Speed VLAN Routing
Improve overall network performance by using VigorSwitch G2540xs to route the inter-VLAN traffic directly and offload the router.

ip conflict prevention
IP Conflict Prevention
Improve network stability by avoiding IP conflicts caused by a misconfigured or malicious host. Learn more

access control
Access Control
VigorSwitch G2540xs supports ACL by IP/MAC and 802.1x port access control with RADIUS to filter unauthorized hosts.

Quality of Service
QoS (Quality of Service)
Improve the performance of critical traffic by prioritizing the traffic with CoS, DSCP, and IP Precedence tag.

10G SFP
10G SFP+
Provides 10G-capable fiber SFP+ ports for aggregation or uplinking to the core switches.

ipv6
IPv6 Ready
VigorSwitch G2540xs supports IPv6 by offering MLD Snooping, IPv6 ACL, and IPv6 DNS Resolver.

Graphic User Interface
Web-Based GUI
Easily manage and monitor the network through the web-based console with graphics showing ports and hardware status. See demo

network administrators
Multiple Admin Accounts
Multiple Admin accounts with two levels of administrator privilege.

switch management
Central Switch Management
Set up VLAN easily from the router and get a centralized hierarchy view of the switches. Learn more

green ethernet
Energy-Efficient Ethernet
Compliant with IEEE 802.3az to reduce power consumption.
Dimensions and Weight

Width 441 mm, Depth 270 mm, Height 45 mm,Weight 4.9 kg
Specification

Interface
LAN Port 48x 10/100/1000Mbps Ethernet, RJ-45
6x 1000Mbps/10Gbps SFP+
Console Port 1x RJ-45
Button 1x Factory Reset Button
Capacity
Buffer Size 16 Mbit
Switching Capacity 216 Gbps
Forwarding Rate 160.7 Mpps (64 bytes)
MAC Address Table 32k
Jumbo Frame Up to 12 KB
L3 Routing Table 12k static route + 12k prefix route
Networking Standards
IP Version IPv4, IPv6
Ethernet Standards 802.3 10Base-T
802.3u 100Base-T
802.3ab 1000Base-T
802.3ae 10GBase-X
802.3x Flow Control
802.3 Auto-Negotiation
802.1q Tag-based VLAN
802.1p Class of Service
802.1d STP
802.1w RSTP
802.1s MSTP
802.3ad LACP
802.1ad QinQ
802.1x Port Access Control
802.1AB LLDP
802.3az EEE
VLAN
Max.Number of VLAN 256
VLAN Type 802.1q Tag-based
MAC-based
Protocol-Based
Management VLAN
Voice VLAN
Surveillance VLAN
802.1x Guest VLAN
Port Isolation
GVRP
Q-in-Q Basic
ONVIF Surveillance
Discovery
Surveillance Topology
Real-Time Video Streaming
ONVIF Device Maintenance Device Info, Reset Factory Default, Time Settings, Reboot
QoS
Number of QoS Queues 8
Queue Scheduling SPQ, WRR
CoS (Class of Service) 802.1p CoS, DSCP, CoS-DSCP, IP Precedence
Rate Limit & Shaping
Security
Access Control List MAC, IPv4, IPv6
Storm Control Broadcast, Unknown Multicast, Unknown Unicast
DoS Defense
802.1x Port Access Control
IP Source Guard
IP Conflict Detection
IP Conflict Prevention
Loop Protection
Dynamic ARP Inspection
DHCP Snooping with Option 82
Link Aggregation
Max. Number of Group 8
Max. Number of Member in Each Group 8
Type Static, LACP
Traffic Load Balancing MAC Address, IP/MAC Address
Multicast
IGMP Snooping v2, v3 (BISS)
IGMP Querier
MLD Snooping v1, v2 (Basic)
Max. Number of Multicast Group 256
Group Throttling
Group Filtering
MVR (Multicast VLAN Registration)
Layer 3 Features
Static Route
VLAN Route
DHCP Server
AAA
Authentication Server RADIUS, TACACS+
Port Authorization
Management Account
RADIUS Attribute Assignment User Privilege, VLAN
Accounting
Multiple Server
OpenFlow
Version 1.3
Table Size 1920
*The OpenFlow functionality is project-based and must be activated by DrayTek HQ. Please contact your Sales for further inquiries.

Management
Web Interface HTTP, HTTPS
Command Line Interface Telnet, SSH v2
OpenVPN Client Certificate-based authentication
User Authentication Local Database, RADIUS, TACACS+
sFlow
SNMP v1, v2c, v3
Private MIB
RMON Group 1, 2, 3, 9
LLDP LLDP-MED, Media Endpoint Discovery Extension
Mail Alert Port Status, Port Speed, System Restart, IP Conflict
Syslog
2-Level Admin Privilege
Multiple Admin Accounts
Managed by VigorRouter SWM
Managed by VigorConnect
Managed by VigorACS 2
Config File Export/Import
Dual Image
SNTP (Simple Network Time Protocol)
Diagnostics Tools Port Mirroring, Ping, Cable Test
Physical
19-inch Rack Mountable Mouting Kit Included
Power Input AC 100-240V @ 2A
Max. Power Consumption 52 watts
Dimension (mm) 441(W) x 270(D) x 45(H)
Weight 3.97 kg (8 lb)
Ventilation Variable-speed Fan
Operating Temperature 0 to 50°C
Storage Temperature -20 to 70°C
Operating Humidity 10 to 90% non-condensing
Storage Humidity 5 to 90% non-condensing
Certificate CE
Notes :
All specifications are subject to change without notice.

The throughput figures are maximum, based on DrayTek internal testing with optimal conditions. The actual performance may vary depending on the different network conditions and applications activated.
Warranty Information

Please check the Specification Section for Warranty Information
Extended Warranty

Care for your DrayTek with VigorCare Extended Warranty !

VigorCare Enhanced Warranty Service

Prepare for the unforeseen, equipment unfortunately does fail from time to time, be it a power surge, overheating or update failure, having an extended warranty can be a lifeline to your business when you need it most. The following packages below are available.

Advanced Replacement

If you suspect that your covered DrayTek product has developed a fault, our experienced support technicians will help you to diagnose the problem and determine whether the unit needs to be service or replaced. If it does, a replacement unit will be sent out the same day for delivery on the next working/business day (to most of the UK). If you wish to take the unit yourself to the service centre (currently North of London), replacement or diagnosis/repair can be carried out in person.

3 or 5 Year Warranty

 

 

Enhanced Warranty Service
3 or 5 year warranty upgrades available
Advanced-Replacement of faulty unit
Next working day* replacement unit
Cover for 3 or 5 years warranty with single payment
Available for all DrayTek Vigor routers
Warranty upgrades available to purchase for up to 6 months after product purchase

 

With VigorCare, you also have the benefit of an extension to a full 3 or even 5 years of warranty so that if a fault does develop, you will have no bills for parts, labour or replacement in the event that a warranty fault develops. We're proud of the reliability that DrayTek products achieve but however unlikely a problem might be, if your business depends on your DrayTek product, VigorCare should give you the peace of mind and convenience that you need.

VigorCare membership is subject to the VigorCare Terms & Conditions (see terms tab, above) and should be taken out within 6 months of purchase of your new product

VigorCare Service Packs

VigorCare subscription is available for several categories of product. Determine the correct pack for your product below. NOTE: The subscription must be activated via the link below within 6 months of your router and service pack being purchased.

VigorCare Activation Link

https://www.draytek.co.uk/support/vigorcare-registration

 

 

Product Code

Description

Applicable To These DrayTek Products

Duration

Buy Now
VCARE-A3

VigorCare A3 3 Year Subscription

Vigor 130, Vigor 166, Vigor 2762, 2763, 2765, 2766 series




VigorAP 810, 903, 912C, 960C, 1000C, 1060C




VigorSwitch P1092, G1080

3 Years

VCARE-A5

VigorCare A5 5 Year Subscription

Vigor 130, Vigor 166, Vigor 2762, 2763, 2765, 2766 series




VigorAP 810, 903, 912C, 960C, 1000C, 1060C




VigorSwitch P1092, G1080

5 Years

VCARE-B3

VigorCare B3 3 Year Subscription

Vigor 2620Ln




Vigor 2832, 2862, 2865, 2866, 2926, 2927 series




VigorAP 920, VigorAP 918 series




VigorSwitch P2121

, G2100, P2100

3 Years

VCARE-B5

VigorCare B5 5 Year Subscription

Vigor 2620Ln




Vigor 2832, 2862, 2865, 2866, 2926, 2927 series




VigorAP 920, VigorAP 918 series




VigorSwitch P2121

, G2100, P2100

5 Years

VCARE-C3

VigorCare C3 3 Year Subscription

Vigor 2952, 2960, 2962, 3220




VigorSwitch P1280, G1280, P1282, G1282

3 Years

VCARE-C5

VigorCare C5 5 Year Subscription

Vigor 2952, 2960, 2962, 3220




VigorSwitch P1280, G1280, P1282, G1282

5 Years

VCARE-D3

VigorCare D3 3 Year Subscription

Vigor 3900, Vigor 3910




VigorSwitch G2280, G2280x, G2500, G2540x




VigorSwitch P2280, P2280x, P2500, P2540x

3 Years

VCARE-D5

VigorCare D5 5 Year Subscription

Vigor 3900, Vigor 3910




VigorSwitch G2280, G2280x, G2500, G2540x




VigorSwitch P2280, P2280x, P2500, P2540x

5 Years

 

 Warranty Terms & Conditions Apply - please see here

https://www.draytek.co.uk/support/vigorcare#terms-and-conditions