DrayTek
Regular price
Sale price
£139.99
Unit price
per
Sale
Sold out
DrayTek Web Content Filtering WCF
DrayTek's Web Content Filtering (WCF) facilities enable you to protect your network and your users from web content according to your preferences. There are many reasons for doing this, for example:
| Reason to Block | Example |
| --- | --- |
| Unsuitable | Adult material for children |
| Undesirable | Time wasting sites for employees |
| Dangerous | Malware or virus-ridden web sites |
| Fraudulent | Confidential data leaving your network |
As DrayTek WCF is performed by your router - your point of entry to the Internet - it is far more difficult to circumvent than software solutions installed on each client/PC or Tablet and applies to guests too.
DrayTek's Web Content Filtering can be applied to any device capable of accessing the Internet, such as Smart TVs, Tablets and Mobile Phones, which may not otherwise have filtering solutions available.
Blocking/filtering can be selective for certain computers, users or groups too, so that, for example, managers can have less filtering imposed than other users and time schedules can apply content filtering for specific time periods only (the facilities and granularity of this depends on the specific model of router selected).
Internet Control for familes and children
Whilst the Internet can be hugely beneficial to any family users, both for adults and children, there is also the opportunity for it to become distractive, over-consuming as well as risky. For children, a common use of control control is to block inappropriate content, such as web sites with sexual, violent or other adult-oriented content in schools or anywhere else that children might use the Internet. That's the inappropriate content, but even age-appropriate content can be undesirable. Facebook might be great for your teens, and CBeebies for your younger children, but not if they are supposed to be doing something else.
Many parents want to control access to the Internet, for example allowing access to acceptable web sites for specified times of day only. For your adult users in the home, you may want to block access to sites which have a high probability of being infected with malware. You may also wish to block your own computers from sending emails in case of trojan/zombie infection. There are infinite combinations of content filtering and firewalling you might want to impose in your home.

Staff Internet Abuse - A real cost to your business
The Internet provides your business with an effective, useful and often essential facility. Your staff can use it to find quick answers, liaise with customers, send and receive emails and many other productive tasks. Unfortunately, the Internet also provides the opportunity for mis-use. DrayTek products can help you restrict, control and monitor staff Internet usage.
Staff using your Internet facility for time-wasteful activities are costing you. Even more importantly these activities can put your businesses computers and network at risk. A recent survey of 10,000 employees indicated that 44% admitted to spending time on the Internet for personal use, for up to 2.1 hours per day.
Most staff are responsible and prudent with their Internet use and we always recommend a suitable AUP (Acceptable Use Policy) to be in place so that staff or any users of your systems know what they are and aren't permitted to use the computers for. This AUP can be re-inforced by DrayTek routers which can block specific content (either at certain times only or all times) and also block potentially harmful file/code types from being installed by rogue web sites. There are some staff who will make severe abuse of the Internet facilities - spending literally hours on personal matters or social networking sites.

Top 5
 

Personal

 

Internet Uses for Employees
Personal Email: Hotmail, Gmail, Yahoo etc.
Intant Messaging: Skype, AOL, Yahoo etc.
Social Networking: Facebook, Twitter etc.
Buying: Using Amazon, Ebay etc.
Multimedia : YouTube, iPlayer etc.
GlobalView Categories

GlobalView requires a subscription to the GlobalView server. This is a 12-month subscription available from your dealer. There is no additional licensing for the number of users you have; it is a flat fee based on your router model:
Share
View full details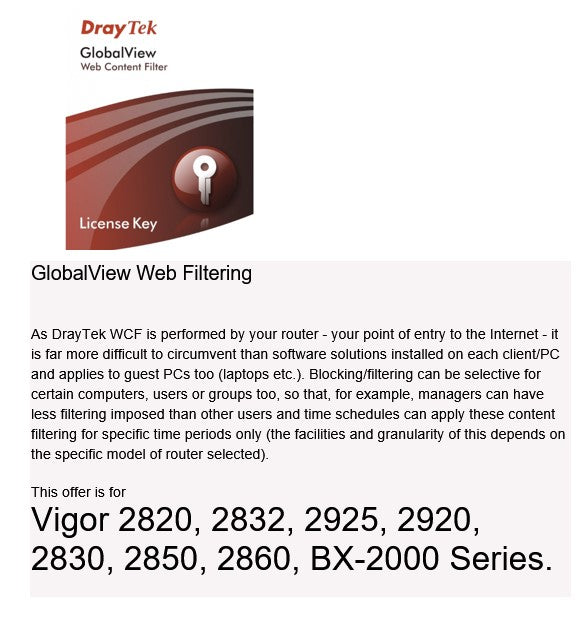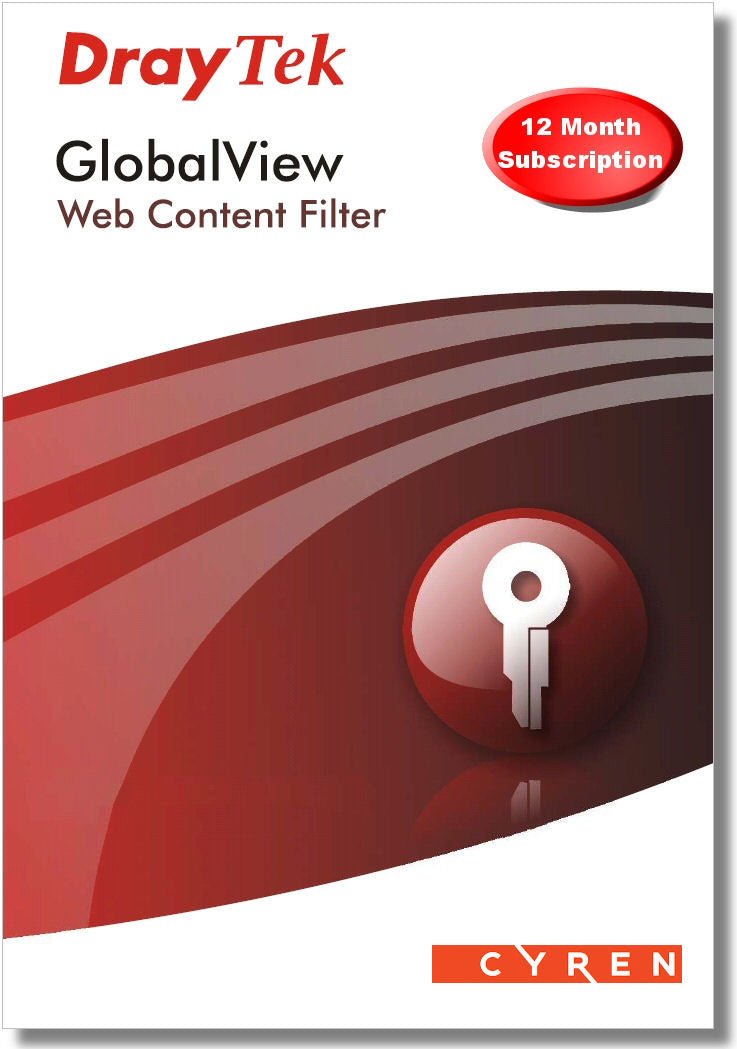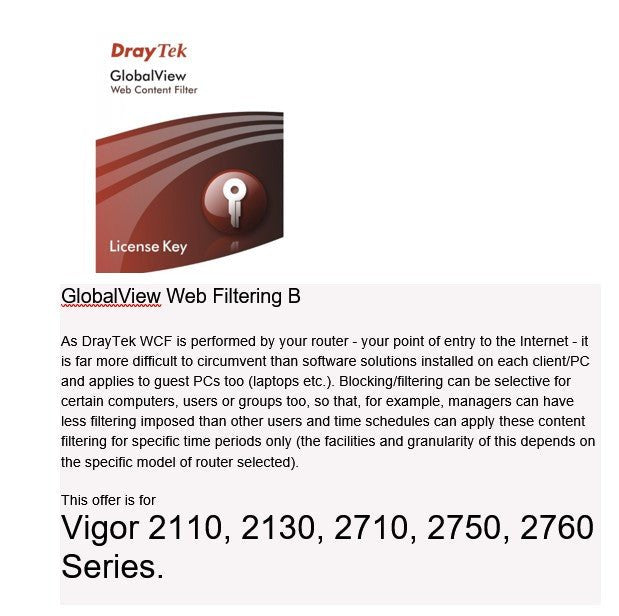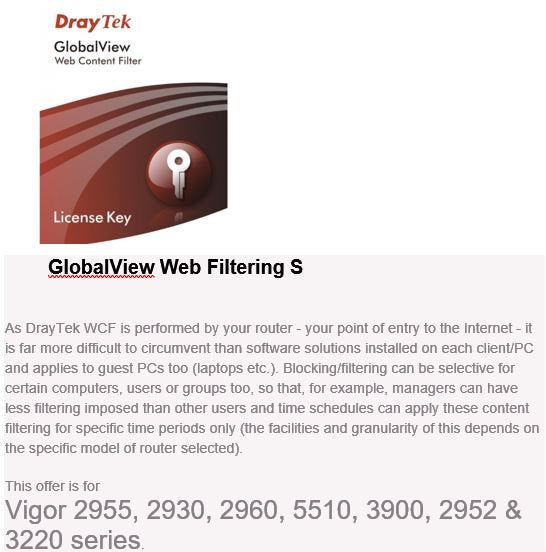 Explore Further
Dimensions and Weight

Width , Depth , Height ,Weight
Warranty Information

All products come with a minimum 12 Months Warranty - Please check the Specification Section to see if longer!